We're committed to our readers and editorial independence. We don't compare all products in the market and may receive compensation when we refer you to our partners, but this does not influence our opinions or reviews. Learn more about Finder.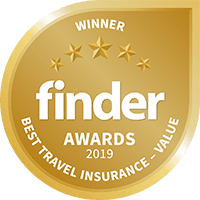 2019 Finder Awards
Winner: Best Travel Insurance - Value
Online Travel Insurance
Online Travel Insurance stands out for its competitively priced policy that still offers a considerable amount of cover.
Compare budget travel insurance policies on Finder
Type or Select your destination(s)
Popular Destinations
Americas
Asia
Europe
Pacific
Africa
Can't find your destination? Just type it in the box above.
Save more on your policy with these deals and coupons
Cheapest travel insurance quotes on finder*
As an example, we've taken 3 of the cheapest policies from our brands and compared them side by side. You'll notice that the cheapest policies are those that mainly include medical cover and not much else.
This quote is based on 25year old going to Bali for 2 weeks. The quote was retrieved on 27-May-2019. For more accurate pricing, complete the form above.
| Provider | Tick | Fast Cover | Insure4less |
| --- | --- | --- | --- |
| Policy | Basic | Basics | Medical Only |
| Overseas Medical Expenses | Unlimited | Unlimited | Unlimited |
| Cancellation Fee Cover | n/a | n/a | n/a |
| Luggage & Personal Effects | $2,000 | n/a | n/a |
| Total cost of cover | $24.80 | $27.00 | $30.55 |
| | | | |
How to get the "best cheap travel insurance"
The cheapest policies are usually basic or medical only policies. These policies cover emergency medical assistance, personal liability and not much else. Therefore, getting the best cheap travel insurance takes some consideration. The best policies are usually the most comprehensive policies but if you want something cheap, you may have to sacrifice some benefits.
To help you choose the "best cheap travel insurance", check out our tips:
Pay for the cover you need. Some policies are more expensive because they have more inclusions. For example, you may be going on a trip where you're only bringing a backpack of clothes. Do you really need $15,000 cover for your luggage? Kudos if you do!
Choose your excess. An excess is the amount that you have to pay to the insurer to have your claim processed. A higher excess could work in your favour so you don't have to compromise on benefits, but it means that you will be out of pocket if you do end up having to claim for something.
Compare your options. Comparing options is easy using our search tool. Enter your trip details and sort your options from cheapest to most expensive. Then have a look at the finder rating (which sorts policies based on comprehensiveness from 1-10), you might find that some cheaper policies actually cover more than others.
In this example, you'll notice how the cheapest policy actually has a higher finder rating which means it's more comprehensive than the others. While it's more comprehensive than other cheaper options, bear in mind that it still only includes very basic features of a travel insurance policy. Other important benefits such as cancellation costs and cover for your travel documents are not included.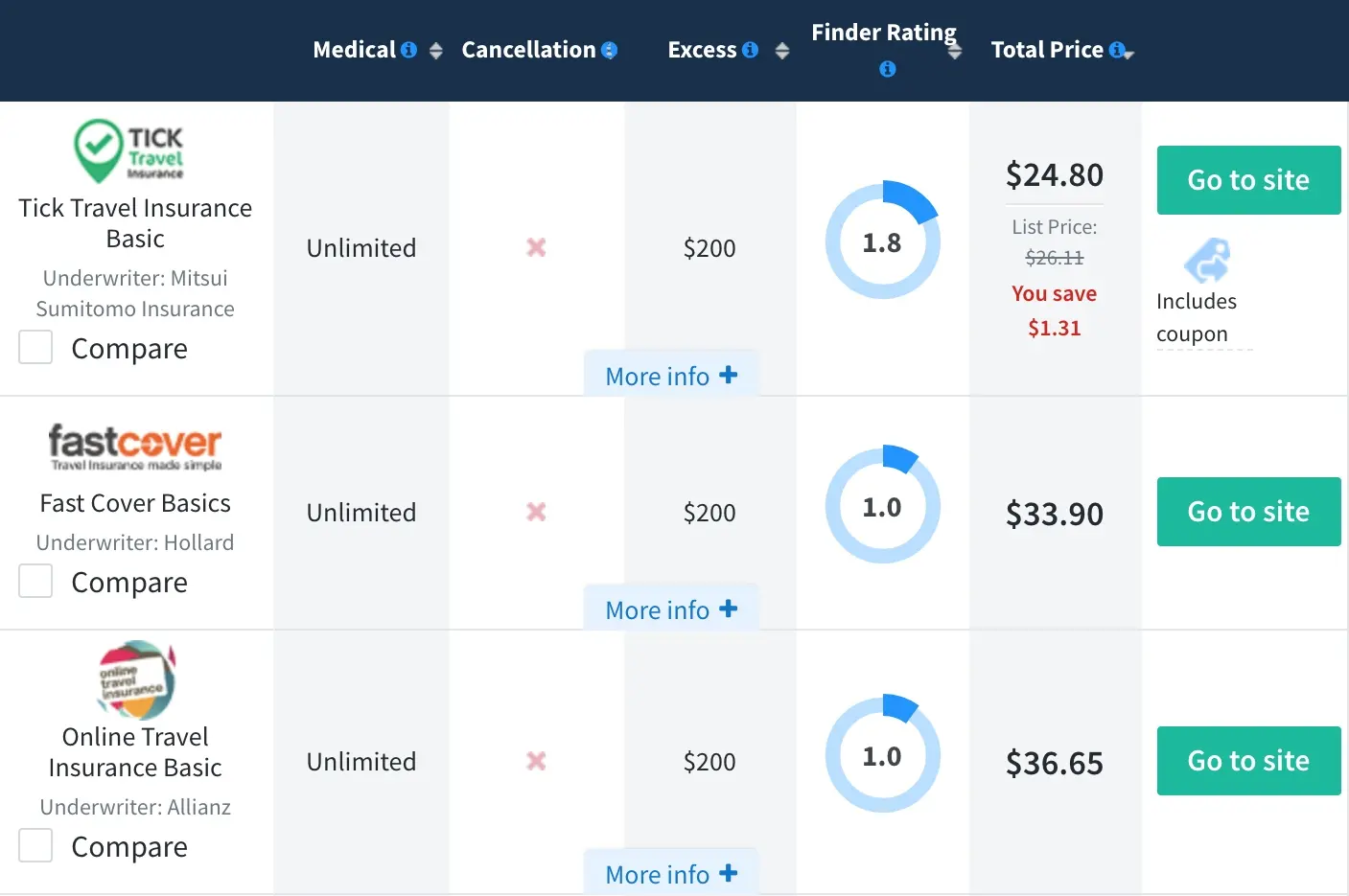 The difference between a cheap and a more expensive policy
Most insurers offer different levels of cover so it's worth noting the difference in price and benefits between each policy.
The below table compares Fast Cover's basic and comprehensive policy. The price difference is $25.80 which breaks down to an extra $1.84 to have way more benefits. You'll notice that Fast Cover's Basic policy covers you for medical expenses and personal liability. While these are vital components of a policy, it won't cover you for typical travel hiccups such as having to cancel parts of your trip due to something out of your control, out of pocket expenses if you've been sent to hospital overseas, or if someone skims your credit card.
This is not to say that a cheap policy isn't suitable. If all you're really concerned about is medical cover than a budget policy will suffice, just make sure you understand the benefits.
| | Fast Cover Basics | Fast Cover Comprehensive |
| --- | --- | --- |
| Price | $33.90 | $59.70 |
| Overseas Emergency Medical & Hospital Expenses | Unlimited | Unlimited |
| Overseas Emergency Evacuation and Repatriation | Unlimited | Unlimited |
| Trip Cancellation Expenses | | Unlimited |
| Trip Disruption Expenses | | $50,000 |
| Overseas Hospital Cash Payment | | $5,000 |
| Accidental Death | | $25,000 |
| Permanent Disability | | $50,000 |
| Passports, Credit Cards & Credit Card Fraud | | $5,000 |
| Theft of Cash | | $250 |
| Luggage and Personal Effects | Optional add-on | $15,000 |
| Travel Delay Expenses | | $2,000 |
| Personal Liability | $1,000,000 | $5,000,000 |
*This table was created on the 11th July 2019 for a 30 year old travelling to Fiji for 14 days on a $200 excess.
Ask yourself these questions when comparing:
Are you going on a cruise?
Are you going on a tour?
Will you be skiing/snowboarding?
Will you be doing adventure sports like diving, hiking, etc?
Do you have any pre-existing medical conditions?
Are you hiring a car?
Are you volunteering or going on a working holiday?
Are you traveling with family or anyone elderly?
Is this your first time travelling?
Are you travelling with expensive luggage?
Start comparing travel insurance
Tips to get affordable travel insurance
If you're looking for other ways to save some money, these tips can help;
Discounts for 2 or more travellers. Most insurers will give you a discount if there are 2 or more people listed on your policy. This does mean that everyone on this policy will have to be travelling together and doing the same trip.
Get a coupon or promo code. Brands release coupon codes quite often which usually range between 5-15%.
Buy online. Online insurers are sometimes cheaper however it can be hard to contact them for help with choosing a policy or looking for clarification. Some of these insurers only provide an email address to get in touch.
Consider an annual multi-trip. If you travel up to 3 times a year, it could be a good idea to buy an annual policy which can save you money and time.
Common budget travel insurance traps to avoid
While cheaper travel insurance is better than no travel insurance at all, you still have to make sure the cover you do get is satisfactory and meets your needs. Policy conditions for what you are and are not covered for can be quite complex so it is important to have an idea of what to look out for. Here are some things to look out for:
Assuming that all policies (including cheaper policies), cover you for emergencies. Cheaper policies will most likely cover you for your own medical emergencies overseas, but won't cover you if you have to cancel before you leave, if have to return home early because of a death in the family or if your travel buddy gets sick and interrupts your travel plans.
Getting a cheaper policy by choosing a higher excess. Always consider the likelihood that you might have to claim. By choosing a higher excess you could be out of pocket from one single claim. Then you haven't saved any money at all.
Start your search for Cheap Travel Insurance
Picture: Getty Images