Income Protection vs TPD Insurance
What are the key differences between Income Protection and TPD Insurance?
We're reader-supported and may be paid when you visit links to partner sites. We don't compare all products in the market, but we're working on it!
Income Protection and TPD Insurance are useful ways of ensuring that you and your family are looked after in the event of an injury or illness stopping you from your ability to earn income. Here are the key differences:
Income protection. Replaces your monthly income if you get injured or fall ill. Income protection is designed to keep you afloat in the short term while you recover e.g. from a fracture.
TPD insurance. Pays out a lump sum payment if you're no longer able to work again because of an illness or injury.
Compare TPD and Income protection insurance quotes from these direct brands
An adviser can help you find cover from trusted life insurance brands.
Get competitive quotes from multiple brands

Lower rate of declined claims (according to ASIC)

Save time and effort
---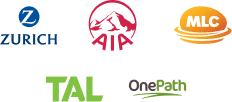 Can I combine cover?
Yes you can. Combining TPD and Income Protection cover in your life insurance portfolio can save you money on your premiums and make the process much simpler should you need to make a claim.
TPD and Income Protection broken down
| Details | TPD Insurance | Income Protection Insurance |
| --- | --- | --- |
| What's the purpose of cover? | TPD insurance is designed to provide protective cover in the event of a long term disability | Income protection insurance provides coverage for both short and long term disabilities |
| How does it payout? | TPD insurance benefit comes in a form of lump sum payment | Income protection insurance provides an ongoing monthly benefit to serve as a replacement income for a specified benefit period |
What is TPD?
TPD Insurance provides a lump sum payment that can be used for a variety of purposes in the event that your illness or injury is permanent and you can never return to work.
It can be used to pay:
mortgage repayments
debts such as car loans
hospital and medical expenses
rehabilitation costs
modifications to your home and vehicle
costs of a permanent nurse or housekeeper.
A TPD benefit becomes payable when you are totally and permanently disabled, which generally means you must have lost your sight or the use of your limbs or have been absent from work for at least six months as a result of an illness or injury that will prevent you from ever returning to normal work again.
What if I don't work?
If you are a homemaker, performing unpaid domestic duties on a full-time basis, normal work for you would include:
maintaining and caring for the family home
managing a household
cooking and cleaning
caring for dependent children.
Your inability to perform these tasks ever again would also qualify you for a TPD benefit.
The main distinction between TPD policies is the wording with regard to occupation. If a policy refers to your 'own occupation', then it pays a benefit if you are unable to return to your chosen line of work. If it refers to 'any occupation', you will only receive a benefit if you cannot perform any kind of work for which your education and experience would make you suitable..
Being easier to qualify for, 'own occupation' TPD policies are thus more expensive and harder to obtain. They are not offered by all insurers and only apply to certain occupations.
---
How does income protection insurance work?
Income Protection Insurance is a short-term benefit paid in monthly instalments and designed to temporarily take the place of your regular income while you recover from an illness or injury.
It usually provides you with up to 75% of your monthly income, which in the short term can be enough to keep you and your family provided for while you aren't earning. An Income Protection policy will usually have standard features built in such as:
Indexation – increases the benefit paid each year in line with CPI rises (inflation).
Partial Disablement – pays a benefit if the insured is only partially disabled and cannot work at their full capacity.
Premium Waiver – premium payments are waived if the insured becomes totally disabled.
Recurrent Disablement – the waiting period is waived if the insured suffers a further disablement after returning to work.
Death Benefit – a benefit is paid to the beneficiaries if the insured dies before the policy expires.
Global Protection – 24/7 coverage anywhere in the world.
When taking out Income Protection Insurance, one of the key considerations is whether to opt for an agreed value or indemnity value policy, as this determines how much you will receive when you make a claim.
Agreed Value – this insures you for the level of income you are earning at the time of taking out the policy. You will receive the same amount each month, regardless of fluctuations in your income over the policy period. Agreed value is ideal for those who are self-employed and for anyone planning to take parental leave.
Indemnity Value – this insures you for the level of income you are earning at the time that you make a claim. Indemnity Value is ideal for those in steady work who receive regular pay rises, as your income will likely have risen between the time of taking out the policy and making a claim and your monthly benefit will be based on the higher amount.
---
Can TPD and income protection work together?
TPD and Income Protection Insurance are different products designed to cover different circumstances. TPD Insurance provides a lump sum benefit for permanent disablement and Income Protection Insurance provides short-term relief for temporary disablement.
But in combination, the two types of cover can complement one another and work together to your advantage. Because Income Protection usually only provides cover for 75% of your income, TPD Insurance can be taken out to fill the gap and if structured so that an amount is invested to provide a separate income stream, it can provide the other 25% needed.
Another way the two types of insurance can work together is in relation to waiting periods. Because TPD Insurance does not usually pay out for six months or more, you could find yourself with no money coming in for at least that long. In such circumstances, Income Protection Insurance could provide the necessary funds to see you through until you eventually receive your lump sum payment.
---
What's the disadvantage of combined cover?
Having both of these types of insurance included in your life insurance can also have a downside, as many insurers will deduct the amount of any benefit paid under your TPD insurance from your total life insurance benefit. For this reason, you should make sure that your policy also has a Buy-Back option, which for an additional premium, allows you to replenish any reduced benefit amounts on your life insurance.
---
How can I save money on the premiums?
Ways to reduce your premiums when taking out TPD and Income Protection Insurance include the following:
Reconsider high risks jobs if possible. Those in high risk occupations pay more for TPD and Income Protection cover, so changing jobs could reduce your premiums substantially.
Get healthy. Your premiums can be affected by things like your blood pressure, allergies, blood cell count and cholesterol levels, so making a conscious effort to get healthier could reduce how much you pay for insurance.
Change lifestyle. Smokers, drinkers and those who participate in high risk activities all pay more for TPD and Income Protection Insurance, so making better lifestyle choices could also reduce your premiums.
Choose indemnity value. Agreed Value policies are around 20% more expensive than Indemnity Value policies (where income is calculated at the time of a claim), so opting for Indemnity Value will also reduce your premiums.
---
Is insurance through super enough?
Many Australians have no TPD or Income Protection, other than that provided through their Superannuation. And there are both advantages and disadvantages to insurance through super.
The advantages include the following:
your premium payments for TPD Insurance are tax-deductible, unlike similar insurance taken outside of a super fund
your premiums are paid regularly by the fund manager, without you having to remember them or find the money to cover them
you receive cover automatically, without the need for a medical examination and regardless of whether you are a smoker
you receive cover regardless of whether your occupation is high risk or not
your premiums are paid for with super contributions taxed at 15%, as opposed to 45% outside of a super fund.
The disadvantages of having TPD and Income Protection Insurance through super include the following:
you will usually only receive the minimum amount of coverage and there will be little room to tailor such cover to your needs
the cost of your insurance is included in the superannuation contribution cap, which means the more insurance you have, the less funds are available for investment
successful claims are paid to the super fund trustee and you must then satisfy the conditions of release to receive your benefit (e.g. permanently retiring or turning 65)
income Protection premiums are not tax-deductible inside a super fund, whereas they are outside.
Its also worth noting that most health funds now offer a feature called Flexi-link, which allows you to combine policies inside super with ones outside and vice versa.
---
More guides on Finder