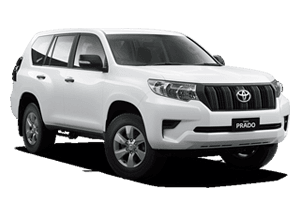 finder score: 79.00%
How did we calculate this? We analysed and aggregated the scores of Car Advice, Car Guide, Practical Motoring and Drive to bring you the finder.com.au score. This is a comprehensive score that brings together the four different expert ratings you see below.
Critic reviews
| Website | Rating | Notable quotes | |
| --- | --- | --- | --- |
| CarAdvice | 81% | "The Prado continues to do what it's always done – deliver exactly what buyers in this segment want." | Read more |
| CarsGuide | 75% | "If you're after a fully-loaded, almost stylish, very capable off-roader that acquits itself well enough around town, only a Range Rover will do better. And it'll cost you a heck of a lot more." | Read more |
| Practical Motoring | 80% | "The Prado VX is a genuine all-rounder that feels just at home performing the weekday school-run as it does driving to the bush on an extended outback adventure." | Read more |
| Drive | 80% | "There's a lot to like about the Prado, from its outstanding four-wheel drive ability to its comfortable on-road manners." | Read more |
How does the Toyota LandCruiser Prado compare with its peers?