Toyota LandCruiser Prado Review
The comprehensive Toyota LandCruiser Prado review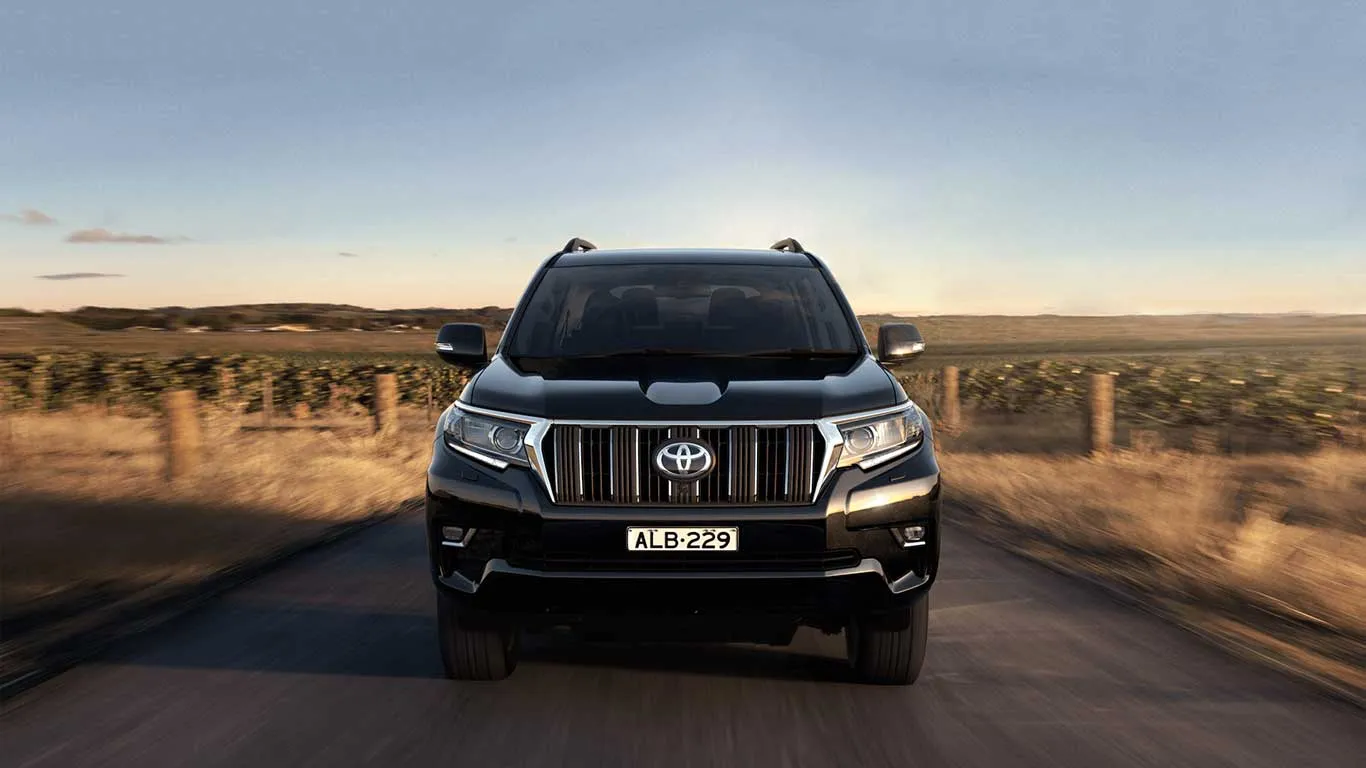 We're reader-supported and may be paid when you visit links to partner sites. We don't compare all products in the market, but we're working on it!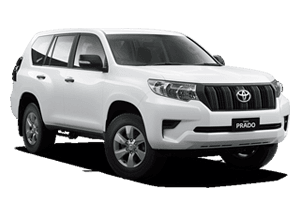 finder score: 79.00%
How did we calculate this? We analysed and aggregated the scores of Car Advice, Car Guide, Practical Motoring and Drive to bring you the finder.com.au score. This is a comprehensive score that brings together the four different expert ratings you see below.
Critic reviews
| Website | Rating | Notable quotes | |
| --- | --- | --- | --- |
| CarAdvice | 81% | "The Prado continues to do what it's always done – deliver exactly what buyers in this segment want." | Read more |
| CarsGuide | 75% | "If you're after a fully-loaded, almost stylish, very capable off-roader that acquits itself well enough around town, only a Range Rover will do better. And it'll cost you a heck of a lot more." | Read more |
| Practical Motoring | 80% | "The Prado VX is a genuine all-rounder that feels just at home performing the weekday school-run as it does driving to the bush on an extended outback adventure." | Read more |
| Drive | 80% | "There's a lot to like about the Prado, from its outstanding four-wheel drive ability to its comfortable on-road manners." | Read more |
Get a better deal on a Toyota LandCruiser Prado
CARDEALS2ME works with a range of dealerships in all states and territories to help buyers find the best driveaway deals on new cars.
Free to use platform.

Get results in just 2 hours.

Finance option available.
How does the Toyota LandCruiser Prado compare with its peers?
The complete Toyota LandCruiser Prado Review
Toyota LandCruiser Prado SUV pricing
Kicking off the ever popular "baby" LandCruiser range is the Prado GX. This base trim model costs $58,343 for a five-seater, six-speed manual 4WD Prado. The GX boasts 17-inch alloy wheels, halogen headlamps with LED Daytime Running Lamps (DRL), heated and fold-up mirrors plus a mammoth 150-litre fuel tank (split between an 87-litre main tank and a 63-litre auxiliary tank), smart entry and start system, an 8-inch colour touchscreen infotainment display with ToyotaLink plus a 9-speaker audio system that has a CD player, AM/FM radio, AUX input and an iPod compatible USB port. The standard model also has sat-nav with live traffic (though traffic updates only work in metropolitan Adelaide, Brisbane, Canberra, Gold Coast, Melbourne, Perth and Sydney). Toyota includes a reversing camera as standard. Interestingly, the Prado also has a forced Diesel Particulate Filter burn off switch, perfect for those who spend a lot of time driving on terrain where a regen wouldn't trigger.
Automatic LandCruiser Prado GXs also have a 4.2-inch multi-information display plus the Japanese automaker's own Safety Sense driver-assistance package A five-seater GX automatic has a drive-away price of $61,493, while a seven-seat model costs $64,173.
The next grade is the Prado GXL. On top of the GX features, you also get seven seats by default, BI-LED headlamps with LED fog lights, privacy glass, a premium steering wheel with audio and telephone controls, three-zone climate control and rear parking sensors. For a manual GXL, you'll pay $65,168. Automatic models are listed at $68,318 but include a rear differential lock.
Next comes the automatic-only Prado VX. This trim swaps the 17-inch rims for larger 18-inch wheels, adds automatic headlamps with auto-levelling, illuminated side-steps, rain-sensing wipers, leather-accented seats, heated seats up front and on the second-row outer seats. The front row seats are ventilated. VX models have an auto-dimming rear-view mirror and a useful refrigerated cool box. Toyota replaces the standard 9-speaker sound system for a higher-end JBL 14-speaker set-up with DAB. Finally, there's front as well as rear parking sensors and a camera system for monitoring the terrain. The tech-laden Prado VX retails for $80,075.
Finally, for those desiring even higher levels of luxury and comfort, Toyota offers the Prado Kakadu. These models cost $91,100, verging into low-end Land Rover Discovery money. Kakadu Prados receive a kinetic dynamic suspension system (designed to reduce body roll by hydraulically linking each damper at the corner of the vehicle while maintaining off-road capability), a terrain selector system, crawl control, different drive modes, a tilt and slide moonroof and power folding rear seats. The steering wheel is now clad in a wood grain veneer, with controls for the audio, information display and telephone control all at your fingertips. For rear passengers, Toyota incorporates a fold-down rear entertainment screen Blu-ray player, complete with three wireless headphones.
For metallic and pearlescent paint finishes, Toyota charges $580.
Options
Buyers can choose between a spare wheel mounted on the tailgate or have the factory move the full-size spare under the rear floor pan and fit a glass hatch door fitted at no cost.
Prices shown are for NSW, postcode 2000.
Click on the model you're interested in to compare finance options.
GX
GXL
VX
KAKADU
4WD, manual, 2.8-litre diesel, 5 seats: $58,343
4WD, auto, 2.8-litre diesel, 5 seats: $61,493
4WD, auto, 2.8-litre diesel, 7 seats: $64,173
4WD, manual, 2.8-litre diesel, 7 seats: $65,168
4WD, automatic, 2.8-litre diesel, 7 seats: $68,318
4WD, automatic, 2.8-litre diesel, 7 seats: $80,075
4WD, automatic, 2.8-litre diesel, 7 seats: $91,100
The above prices are drive-away prices, for a standard example of each specification with no options specified. The drive-away price includes 12-months rego and CTP, the maximum possible dealer delivery charge and stamp duty. The CTP is calculated based on the Prado being in a garage in the postcode 2000, with a "rating one" 40-year-old driver.
Overview
Generalists don't usually nail everything. But according to car reviewers, the LandCruiser Prado comes ever so close. It has plenty of storage and a practical cabin, plus it will take you into a remote patch of the outback without batting an eyelid. It has a massive fuel tank and the ability to carry up to seven passengers.
Basically, it's the most versatile family car ever made. It only really falls down due to a slightly underpowered engine for such a heavy 4x4. Journalists also disliked the dated in-car entertainment system.
Website
Pros
Cons
Notable quote
CarAdvice

GXL offers excellent value
Solid on-road ride and comfort
Engine and gearbox work well

Infotainment not as good as competition
Has to work to tow a caravan or boat
Third-row seats leave little luggage space

"It still represents excellent, hard-to-argue buying for the family needing a large SUV."
CarsGuide

Colossal interior space
Lots of equipment
Highly practical

Hazy on-road handling
Size
Outdated media unit

"If you're looking for a hardcore off-road version of the Prado, the flat-tailgate Kakadu isn't for you. It's very much aimed at the suburban set but will do just fine if you do decide to get grotty."
Practical Motoring

Bona fide all-rounder
Comfortable
Unrivalled Toyota dealer network

On-road handling
Overly soft suspension
Short service intervals

"It's comfortable, well-appointed and capable, but a lack [of] on-road performance and too-soft suspension lets it down somewhat."
Drive

Off-road competence
Spacious interior
Comfortable to drive

Engine needs more power!
Dated interior
Spare wheel affects rear vision

"Knowing you'll get there is a big part of the Prado's appeal, but knowing that Toyota has the country covered if you get stuck adds to the peace of mind."
Engine and performance
The Prado line-up uses Toyota's 1GD-FTV 2.8-litre turbo diesel. This four-cylinder engine produces 130kW @ 3,400 rpm. With an automatic gearbox, the peak torque of 450Nm is available between 1,600 and 2,400 rpm. Prados with a manual gearbox have 420Nm on tap between 1,400 and 2,600 rpm.
Buyers can choose between a six-speed manual gearbox and a six-speed automatic. However, as the Prado's trim level begins to climb, Toyota limits customers to an auto cog-swapper only. The Prado is also a permanent 4WD, with a high-low transfer box and locking centre diff.
Car reviewers' opinions on the Toyota Prado engine/gearbox line-up
How did the motoring media rate the LandCruiser Prado's engine and gearboxes? Almost universally, journalists said that the Prado's 2.8-litre engine was outmatched by all of its rivals. Around town, testers spoke about how you wouldn't notice the power and torque deficit, but if you're hitching up to a trailer or caravan, then the lack of grunt is noticeable. The main downfall of the engine is probably more the sheer weight of a Prado, even the lightest model has a kerb weight of 2,240kgs. A top-of-the-range Kakadu with an automatic gearbox tips the scales at 2,455kgs. The engine has a lot of work to do and this was probably the most common concern reviewers raised. One critic probably summed things up best when they said it was adequate as opposed to exceptional.
Transmission wise, reviewers discovered that the Prado is responsive at low revs and the automatic switches gears acceptably. At higher speeds, one analyst mentioned it would be wise to give yourself a little extra space for overtakes, as fifth and sixth are tall gear ratios designed for efficiency rather than outright acceleration. Occasionally, it seems that the auto box held onto gears slightly too long, such as when travelling uphill or driving into a headwind.
Toyota Prado engine and transmission statistics
Manual models
Automatic models
Engine type

1GD-FTV turbocharged diesel engine

Drivetrain

Permanent 4WD with a high-low transfer box and lockable centre differentials.

Engine size/displacement

2,755cc

Fuel type

Diesel

Cylinders

Four-cylinders, inline with 16 valves and a Double Overhead Cam (DOHC).

Fuel tank capacity

150 litres (87-litre main tank and a 63 auxiliary fuel tank). Flat tailgate models have 87-litres capacity.

Max power

130kW @ 3,400rpm

Max torque
420Nm @ 1,400 - 2,600 rpm
450Nm @ 1,600 - 2,400 rpm
Fuel consumption (combined)
7.91L/100km
8.0L/100km
Acceleration (0-100km/h)

N/A

Emissions standard

Euro 6

Top speed (km/h)

N/A

Security

Factory immobiliser and alarm

Transmission

Six-speed manual or automatic transmission

Towing capacity (unbraked/braked)
750kg/2,500kg
750kg/3,000kg
Fuel Efficiency
According to the brochure, manual LandCruiser Prado models have the following fuel efficiency:
Combined: 7.9L/100km
Urban: 9.4L/100km
Extra-urban: 7.0L/100km
Automatic models use a fraction more fuel:
Combined: 8.0L/100km
Urban: 9.8L/100km
Extra-urban: 7.0L/100km
Don't forget, these figures are calculated from stringent ADR tests. On public roads, there are far more variables like traffic, weather, payload considerations and maintenance factors. This means that the manufacturer supplied fuel statistics should only be taken as a guide when comparing different models.
How much fuel did the test models use then? One media outlet averaged 9.8L/100km with a mixture of freeway and metro use. Another could only manage 11L/100km. However, with a segment-topping 150-litre fuel tank, you should always be able to reach the nearest filling station wherever you happen to be! When fitting the optional flat tailgate pack, Toyota moves the full-size spare wheel from the boot lid to the underside, removing the secondary tank in the process. Fuel capacity for these Prados decreases to 87 litres.
Handling
There's no getting around that the Prado is a weighty and beefy 4x4. According to our testing board, for such a large SUV, it actually handles surprisingly well on-road. The high travel suspension no doubt helps here by easily ironing out uneven roads and speed humps. One writer even said the ride upfront was very yielding, pillow-like even. Some of the automotive experts said the handling was a little too spongy and came across as floaty.
Kakadu models are equipped with a Kinetic Dynamic Suspension System (a trick set-up that hydraulically controls and interlinks suspension movement) helping to wrangle the Prados body and reduce roll. Around town, drivers said this made it handle more like a modern SUV than a utilitarian, body-on-chassis off-roader.
Apparently, the suspension may be a little too firm with this option though, so it's worth checking a Kakadu Prado out before buying.
Steering wise, the Prado has a turning circle of 11.6 metres, from a hydraulic rack and pinion set-up. Some of the reviewing panel found it vague on-road but liked the light action at low-speeds for close quarters manoeuvring. Others wanted more feedback through the wheel.
A LandCruiser should be able to handle itself when the terrain gets rough and loose. The Prado certainly has some good off-road chops, with a 700mm wading depth, decent approach and departure angles and a transfer box for low-range gearing. Some outlets went as far as saying it was unstoppable and praised Toyota for their simple terrain mode rotary dial. That long-range tank will also help for extended off-road journeys to remote areas.
Interior
Summing up the Prado interior, most reviewers suggested it was comfortable and spacious but a little old-fashioned. The Japanese carmaker was praised for providing a spacious interior that can carry seven adult passengers if needed, though the rear two seats are probably best reserved for shorter journeys or kids. Toyota was scolded for failing to integrate Apple CarPlay or Android Auto across the board.
Scattered throughout the passenger compartment, you'll find ample storage for your trip essentials and there's more than enough cup holders to go around. The VX and Kakadu may be the most expensive Prados, but they do have a refrigerated cool box for your bottles and ventilated seating for those really warm days. On GX and GXL Prados, the bottle storage is chilled using AC. All models have air-con vents for every row of occupants.
The option from the factory to go for a no-cost flat tailgate is nice. It gives you a nifty split boot, you can pop open the glass to drop in some groceries or harness your pet. But it comes at the price of having to sacrifice the second fuel tank, dropping capacity from a whopping 150 litres to a still sizeable 87. Otherwise, you can have a side-opening tailgate with the spare bolted onto it.
Boot space in a Prado isn't in short supply. On 5-seat examples, there are a ridiculous 640 litres ready to be filled. On 7-seat models, with the rear row folded flat, you have a reasonable 480 litres of space at your disposal. That's heaps for even the biggest of dogs or the most extensive grocery shop you've ever done. With the middle row dropped, things start to get really roomy, with 1,833 litres to play with. You can easily carry a mountain bike or two or haul around your latest weirdly shaped Ikea purchase – all while still transporting a passenger or two thanks to a 40/20/40 folding middle row and a 50/50 drop-down third.
The only spatial quirk of the Prado became apparent when the two rear seats are deployed, you have a compact 120 litres of storage for your shopping. A journalist said that your luggage is so close to the opening, it can fall out after shifting in transit.
In-car entertainment wise, reviewers unanimously picked up on the styling, which does have a sort of early 2000's hi-fi vibe to it. Testers complained it was clunky and difficult to use and that the DAB user interface needed improvement.
On Kakadu Prados, the inclusion of a fold-down TV screen and Blu-Ray/DVD player in the back is a bonus and one that'll break up long monotonous trips.
Toyota Prado safety and driver assists
Toyota Safety Sense (lane departure alert, pre-collision safety system with pedestrian detection, automatic high beam and active cruise control)Auto onlyAuto only✔✔
| | GX | GXL | VX | KAKADU |
| --- | --- | --- | --- | --- |
| Anti-lock braking system (ABS) with electronic brake-force distribution (EBD) and brake assist (BA) | ✔ | ✔ | ✔ | ✔ |
| Vehicle stability control (VSC) and traction control (TRC) | ✔ | ✔ | ✔ | ✔ |
| Trailer sway control (TSC) | ✔ | ✔ | ✔ | ✔ |
| 7 SRS airbags | ✔ | ✔ | ✔ | ✔ |
| Reversing camera | ✔ | ✔ | ✔ | ✔ |
| Rear parking sensors (4-head kit) | ✖️ | ✔ | ✔ | ✔ |
| Front parking sensors (4-head kit) | ✖️ | ✖️ | ✔ | ✔ |
| Blind-spot monitor (BSM) | ✖️ | ✖️ | ✔ | ✔ |
| Rear cross-traffic alert (RCTA) | ✖️ | ✖️ | ✔ | ✔ |
Toyota Prado off-road capabilities
| | GX | GXL | VX | KAKADU |
| --- | --- | --- | --- | --- |
| Active traction control (A-TRC) | ✔ | ✔ | ✔ | ✔ |
| Downhill assist control (DAC) | Auto only | Auto only | ✔ | ✔ |
| Hill-start assist control (HAC) | Auto only | Auto only | ✔ | ✔ |
| Rear differential lock switch | ✖️ | Auto only | ✔ | ✔ |
| 5-speed crawl control | ✖️ | ✖️ | ✖️ | ✔ |
| Adaptive variable suspension system (AVS) | ✖️ | ✖️ | ✖️ | ✔ |
| Multi-terrain select system (MTS) | ✖️ | ✖️ | ✖️ | ✔ |
| Kinetic dynamic suspension system (KDSS) | ✖️ | ✖️ | ✖️ | ✔ |
Toyota Prado interior and comfort features
| | GX | GXL | VX | KAKADU |
| --- | --- | --- | --- | --- |
| 40:20:40 split sliding second-row seats | ✔ | ✔ | ✔ | ✔ |
| 50:50 split fold-flat third-row seats | 7-seat Auto only | ✔ | ✔ | ✔ |
| Urethane steering wheel with audio and telephone controls | ✔ | ✖️ | ✖️ | ✖️ |
| Premium steering wheel with audio and telephone controls | ✖️ | ✔ | ✔ | ✖️ |
| Premium woodgrain-look steering wheel with audio, Multi-information display and telephone controls | ✖️ | ✖️ | ✖️ | ✔ |
| Cargo blind | ✔ | ✔ | ✔ | ✔ |
| Heated and ventilated front seats with heated second row outer seats | ✖️ | Optional | ✔ | ✔ |
| Leather-accented seats with power-adjustable driver and front passenger seat | ✖️ | Optional | ✔ | ✔ |
| Smart entry and start system | ✔ | ✔ | ✔ | ✔ |
| Manual air conditioning | ✔ | ✖️ | ✖️ | ✖️ |
| 3-zone climate control air conditioning | ✖ | ✔ | ✔ | ✔ |
| Electroluminescent combimeter, 4.2-inch multi-information display | Auto only | Auto only | ✔ | ✔ |
| Auto-dimming rear-view mirror | ✖ | ✖ | ✔ | ✔ |
| Panoramic and multi-terrain monitor | ✖ | ✖ | ✔ | ✔ |
| Drive mode select | ✖ | ✖ | ✖ | ✔ |
| Diesel particulate filter (forced burn off) switch | ✔ | ✔ | ✔ | ✔ |
Toyota LandCruiser Prado exterior features
| | GX | GXL | VX | KAKADU |
| --- | --- | --- | --- | --- |
| 17-inch alloy wheels | ✔ | ✔ | ✖️ | ✖️ |
| 18-inch alloy wheels | ✖️ | ✖️ | ✔ | ✔ |
| Full-size spare wheel | ✔ | ✔ | ✔ | ✔ |
| Halogen headlamps with "headlight-on" function | ✔ | ✖️ | ✖️ | ✖️ |
| Bi-LED headlamps with LED DRLs | ✖️ | ✔ | ✔ | ✔ |
| LED fog lamps | ✖️ | ✔ | ✔ | ✔ |
| Auto-levelling headlamps | ✖️ | ✔ | ✔ | ✔ |
| Heated and electrically retractable side mirrors | ✔ | ✔ | ✔ | ✔ |
| Privacy glass | ✖️ | ✔ | ✔ | ✔ |
| Flat tailgate pack (automatic only) | ✖️ | Opt | Opt | Opt |
| Glass hatch (Flat tailgate pack only) | ✖️ | ✔ | ✔ | ✔ |
| Lilt and slide moonroof | ✖️ | ✖️ | ✖️ | ✔ |
Verdict
The LandCruiser Prado is a behemoth of a car and a nameplate. It's the bestselling large SUV on the market and doesn't really put a foot wrong anywhere, apart from the lack of smartphone connectivity and some reviewers picked on its size/outdated entertainment interface. Many reviewers said the GXL was the best of the bunch for families.
Compare some options to finance a Toyota Landcruiser Prado
Compare car insurance products side-by-side and get quotes
Pictures: Toyota