How to drive from Toronto to Niagara Falls in a day | A couple of travel makers
How to day trip to Niagara Falls from Toronto
We're reader-supported and may be paid when you visit links to partner sites. We don't compare all products in the market, but we're working on it!
Sitting on the border of Ontario in Canada and New York State in the US, our first thought when trying to tick the famous Niagara Falls off our list was: can we day trip from New York City?
The answer: yes and no.
While Niagara Falls is in New York State, it's miles away from New York City. 408 miles (656km) to be exact. Or a 6.5-hour drive each way. Possible but painful.
With an hour flight from NYC to Toronto and a further 90-minute drive from Toronto to Niagara Falls, we opted to make a trip of it and cover some Canadian ground.
It was the best and most relaxing option we could have taken.
Here's what you need to know to do it, too.
TL;DR: Niagara Falls day trip
Distance from Toronto to Niagara Falls: 128km / 90-minute drive
Transport options from Toronto to Niagara Falls: Car, train, bus, tour
Things to do in Niagara Falls in a day: Included in our one-day itinerary are wine tasting in Niagara-on-the-lake, see Niagara Falls by day and night and cruising Niagara Falls
Top wineries to visit: Inniskillin, Pellers, The Hare
Cost of a day-trip from Toronto to Niagara Falls: We spent $484.04 which included car hire, petrol, meals and wine
Who are a couple of travel makers?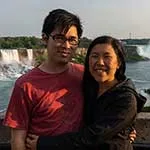 We're Stef and D, a pair of married jetsetters. We've visited over 50 countries in total and are determined to see even more – and all while working full-time and paying off a mortgage. We count our dollars at home and away and are here to share our tips on how you can travel on a budget.
New blog posts every fortnight on Mondays | Follow us: @acoupleoftravelmakers
How to get from Toronto to Niagara Falls
From Toronto you can self-drive or take the train or bus to Niagara Falls. Another alternative is to book a Niagara Falls day tour.
Niagara Falls driving itinerary
We're huge fans of wine regions so renting a car was a no-brainer for us as it allowed us to visit Niagara-on-the-lake at our leisure before taking in the magnificence of The Falls.
Here's our suggested day itinerary:
9am: Pick up your rental and head to Niagara-on-the-lake
From Toronto, it's a straightforward highway drive to Niagara-on-the-lake. Follow the signs to the Gardiner Expressway W and then take Queen Elizabeth Highway toward Niagara Street/Regional Road 89.
Exit at 38B and drive along Regional Road 90 to Regional Road 55. You'll be in the thick of the wineries in next to no time.
11am: Explore the wineries
There are over 100 wineries in Niagara-on-the-lake and its specialisation is ice wine. It's a dessert wine produced by grapes frozen at a certain temperature over a set period of time and harvested by hand.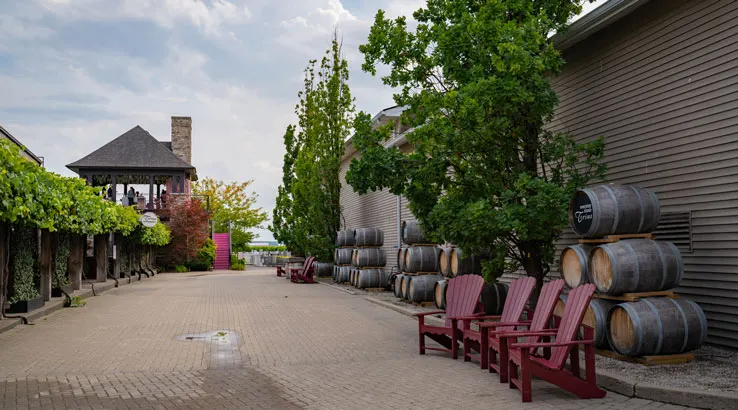 Choose your wineries wisely. We covered four but would have preferred to visit fewer as it cut into our time at Niagara Falls.
Budget tip:
Most wineries offer tasting flights and they're very accommodating in allowing pairs to share them. If you buy a bottle, some wineries also dock the flight cost off your purchase.
1pm: Have lunch
You can have lunch in Niagara-on-the-lake township or, if you're seeking a romantic table, you can book a spot at a winery restaurant. Ravine, Truis and Peller Estates come highly recommended.
We landed at Peller Estates and were lucky enough to discover its Sip and Savour Tasting Pass. This entitled one guest to a glass of sparkling, a premium tasting flight and a food item and drink from The Barrel House Grill menu in the estate's garden – all for the bargain price of CAD$40 plus tax.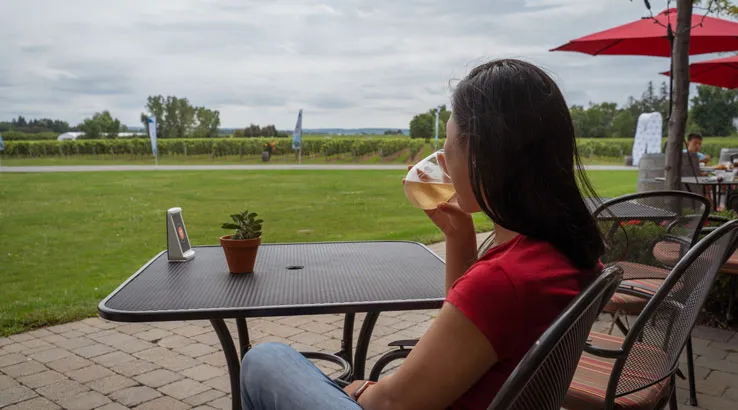 The best bit? We didn't have to buy two passes. Instead we shared the flight and ordered an extra dish at the grill, saving us a bundle.
2pm: Explore Niagara-on-the-lake township
Walking through this historical town is like walking onto the set of Gilmore Girls. There's a quaint and charming feel about the tree-lined streets and you'll find everything from ice creameries to apothecaries.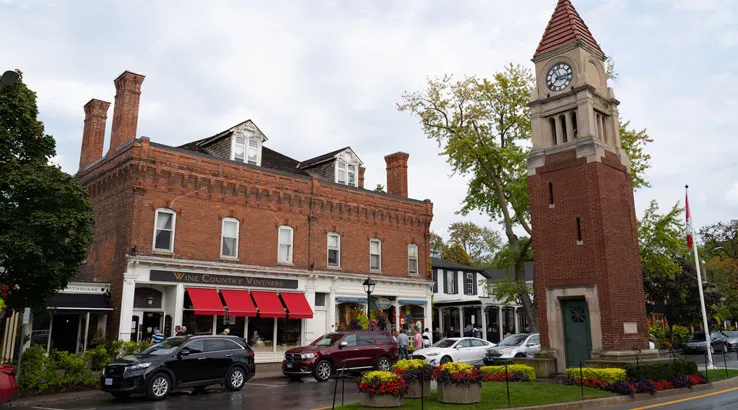 Pop by for dessert at the famous COWS ice creamery before heading to Niagara Falls.
3pm: Drive to Niagara Falls
Depending on the season you may wish to get here before 3pm. We were in Canada during spring so the light didn't fade until 8pm, giving us ample time to walk the Niagara Falls promenade.
Other than the falls, which you can see for free, you can also zipline beside them or catch the ferry.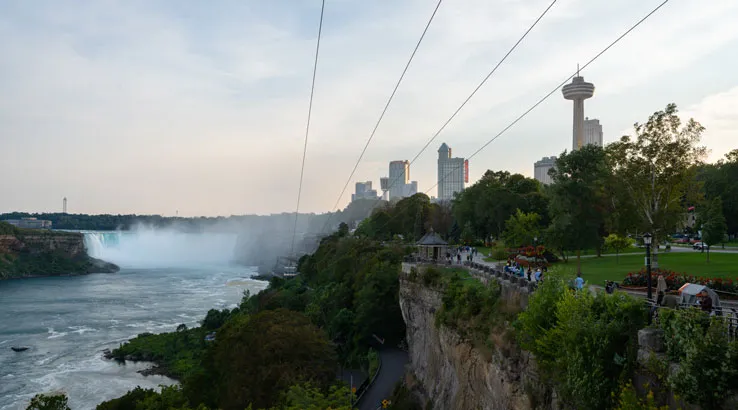 Being money-conscious, we opted for neither. Honestly, the zipline looked unimpressive as it didn't even get close to the water. However, the ferry may have been an experience.
You can opt to go on the Maid of the Mist (US side) or the Hornblower (Canadian side). They are priced at US$19.25 and CAD$25.95 respectively.
8-10pm: Catch the light show and have dinner
Every evening The Falls are lit in bright colours and every Friday and Saturday there are fireworks displays. The timing of this changes per season and sadly we mistimed our viewing, believing it was earlier. To plan correctly, see the most-up-to-date schedule here.
For dinner, The Falls itself has a handful of restaurants... at tourist prices. To save, head into Niagara Falls town which is a short drive from the actual falls. We discovered Napoli which served authentic Italian with prompt and attentive service.
10pm: Drive back to Toronto
On a good run, leaving Niagara Falls at 10pm should get you back to Toronto before midnight.
Most car rentals have an after-hours drop-off included in your day hire. Be sure to read all instructions as we had to refuel our car and leave the receipt in the vehicle as proof of refuelling and drop-off time.
---
Our top 3 Niagara-on-the-lake wineries
Inniskillin: This is the most famous and arguably the bearer of the best ice wine in the region. Tours of the vineyards and cellar are available daily.
Peller Estate: Peller is a beautiful estate with a fine dining and low-key outdoor eating area. The ice wine was a highlight as were its whites.
The Hare Wine Co.: This is one of the newest wineries in the region. Flights are cheap starting at $5 for table wines and $15 for dessert wines.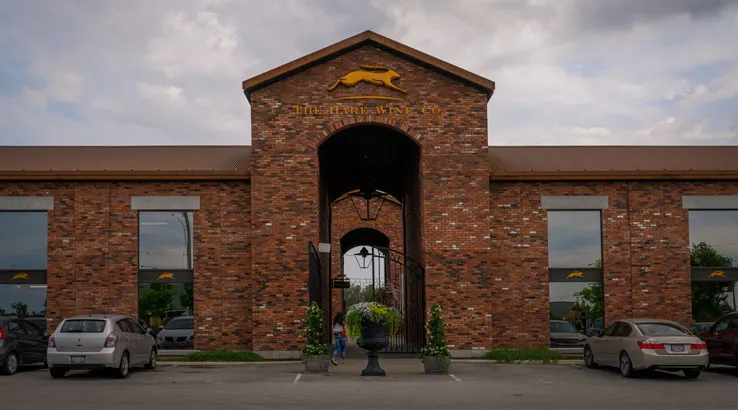 How much spending money do I need for a day trip to Niagara Falls?
Here's a breakdown of what we spent on our trip.
Car hire, petrol and parking: CAD$100.35
Accommodation: None. We stayed with family in Toronto
Meals and drinks: CAD$118.75
Activities and experiences: CAD$10
Souvenirs: CAD$208
Annual leave days taken: 1
Total day-trip expenses: CAD$437.10 ($484.04).
---
Compare car rentals in Toronto
More guides on Finder