Top 10 most common passwords (and better alternatives)
Make sure you avoid these passwords.
The most common way for a burglar to enter a house is through an unlocked front door or an open window. All they have to do is tug on doorhandles and eventually one will open right up.
Electronic passwords are the same. Some of them are extremely widely used, and hackers might simply run a program that automatically tries the most common passwords on a wide range of accounts.
And plenty of them will open right up.
So what are the most commonly used passwords?*
1: 123456
The number one (through six) is the most commonly used password. You won't forget that password, but neither will anyone else.
2. password
This instant classic is now a cliche. You really don't want your password to be a cliche.
3. 12346
Do you see a trend? Clearly more accounts ask for a password that is at least 6 digits long.
4. 12345678
"To ensure the utmost user security we require passwords to be at least 8 digits long." For all the good that does.
5. football
Any football fans out there? Apparently.
If you want a sure-fire way to settle any "most popular sport" arguments, just point to this.
6. qwerty
Well... "asdfgh" and zxcvbn" are also not recommended"
7. 1234567890
"Hey, a lot of our users are still getting their accounts hacked."
"Fine. We'll start requiring passwords to be 10 digits long."
8. 1234567
"...How about 7 digits?"
9. princess
It probably won't be Prince Charming climbing through the window.
10. 1234
Seriously?

If you have one of these most commonly used passwords*, it might only be a matter of time before someone guesses their way into your account.
How to choose a better password
There's a reason many accounts now won't let you choose passwords with consecutive numbers.
And you probably want to go beyond kids' names, pets, the first street you lived on, your favourite song and similar. None of those are particularly secure in the age of social media.
Also, it's not a good idea to use the same password for a lot of different accounts. If someone manages to get access to one of your accounts (often through no fault of your own), they might simply try the same password for any other account they've managed to tie to you.
The safest bet might simply be to memorise a series of numbers and letters. Depending on the situation, it might be safe enough to keep it written down somewhere, preferably beyond eyeshot from windows or webcams, until you have it all memorised and can dispose of it.
After business protection against cyber threats?
If you are ready to speak with a consultant about different business insurance options available, simply enter your details in the form. Keep reading if you want to learn more about the different types of cover available.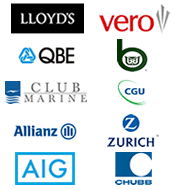 Receive quotes from these direct insurance brands
*Based on 2017 study from SplashData on the most commonly used passwords of 2016.
Related Posts