Free timesheet template (Australia)
How to use a timesheet to maximise your business's most valuable resource: it's people.
We're reader-supported and may be paid when you visit links to partner sites. We don't compare all products in the market, but we're working on it!
To be competitive as an entrepreneur or business owner, time management is crucial. One of the basic but most important ways to manage your employee's time is through a timesheet. Read on to find out what a timesheet is and how to create your own using a free template.
What is a timesheet?
A timesheet is a tool that helps businesses to track the time worked by employees. This tool is also used to track time when employees work on client-specific projects, or track the overall amount of time worked over specific periods of time. These range from a single day to months, a financial year or even multiple years.
There is no need to make huge investment or operational changes to use a timesheet in your business. At the most basic level, paper sheets can be used. That's as long as they have helpful tables containing employees' names and start and finish times. However, digital timesheets and online solutions are more widely used in modern business. Some of these tools are available online free of cost.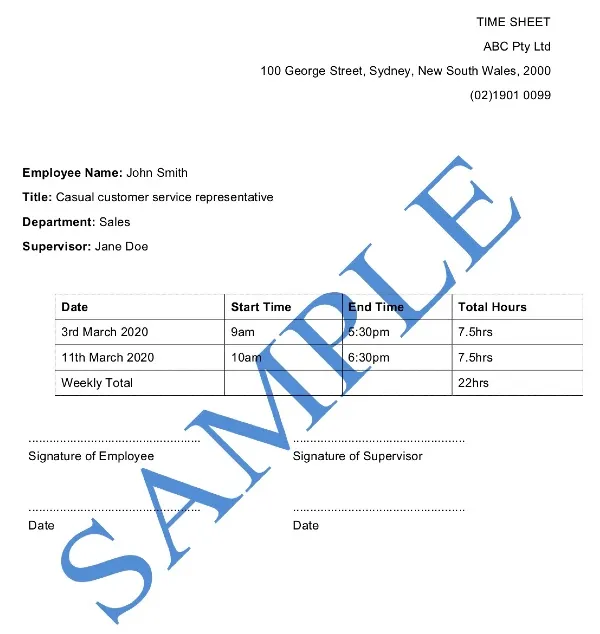 Download this template at Lawpath
When do you need to use a timesheet?
Ideally, a timesheet should be used for all projects where your business is liable to pay wages as a cost of production. Most businesses track these times for each employee in the organisation and usually for external contractors. However, at first it can be difficult to use timesheets for every employee on every project. In this case, make sure to start with the core projects that your business has been working on.
Since the COVID-19 pandemic, it has become even more crucial to make use of digital timesheets to track the amount of time spent. While working from home does bring more flexibility to the workplace, it's important to make your employees aware of their responsibilities with tracking time while working from home.
What should be included in a timesheet?
There's no fixed format for a timesheet. This means that there can be some flexibility around what's included. As a guide, you may consider including a table with spaces for the following elements in your timesheets:
Name of the employee
Name of the project
Salary period against which time is logged
Date or period of the time logged
Start time
End time
Total hours worked
You may add or delete elements according to your individual requirements. Some other important points to consider when designing a timesheet and deciding what information to include are:
Whether to log time separately for each project or to log total hours worked.
What is the appropriate period of time. For example daily, weekly, or monthly?
Do you want to use timesheets to measure productivity? If yes, perhaps consider adding a column to measure the amount of work done during work hours.
Once timesheet requirements are finalised, a timesheet calculator or a timesheet template may be created or downloaded free of cost from a range of different online sources.
Get access to customisable timesheet templates online
Does your company belong in this list?
How can a timesheet help in achieving business goals?
A timesheet isn't a magic trick that provides a solution to all business problems. However, it's an effective tool to achieve business goals and maximise workplace efficiency. The reason for this is that timesheets allow better reporting and more efficient tracking of business operations. With that information your business can make better informed decisions. This information can help with these critical business functions:
Time tracking. Labour can be one of the biggest expenses for any business. With a reliable timesheet template you have the power to track these costs. This also helps to find how much labour costs to complete different tasks and projects.
Management tool. Timesheets allow your business to know workplace attendance. If employees are required to report their work times they are more likely to be on time and more productive.
Avoids wastage. A business cannot afford to waste scarce resources in a highly competitive environment. With timesheets, Its easier to understand your labour productivity compared to the industry average.
Tracking remote employees. With the growth in working from home tracking employees' work times is essential. This can only be done with a digital time tracking app. Even prior to the pandemic tracking the productivity of remote work could only be done with an effective time tracking app. For Freelancers, Upwork or Fiverr are among the best examples.
Where to find timesheet templates
As mentioned earlier, creating a timesheet template is not a complex task. If you are still looking for a reliable and free timesheet template these resources are a good place to start:
Wonder.Legal. Wonder.Legal offers a range of legal and business templates, including timesheet templates, which can be customised and downloaded.
Fair Work. The Fair Work Ombudsman offers a range of free business information and templates including timesheet templates.
More guides on Finder