This week in streaming: Mrs. America premieres and Onward arrives on Disney+

Highlights also include Season 2 of the Ricky Gervais series After Life.
We're living in weird times, so there's no wonder a lot of us are turning to television to soothe us during isolation. After all, a delicious new comedy can break the monotony, while a well-crafted drama might even help us escape reality for an hour. Luckily, streaming services have something for everyone this week, including returning shows, acclaimed premieres and a few movies worth checking out.
On Foxtel, gear up for hyped series Mrs. America, which stars Cate Blanchett as Phyllis Schlafly, a conservative who successfully campaigned against ratification of the Equal Rights Amendment to the US Constitution. The show is getting a lot of buzz, mainly due to Blanchett's performance, which will likely earn her some Emmy recognition come awards season.
Over at Netflix, you can relax with Extraction, an original movie starring Chris Hemsworth as a mercenary who is hired to rescue the kidnapped son of an imprisoned international crime lord. Ricky Gervais' dramedy After Life returns with Season 2 on 24 April, so you still have time to catch up with the first 6 episodes of Season 1. The show follows a widower who decides to do and say whatever he likes. It's moving and often hilarious.
Meanwhile, Stan is gearing up for the premiere of Penny Dreadful: City of Angels, a spin-off to the popular Penny Dreadful. The new series is set in 1938 Los Angeles, a time and place deeply infused with Mexican-American folklore and social tension. It stars Natalie Dormer, Daniel Zovatto and Nathan Lane, among others. Acclaimed show Vida also returns with Season 3, so mark your calendars for 26 April.
If you're looking for something pulpy to keep you entertained, SBS On Demand has you covered with Reprisal, which stars the lovely Abigail Spencer as a relentless femme fatale who embarks on a revenge mission. For a different kind of girl power, tune in for Ride Like a Girl on Prime Video, a movie about Michelle Payne, the first female jockey to win the Melbourne Cup.
Finally, Disney+ is treating viewers to the premiere of Pixar's heartfelt Onward, which arrives on streaming sooner than expected. The movie follows teenage elf brothers Ian and Barley, who go on a magical quest to spend one more day with their late father. Perfect if you have kids and need a break from streaming Frozen 2 and Moana on repeat.
Take a look at the highlights of this week's new streaming releases below. For more upcoming titles, check out our list of everything coming to streaming in April 2020.
Foxtel
21 April
Mrs. America, Season 1
Genre

Biography, Drama, History
Runtime

1-hour episodes
IMDb

7.3
---
Netflix
24 April
After Life, Season 2
Genre

Comedy, Drama
Runtime

30-minute episodes
IMDb

8.4
---
Extraction
Genre

Action
Runtime

1h56min
IMDb

N/A
---
Stan
26 April
Penny Dreadful: City of Angels, Season 1
Genre

Drama, Fantasy, Horror
Runtime

1-hour episodes
IMDb

N/A
---
Vida, Season 3
Genre

Drama
Runtime

30-minute episodes
IMDb

7.1
---
SBS On Demand
22 April
Reprisal, Season 1
Genre

Crime, Drama, Thriller
Runtime

1-hour episodes
IMDb

7.5
---
Prime Video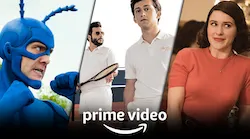 FREE TRIAL: 30 days of Prime Video's premium TV shows and movies for free
from Prime Video
Prime Video's free 30-day trial will give you instant access to thousands of premium TV shows and movies.
View details
25 April
Ride Like A Girl (also on Foxtel)
Genre

Biography, Drama, Sport
Runtime

1h38min
IMDb

6.8
---
Disney+
24 April
Onward
Genre

Animation, Adventure, Comedy
Runtime

1h42min
IMDb

7.5
---
Image source: Foxtel website