This week in streaming: Some delightful comedies are coming your way

The Downton Abbey movie will also finally be available to stream.
This week will be a good one for comedy lovers, with new seasons of established funny shows and some fresh titles scheduled to premiere across Australia's streaming services. Which is excellent news, since losing yourself into a good comedy can make you forget that it currently feels like we're living inside a Stephen King novel.
Speaking of which, The Stand is getting a new TV adaptation, courtesy of US platform CBS All Access, which is likely to drop later this year. The cast includes James Marsden, Amber Heard and Whoopi Goldberg. That should be… interesting. Until then, let's see what streaming has in store for us this week.
On Foxtel, Season 4 of acclaimed HBO comedy Insecure premieres 13 April. The series, which currently has a 97% Rotten Tomatoes score, follows two friends who navigate love, life and microaggressions in LA. It's honest and hilarious, which makes it a must-see. You can catch up with the previous three instalments on demand.
Meanwhile, Netflix is releasing Season 3 of Israeli television series Fauda, as well as original movie Sergio, which tells the story of Sergio Vieira de Mello, the charismatic U.N. High Commissioner of Human Rights who was killed by terrorists in Iraq.
For more cheerful television, we recommend you direct your attention towards Stan, which is premiering new show The Baker and The Beauty this week. This romantic musical dramedy follows a baker who lives in Miami and falls for an international superstar and fashion mogul. The platform is also dropping Mrs. Wilson, a series about a grieving widow who discovers that her seemingly ideal husband lived many secret lives. It's all about balance.
Over at Prime Video, you can tune in for the first 4 seasons of Superstore, a charming comedy revolving around the employees of a big-box store. Or, you can watch the Downton Abbey movie, which will also stream on Foxtel. If you loved the series, the film will be right up your alley as it follows the Crowleys getting ready for a royal visit from the king and queen.
Take a look at the highlights of this week's new streaming releases below. For more upcoming titles, check out our list of everything coming to streaming in April 2020.
Foxtel
13 April
Insecure, Season 4
Genre

Comedy, Romance
Runtime

30-minute episodes
IMDb

7.8
---
Netflix
16 April
Fauda, Season 3
Genre

Action, Drama, Thriller
Runtime

1-hour episodes
IMDb

8.3
---
17 April
Sergio
Genre

Drama
Runtime

1h58min
IMDb

6.7
---
Stan
14 April
The Baker and the Beauty, Season 1
Genre

Comedy, Drama, Musical
Runtime

N/A
IMDb

N/A
---
16 April
Mrs. Wilson, Season 1
Genre

Biography, Drama, Mystery
Runtime

1-hour episodes
IMDb

7.4
---
Prime Video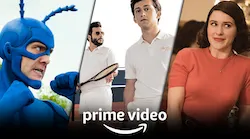 FREE TRIAL: 30 days of Prime Video's premium TV shows and movies for free
from Prime Video
Prime Video's free 30-day trial will give you instant access to thousands of premium TV shows and movies.
View details
11 April
Downton Abbey (also on Foxtel)
Genre

Drama, Romance
Runtime

2h2min
IMDb

7.4
---
15 April
Superstore, Seasons 1-4
Genre

Comedy
Runtime

20-minute episodes
IMDb

7.8
---
Image source: Finder website