This week in streaming: There's some quality Aussie content coming your way

Highlights include Bloom Season 2 and the Party of Five reboot.
Chances are you're staying in these days, which means you have extra time to dedicate to binge-watching. But what if you've already caught up with your watchlist and even revisited some old faves? Then you might want to keep an eye out for new titles hitting streaming services in the near future. Not to worry – there's zero chance you'll run out of stuff to watch anytime soon.
This week, there's an infusion of local content dropping on both Stan and Prime Video. Season 2 of hit show Bloom is arriving on Stan on 8 April. If you need to catch up, there's still time to binge the first instalment, which consists of six episodes. The series revolves around a country town where a mysterious plant is discovered that restores youth. Stan is also releasing miniseries The Little Drummer Girl – a passionate love story set in the late 1970s that weaves a tale of espionage and international intrigue.
Meanwhile, Prime Video is bringing us a great line-up of home-grown Aussie comedy specials throughout the month, starting on 10 April. The first two are Celia Pacquola's All Talk, which earned her a nomination for the 2018 Melbourne Comedy Festival Award for Most Outstanding Show, and Zoë Coombs Marr's Bossy Bottom, a hit with critics and fans alike.
Netflix keeps pumping up fresh titles as well. This week, you can enjoy Part 3 of Terrace House: Tokyo or settle in to watch new comedy series Brews Brothers. On the movie front, new titles include Tigertail and Love Wedding Repeat.
Over at Foxtel, you can tune in for Season 3 of delightful comedy Future Man. Or, why not indulge in the premiere of new survival series Alone: The Beast, which sees three contestants trying to brave the wilderness with zero equipment. This might make you feel better about your current predicament – at least you can self-isolate on the couch. In the mood for a hilarious rom-com? Bridget Jones's Baby arrives on Foxtel on 10 April.
As for SBS On Demand, the free platform is dropping the Party of Five reboot, which centres on five Mexican-American siblings struggling after their parents get deported. If you liked the original, there's a good chance the modern version will be right up your alley as well.
Take a look at the highlights of this week's new streaming releases below. For more upcoming titles, check out our list of everything coming to streaming in April 2020.
Netflix
7 April
Terrace House: Tokyo 2019-20: Part 3
Genre

Reality TV
Runtime

40-minute episodes
IMDb

7.7
---
10 April
Tigertail
Genre

Drama
Runtime

1h31min
IMDb

N/A
---
Love Wedding Repeat
Genre

Comedy
Runtime

1h40min
IMDb

N/A
---
Brews Brothers
Genre

Comedy
Runtime

N/A
IMDb

N/A
---
Stan
8 April
The Little Drummer Girl
Genre

Drama, Thriller
Runtime

1-hour episodes
IMDb

7.4
---
9 April
Bloom: Season 2
Genre

Drama, Mystery, Sci-Fi
Runtime

1-hour episodes
IMDb

6.6
---
Amazon Prime Video
10 April
Bossy Bottom – Zoë Coombs Marr
Genre

Comedy
Runtime

1h5min
IMDb

N/A
---
All Talk - Celia Pacquioa
Genre

Comedy
Runtime

59min
IMDb

N/A
---
SBS On Demand
10 April
Party of Five
Genre

Drama, Family
Runtime

45-minute episodes
IMDb

5.3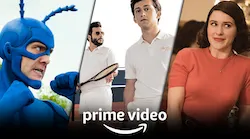 FREE TRIAL: 30 days of Prime Video's premium TV shows and movies for free
from Prime Video
Prime Video's free 30-day trial will give you instant access to thousands of premium TV shows and movies.
View details
---
Foxtel
7 April
Future Man: Season 3
Genre

Comedy, Adventure
Runtime

30-minute episodes
IMDb

7.8
---
Alone: The Beast: Season 1
Genre

Game Show
Runtime

1-hour episodes
IMDb

6.1
---
Bridget Jones's Baby
Genre

Comedy, Romance
Runtime

2h3min
IMDb

6.5
---
Image source: Stan website