THEC64 MINI Review: A delightful slice of 1980s nostalgia
Retro Games' THEC64 MINI offers an uneven selection of games to play, but it's a great way to learn your gaming history while having plenty of fun.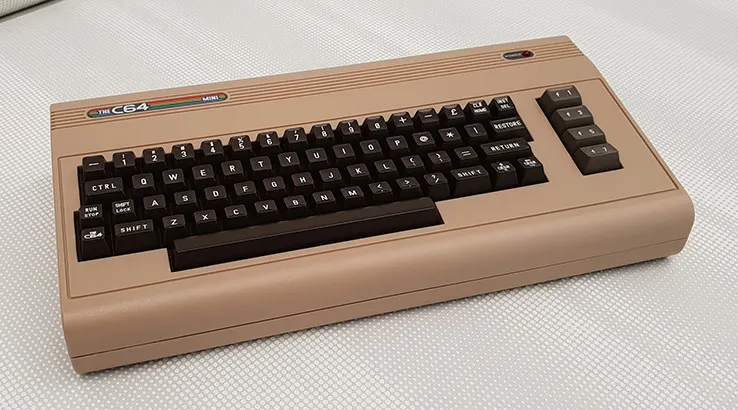 We're reader-supported and may be paid when you visit links to partner sites. We don't compare all products in the market, but we're working on it!
Nostalgia has been riding high in gaming circles for some time now, spurred on by Nintendo's wildly successful Nintendo Classic Mini Nintendo Entertainment System and Nintendo Classic Mini Super Nintendo Entertainment System devices.
It's into this market that the "world's best selling computer" returns, in the form of the $149 THEC64 MINI, a similarly shrunk-down recreation of the classic beige 80s computer.
Nostalgia only works if you've got something to be nostalgic for, and here I have to confess that I didn't actually own a Commodore 64 as a youngster. We were an Amstrad family (you can direct your ire towards
Angus Kidman
for that, if you really must), but the C64 was an inescapable force in that era, right down to its iconic local advertising. That's right, kids, there was a
lot
of cocaine around back then.
THEC64 MINI takes the C64's best remembered beige design and shrinks it down into an 8 inch body, but this is essentially just window dressing, just like it is for Nintendo's mini consoles.
This means that the keyboard doesn't actually function, there's nowhere to plug in your 1530 Datasette, or for that matter your International Soccer cartridge.
But that's because this isn't a hot-washed Commodore 64, but instead the emulation of a C64 wrapped up in a friendly shell. That means you get modern conveniences like HDMI connectivity and USB ports for connecting the supplied joystick and optional accessories such as USB storage or an external keyboard.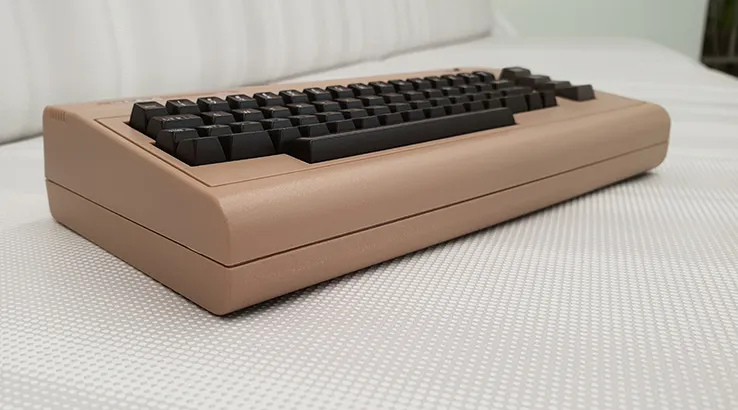 Setting up TheC64 MINI doesn't involve much more than finding a phone charger, because like Nintendo's efforts, power is not supplied in the box. Plug that in, connect up to an HDMI-compliant monitor or TV, and you're away with no need to tune in a snowy analogue picture, or for that matter waiting until Dad's finished watching the cricket. Sometimes, progress is for the better, folks.
Retro Games, the producers of THEC64 MINI have borrowed the essential layout design that Nintendo's used for its retro consoles, which means that when you launch, you're greeted with a horizontally scrolling selection of games to play. 64 games are pre-installed in total, specifically:
| THEC64 Games List | | | |
| --- | --- | --- | --- |
| Alleykat | Everyone's a Wally | Monty on the Run | Star Paws |
| Anarchy | Firelord | Nebulous | Steel |
| Armalyte - Competition Edition | Gribbly's day Out | Netherworld | Street Sports Baseball |
| Avenger | Hawkeye | Nobby the Aardvark | Summer Games II |
| Battle Valley | Heartland | Nodes of Yesod | Super Cycle |
| Boulder Dash | Herobotix | Paradroid | Temple of Apshai Trilogy |
| Bounder | Highway Encounter | Pitstop II | The Arc of Yesod |
| California Games | Hunter's Moon | Ranarama | Thing on a Spring |
| Chip's Challenge | Hysteria | Robin of the Wood | Things Bounces back |
| Confuzion | IO | Rubicon | Trailblazer |
| Cosmic Causeway | Impossible Mission | Skate Crazy | Uchi Mata |
| Creatures | Impossible Mission II | Skool Daze | Uridium |
| Cyberdyne Warrior | Jumpman | Snare | Who Dares Wins II |
| Cybernoid II: The Revenge | Mega Apocalypse | Speedball | Winter Games |
| Cybernoid: The Fighting Machine | Mission A.D. | Speedball 2 - Brutal Deluxe | World Games |
| Deflektor | Monty Mole | Spindizzy | Zynaps |
There really is a little something for everyone there, but quite how you take to them will depend on your nostalgia for a given title, and how well it's aged. As an example, while it's interesting to see both Speedball and Speedball 2 included, the former is more of a history lesson while the latter is a much improved title.
Rather obviously, because these are original games, the visuals are rather dated, as are some of the gameplay styles. There's games here that haven't aged as well as others, but again your perception of which titles those are may vary. For my money, there's plenty here that still qualifies as "fun", whether you fancy the tricky timing of games such as Monty on the Run or the serious, joystick-destroying qualities of the classic Winter Games or Summer Games II.
Now, I'm a grizzled old retro fanatic, so I also tested these out on my cynical, very much millennial offspring. Yes, there were a few titles that were all but instantly ditched, but there were also a few that commanded immediate and sustained attention.
One of my children is currently just as obsessed with Epyx's classic Impossible Mission as just about anyone was back in the day, because it's aged beautifully -- and also because the grainy voice samples have them determined to finish it all costs.
The emulation of the supplied titles is very good, with plenty of tweaking options depending on whether you want emulated scanlines, different screen ratios or even PAL or NTSC emulation.
While a modern flat screen TV most definitely isn't a CRT, and absolute purists would be able to spot small scale differences between THEC64 MINI's output and a real Commodore 64, for the target market that (largely) wants to relive their childhoods, it's more than adequate.
One feature that isn't on THEC64 MINI is included manuals for each of the games. That's a frustrating omission, because while you can find them online, that's a break in gameplay while you figure out whether jumping is a button or direction, or in some cases what you're actually expected to do in a given title! It's a quick recipe for deciding that a given game is too hard, or too weird, or sometimes both.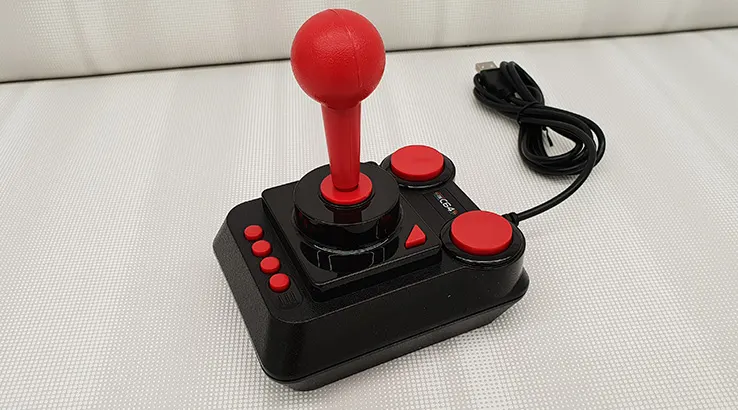 You get a single USB joystick in the classic style with THEC64 MINI, and it's one that I'm a bit torn over. It has a rather loose, cheap feel, and that's a touch annoying on a system that costs $149, but on the other hand, it also means that it really is an accurate representation of many of the sticks of the day, especially after one too many bouts of Winter Games.
Many Commodore 64 games relied on keyboard inputs, if only to start games, and with that in mind, the supplied joystick includes dedicated buttons to bring up an onscreen, right-aligned virtual keyboard. It's fine for if you just need to hit a number to start a game, but for any longer typing work hooking up an external USB keyboard is a must.
That's also going to be a good option because unlike the Mini NES or SNES, the C64 MINI can operate as a classic computer, right down to the inclusion of Commodore 64 BASIC. That's right, you can once again relive those heady days of creating rude variants of the classic "Hello World" scrolling text onscreen in department stores that you loved as a child. That wasn't just me, right?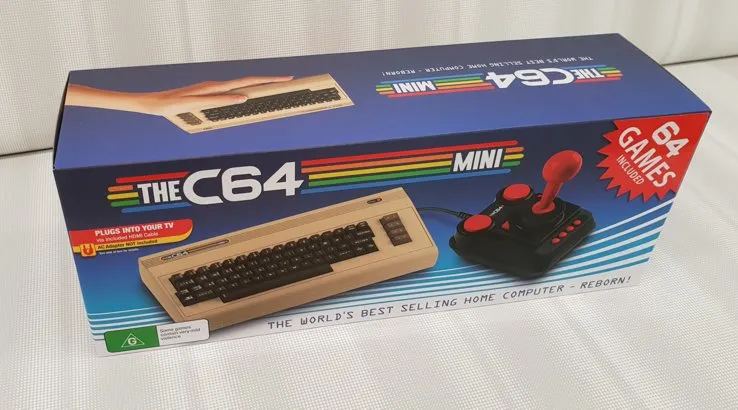 Of more practical use, the inclusion of Commodore Basic means you can also load .d64 disk images to run on THEC64 MINI. There's some large scale caveats to that experience right now, however.
From a strictly legal standpoint, here in Australia, you're not allowed to use images of commercial games even if you do still own the original.
It is (in my strictly personal opinion, this is not legal advice) a rather stupid quirk of Australian copyright law that I can "format shift" a CD for easier listening, but my tape copy of Jet Set Willy has to remain on the tape until it rots. Your own conclusions about how likely you are to be pursued for such infringements were you to find games on some hypothetical international computer network are your own matter, although there are some public domain titles available as well that you could load.
At a purely practical level, to comfortably load disk images, you'll need an external USB keyboard, flash drive and the supplied USB joystick. This becomes an issue when you realise that there's only two USB ports, so you'd better throw a powered USB hub into the mix as well. I did try with a regular unpowered hub, and got no further than locking up THEC64 MINI entirely.
Loading an external title is then a matter of typing in some set commands (there's a guide here) which is also rather fiddly. The promise is that we'll see a future firmware upgrade that will provide "an easier and more powerful program loader", but for right now, while it's feasible, it's not exactly seamless.
As I've been playing through THEC64 MINI's game selection, I've come to the realisation that it doesn't matter that I was an Amstrad kid rather than a Commodore one, and not just because there were so many cross-platform ports in those days anyway.
THEC64 MINI represents a time when there was a lot of experimentation in gaming development, and a whole lot more developers who were essentially just as "powerful" creatively as the AAA studios of today. Many of them were better programmers than the established brands too, although it's perhaps easier to get away with wacky ideas when you're only charging a couple of dollars for a game.
Where Nintendo's classic consoles give you a glimpse into its past, it's also a reflection of just how much polish they've put on their titles, and how they've continued with many of the same iterated game ideas, refined over the decades. Modern Mario games are great, but the DNA link to classic Super Mario Brothers is very evident, in other words.
THEC64 MINI reflects a different, considerably more raw and unrefined ethos, and that comes through in more than just the plain visuals.
There's a spark of creativity, experimentation and humour that's not present in the classic console titles. I can't imagine Nintendo commissioning a game called "Nobby The Aardvark", or for that a matter a game where you play as a sentient football flying through space.
Is THEC64 MINI something that you'll play forever? Probably not, and there are some games that you might not even give a second glance. Undeniably, there are classic Commodore 64 games that you'd probably wish were present, although it's understandable how murky the actual commercial rights situations for those titles might be.
At $149, THEC64 MINI is very clearly an enthusiast's product, but if you've got fond memories of the era, an interest in gaming history, or just want to look back at what gaming was, it's an easy recommendation.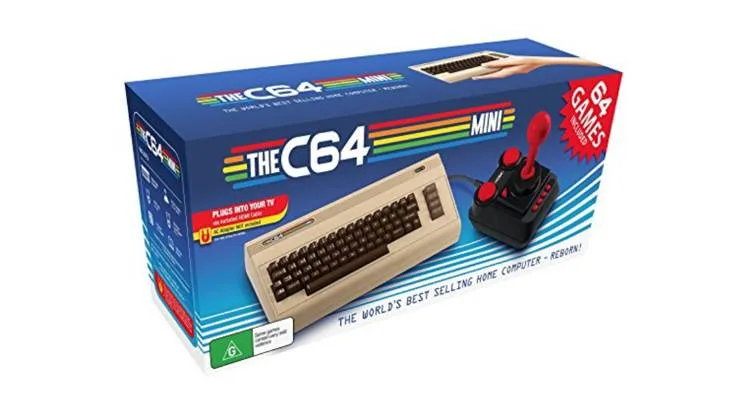 Buy THEC64 Mini
from Amazon
Travel back to the 80s with this pint-sized recreation of the best-selling computer of all time, packed with classic games.
View details
We reviewed THEC64 MINI with a device provided by the publisher.
THE C64 MINI
8.0 EXCEPTIONAL
What we liked...
Simple emulation
Some classic and highly inventive games
Strong nostalgic vibe
Expandable thanks to Commodore BASIC
What we didn't like...
Loading additional titles is a chore
Game manuals aren't loaded onto the system
Some games have aged better than others
VERDICT
THE C64 MINI is a retro gamer's dream device, as well as a fine addition to your home gaming setup if you were a classic Commodore kid, or just someone keen on retro gaming history generally.
Available for... itself!
For more information on how finder scores games, check our review guidelines.
---
More guides on Finder