How virtual reality will help you to sell your home in the future
Technology is changing the way we market and inspect property – and buyers and sellers can both enjoy the benefits.
We're reader-supported and may be paid when you visit links to partner sites. We don't compare all products in the market, but we're working on it!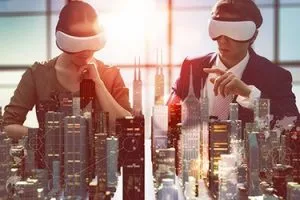 Wind the clock back 30 years and the world was a very different place to what it is now. To any everyday person, the Internet would seem like something out of a science fiction novel, Google would just be a silly-sounding word and a smartphone would have been any mobile slightly smaller than a house brick.
However, technology in 2016 means we're more connected than ever before. From the smartphones in our pockets to the ever-expanding world of online shopping, the way we communicate, do business, entertain ourselves and even buy and sell goods is constantly changing – and one area where technology is having a big impact is in the world of real estate.
It wasn't all that long ago that the only way to browse properties for sale was to glance in the window of your local real estate agent or check the local paper, but times certainly have changed in recent years. Let's take a look at the many ways in which technology is changing the way we buy and sell property.
The online revolution
If we tried to list all the ways in which the Internet has changed how we perform even the simplest of everyday tasks, we'd quickly run out of space. And while the online world has helped make everything from banking to finding a good restaurant easier, it's also changed the way real estate is bought and sold by shifting the balance of power in the buyer's favour.
When you're looking to buy a house, you can access a wealth of information online. It all starts with listings websites like realestate.com.au and Domain, where you can browse thousands of property listings and enter a wide range of parameters to narrow your search. You can click through multiple photos of each property and sometimes even take a video tour.
But there's a whole lot of other useful info easily accessible online. If you want to find out how much a property sold for in the past, get an estimate of how much it's worth now or perhaps look at median sale prices and market trends in your area, that can be done with a few simple clicks. Flood maps, crime statistics and a whole lot more are all also readily available, and even the simple act of shooting an email to a real estate agent rather than spending a day working the phones is a great time saver.
Other online tools
While some of the technological advancements affecting the way we buy and sell real estate are immediately obvious, others are a little more subtle. For example, there's now a wealth of online calculators available to help you work out how much you can afford to borrow and how much it will cost to own and maintain a house. With extra resources to help work out which homes are affordable for them, buyers are able to narrow down their real estate searches.
On the selling side of things, busy real estate agents can use their smartphones to access property data and market trends on the go, or use their hand-held devices to establish contacts and keep track of client interactions.
The impact of mobile phones
It's estimated that around 89 per cent of Australians have a smartphone – and we're using our mobile devices to access more information than ever before. The Australians' Digital Lives report from the Australian Communications and Media Authority, released in 2015, reveals that 70% of Australians go online with their mobile and 50% of people access the Internet via a tablet.
With these statistics in mind, it's vital for real estate companies to stay at the cutting edge of mobile technology. Buyers can now use mobile apps to browse property listings, calculate their mortgage payments and even research interior design ideas – all while attending an open house.
Smartphones also come with a range of handy built-in tools: cameras to take still shots and videos, a compass to work out a house's aspect, and even the option to measure up spaces. The end result of all of these features is more power in the buyer's hands than ever before.
Virtual viewings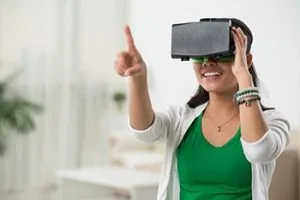 There's one problem that has plagued real estate agents for decades: an empty home is a difficult sell. Without furniture and all the other accoutrements and little touches that turn a house into a home, it can be very difficult for a potential buyer to picture themselves living in a particular property.
However, there's now a virtual solution to this age-old problem. A photographer completes a photo shoot of the empty home and with the magic of modern technology, those empty rooms can then be "filled" with virtual furniture and decorations.
Often referred to as "staging" a home, it's a lot cheaper and easier than lugging in actual pieces of furniture to fill a home when it's open for inspection. It's also surprising realistic, with designers able to use a wide range of techniques and tricks to make an empty room look fully furnished and lived in.
Another innovation having an impact on the Australian real estate market is the Matterport 3D Camera. This camera makes it easy to quickly 'scan' the rooms of the house and create a 3D virtual walk-through. This allows potential buyers to virtually tour the property, moving around in each room (rather than simply doing a 360-degree pan from a fixed point) and also moving from one room to the next. It's a great way for potential buyers to get a more thorough idea of what a property has to offer.
What does the future hold?
As technology continues to evolve, the way we buy and sell houses is expected to continue to change with it in future years. A 2016 British report by Global trends analysts The Future Laboratory, commissioned by estate agency easyProperty, predicted what will be involved in selling a house in 2025 – and the results make interesting reading:
"Hyper-realistic 3D virtual reality (VR) home viewings, invisible high-tech sales boards that 'talk' to a home-buyer's smartphone, and wearable devices that enable buyers to virtually refit a house to their own taste and style as they explore it for the first time" – these are just three of the technological changes expected to hit the UK property industry in the next ten years.
With Generation Z able to access such a broad range of information digitally, the report's authors predicted that browsing potential properties would need to be as simple and convenient as possible. Not only does this mean that online house searches will need to be highly personalised, but the next generation will expect to do most of their house searches and inspections through mobile-connected devices and personal drones. Physically going out and inspecting dozens of houses, as many buyers currently do, could soon become a thing of the past.
In the future, whenever you walk past a home that matches all your preferences and requirements, an alert will automatically be sent to your smartphone. As virtual reality technology improves and becomes more readily accessible, the senses of touch and smell will also eventually be incorporated into virtual property tours, adding an extra dimension to the digital experience. 2016 has already seen the release of virtual reality headsets such as HTC Vive and Oculus Rift, with more products expected to follow as the year progresses.
So while some of the changes expected to hit real estate technology may take the better part of a decade to be fully felt, we're taking steps forward all the time. Technology will continue to transform the way we buy and sell property in future years, and we as consumers are set to benefit in multiple ways.
More guides on Finder