7 of the most epic neighbour feuds in modern history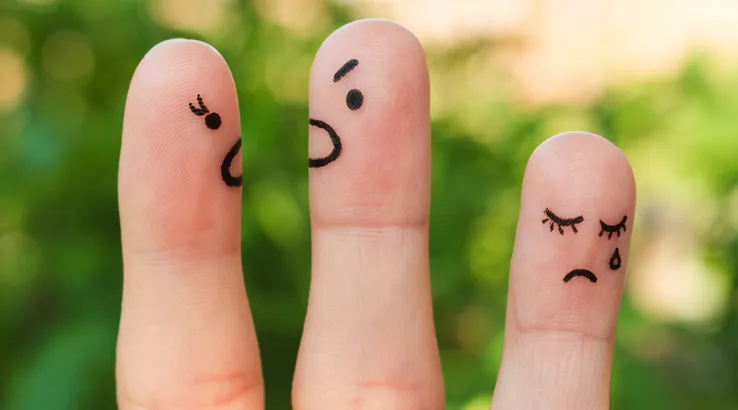 Good neighbours might become good friends, but bad neighbours can make life unbearable.
It's very rare that we get to choose our neighbours. More often, we merely have to put up with the people fate deals to us. The results can range from lifelong friendship, to indifference, all the way to bitter enmity.
A 2013 study in the UK found feuds between neighbours are quite common. 6 in 10 respondents said they were not on speaking terms with at least two neighbours, while 1 in 10 admitted to having a long-running feud. Some of these feuds escalate enough to draw media attention. For the following neighbours, living next door to one another proved to be far too close for comfort.
1. Angels bring out the devil
In 2007, the Croatian Times reported on a huge dispute between neighbours that all stemmed from musical tastes. According to the paper, 27-year-old Martin Kromov's rather narrow musical tastes didn't sit too well with his neighbour, Alexander Alexandrov. The issue? Kromov played Robbie Williams' Angels on repeat. At top volume. For more than a week. Without offering too stern a critique of Robbie Williams' musical talents, what happened next seemed completely unsurprising. Alexandrov murdered Kromov and was apprehended when his car ran out of petrol on his way to dump the body. He was sentenced to 16 years in prison, or exactly as long as one Robbie Williams song feels.
2. To bee or not to bee
Much has been made over the last decade or so about the global dwindling of bee numbers. They certainly weren't in short supply in Kumeu, New Zealand, though. Jenny Price and partner Pete Sinton sought legal advice when they regularly found their cars and outdoor furniture covered in a thick sheen of bee faeces courtesy of their neighbour, Peta McClure.
McClure kept the hives on her orchard, housing between 10,000 and 60,000 bees. Unfortunately, the bees' flight path took them directly over Price and Sinton's property, apparently right as they simultaneously felt the urge to lighten their load. Price told the NZ media that the offending bee droppings "[set] like wax." Then went on to add, "You never know when they're going to strike next." Presumably, right after their morning coffee.
3. Somebody's watching me
Trian and Carla Ellis of Banbury in the UK can no doubt sympathise with erstwhile one-hit wonder Rockwell, who forgettably performed the 80s paean to paranoia, Somebody's Watching Me. The couple claimed their neighbours Lee and Rachel Page had tormented them by stalking them, banging loudly on their rubbish bins and even shooting an air rifle at their car.
The situation came to a head when plasterer Lee lay bricks over a window facing the Ellis's home, with a bizarre eye prominently drawn on one of the bricks. The Ellises took their complaint to the police, even going so far as to install CCTV cameras to gather evidence, but apparently, nothing was done.
4. Bad fences make bad neighbours
Cal and Evelyn Johnston and Howard and Sonja Jackson of Airdrie, Canada, went to war over a fence that should have offered a bit of peace between the neighbours. According to the Johnstons, the Jacksons built an incredibly tall fence against council by-laws, which they were later forced to lower. According to the Jacksons, they built the fence to hide the Johnstons' unsightly, unkempt lawn.
Their fencing quarrel led to a six-year feud that saw both households install multiple CCTV cameras to spy on one another, both women arrested after a physical altercation and a judge issue restraining orders against both couples. Interestingly, both couples said they wanted the feud to end but felt powerless to stop it. They could have tried just, you know, not acting like jerks.
5. Petty little liars
Still in Canada, a judge had to take a pair of neighbours to task for their childish behaviour when they brought suit against each other for some truly trivial offences. Audrey and Gary Taerk and Paris and John Morland-Jones lived next door to each other in one of Toronto's most exclusive suburbs and they managed to collectively act like warring toddlers in the backseat on a long car trip.
The Morland-Joneses brought the complaint against their neighbours, along with video evidence from some of the 11 security cameras they had surrounding their home. Chief among the Taerks' transgressions was putting bagged dog poo in the Morland-Joneses' rubbish bin, allowing their dog to urinate on the Morland-Joneses' shrubberies, parking their car in front of the Morland-Joneses' home and staring at their home "for a full 25 seconds".
The judge presiding over the warring neighbours' claim was scathing in his decision:
"There is no claim for pooping and scooping into the neighbour's garbage can and there is no claim for letting Rover water the neighbour's hedge. Likewise, there is no claim for looking at the neighbour's pretty house, parking a car legally but with malintent, engaging in faux photography on a public street, raising objections at a municipal hearing, walking on the sidewalk with a dictaphone in hand, or just plain thinking badly of a person who lives nearby."
6. Cooking up some conflict
Let's get something straight right from the get-go: The back alley behind a restaurant is not going to be a pleasant sight. But for one Washington DC resident whose apartment faced the back of a pair of high-end eateries, the situation was more than he could stomach. Resident "Tim" (who refused to reveal his surname) told Vice that he had tried to overlook the overflowing bins and festering food deliveries but finally called the health department when the staff hosed seafood offal out of their kitchen into the alley, creating a melange of stink too foul to ignore.
Restaurateur Tom Power could have taken the criticism constructively. Instead, he hung a sign from his balcony in view of the apartment block reading, "You need a boyfriend!" He also accused Tim of harassing him for 11 years, despite the fact the hapless apartment dweller had only lived there for 4. Sounds like someone's cruising for negative Yelp reviews.
7. The OG neighbour feud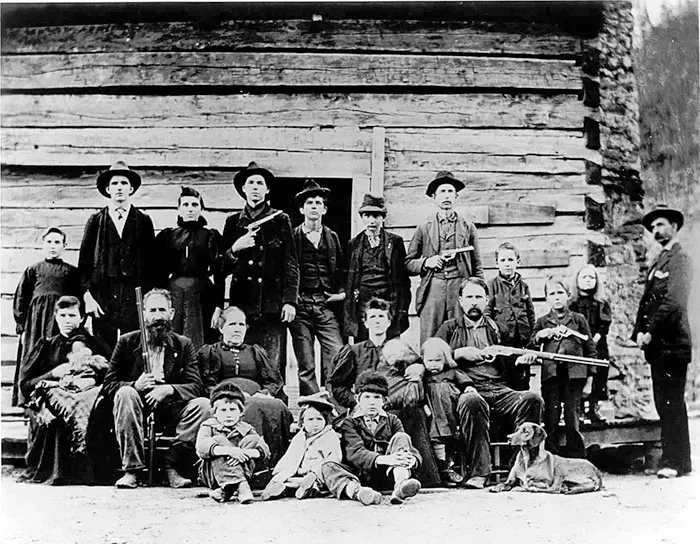 The Hatfields
This is the neighbour feud that defined the genre. Exact details about when the famed American feud between the Hatfields and the McCoys began remain unclear, but it seems to stem back to the Civil War when Asa Harmon McCoy and William Anderson "Devil Anse" Hatfield found themselves at odds. The feud ended up raging on for more than three decades and claimed dozens of lives. The two families managed to eventually put aside their differences and in 2000 even held a joint family reunion that drew more than 5,000 descendants. Most people use the Hatfields and the McCoys as a dire warning against being consumed by hatred and vengeance, but the real lesson here is don't #$@&%* with someone whose nickname includes the word "Devil".