The Last Guardian review: The power of truly great creature design
Alone in the world with a massive catdog.
We're reader-supported and may be paid when you visit links to partner sites. We don't compare all products in the market, but we're working on it!
It's about an hour into The Last Guardian (available exclusively on PS4) and we're cooing at the TV like idiots. There's no microphone integration here: that's just what naturally happens when you're using dog psychology to coax Trico, your super-sized companion, into leaping somewhere he doesn't want to go. Actually, to be completely accurate, it's more like dog-bird-cat-goat psychology. Trico looks like somebody crashed a tanker full of mutagen into a pet store.
Whatever it is, Trico often refuses our half-baked ideas, and - here's the amazing bit - at no point do we take that disobedience as dodgy AI. This timid, majestic beast is so uncannily lifelike, our first instinct is to think we're at fault. Just a crappy human jerk expecting dog show commands out of a wild beast. That, or we figure it has a better grasp on this befuddling castle prison we're in, and it simply doesn't want to leap to its death (something we do a lot of).
---
---
A game where you implicitly trust the AI instead of raging and wondering if the first-day patch has installed properly? This is the power of truly great creature design and believable animation.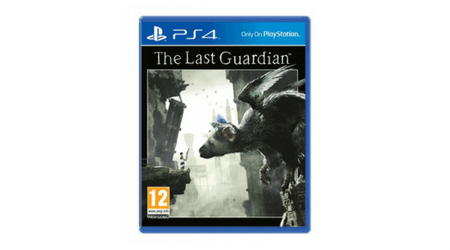 It would be easy to view The Last Guardian cynically, identifying its most familiar parts in a simple bullet point list. "Oh, so it's like Ico, a diminutive boy platforming through a monolithic castle, except they've swapped the female AI companion with a huge Tamagotchi that can be climbed on, a la Shadow of the Colossus." Technically, that is very much the formula, but when these ingredients are mixed together well, many magical and unexpected things happen.
Visionary game designer Fumito Ueda is already well known for his ability to establish emotional links between the player and their AI companion. Even our black hearts were swayed by the almost wordless friendship which bloomed between the horned boy and Yorda (Ico, 2001), and the same happened with the faithful steed paradigm (Shadow of the Colossus, 2005). As impressive as those past examples were, they pale in comparison to the complex, rewarding relationship which builds between boy and beast in The Last Guardian.
First off, Trico isn't your pal. Think of this as puzzle-platforming with The Iron Giant. From the get-go it's clear that Trico is dangerous; he's chained up in the same dungeon as you, his butt is a veritable pin cushion of spears, and that tail of his is quickly revealed to be a fricken' laser. Who designed such a creature, and for what purpose? Why was it trapped here with you? How come it is attracted or repulsed by certain parts of this strange place? These are all interesting questions, but they're all secondary to a much more pressing one: how can you avoid the conditions which turn this friend into a man-eating foe?
These are isolated incidents, however. For the most part Trico is there to augment your platforming and carry you beyond otherwise insurmountable barriers. Speaking of progressing, it's worth noting that TLG harkens from a time when hand-holding tutorials were non-existent. Only the sharp-eyed player shall pass. You'll need to constantly scan the incredibly detailed ruins around you, looking for the usual level designer "tells" which suggest new points of egress (or a side area that holds a glowing barrel of Trico chow).
Likewise, you'll need to become an expert in bird-dog-cat-goat body language. Nervous head twitches and whinnying might inform you that Trico is fearful of one of the many evil eye talismans that litter this prison; he won't proceed until you whip out your mirror shield and use it to unleash a targeted laser-tail blast. In the early days of your relationship, you'll clamber onto your companion's feathered back and subtly manipulate his movements by patting certain areas of his body. Later on this evolves into a more defined button system of shouts which effectively mimic the boy's actions (jump, push, grab, crouch).
It's a blessing when the controls move away from the massaging system, too. Climbing on Trico is too frequently an exercise in irritation. The more claustrophobic areas can trigger a camera wrestle when you try to locate the boy. Hell, even in ideal viewing conditions, the boy's figure can become lost in Trico's feathers. This issue worsens in the heat of combat when you need to quickly traverse from one limb to another in order to remove enemy spears thrown by man-sized enemies. Similarly, when Trico is battling beasts of its own size, and you need to detach in order to find external counter-measures, you'll sometimes feel like a bit of gum mashed into an afro. It's not a huge issue, just a repeat of the grating fiddly-ness that needlessly haunted Shadow of Colossus.
These peccadilloes are far outweighed by the sheer joy of journeying through The Last Guardian, unravelling mysteries in one of the most breathtakingly gorgeous locales in gaming. There are some extremely complex physics and AI systems here, working in perfect concert with one another to create a truly unique experience. We were mightily impressed with our bug-free run. One stupid reaction from Trico would have shattered the fiction beyond repair, but it never happened.
Other features that impressed: a bunch of extremely clever puzzles, which made even our grizzled veteran selves ooh and ahh in approval. Plus, there are loads of blockbuster set piece moments which boast the biggest wow-factor sense of scale since God of War 3. Better yet, these times are made to feel extra edge-of-your-seat thanks to the non-surety of Trico's AI systems – some very real "will he, won't he?" butt clenching.
We couldn't put our controller down during The Last Guardian's 8-hour runtime, and we've already made plans to go back mop up the 96 collectible barrels scattered about (they must be very well hidden, we only got 40). God knows we're not short of awesome 2016 games to play through, but we're diving right back in again.
We reviewed The Last Guardian on PlayStation 4 with a copy provided by the publisher.
---
---
The Last Guardian for PS4 Review
8.5 EXCEPTIONAL
What we liked...
Riveting puzzle-platforming
Touching relationship of boy and cat-dog
Sumptuous animation and art direction
What we didn't like...
A touch on the short side
The odd camera issue
Climbing Trico can be chaotic
VERDICT
By the time the post-credits cinema has wrapped, this long-delayed production will have earned a place in your heart of hearts, alongside its masterpiece predecessors.
For more information on how finder scores games, check our review guidelines.