The Elder Scrolls V: Skyrim VR review
VRevenge of the Nords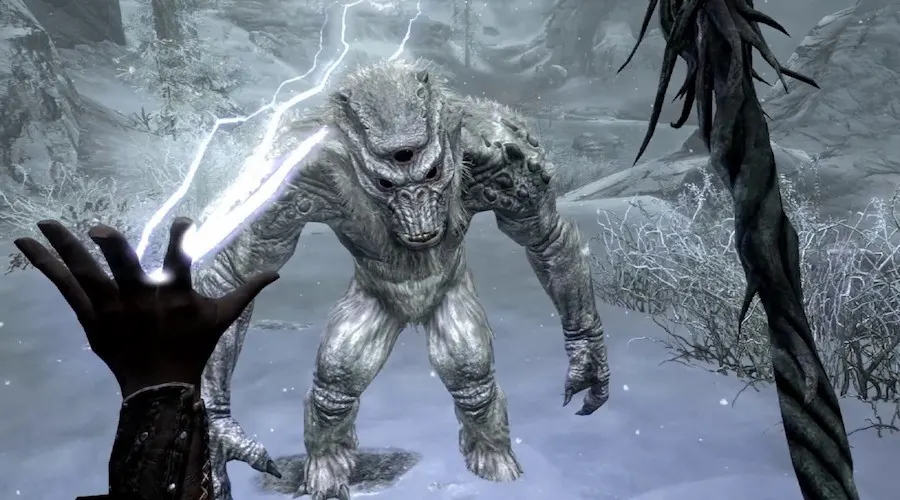 We're reader-supported and may be paid when you visit links to partner sites. We don't compare all products in the market, but we're working on it!
I've spent an embarrassing amount of time in Skyrim. The Elder Scrolls V and its expansions claimed hundreds of hours from me. Double that again with the Remastered version that released last year, and I'm sure to treble it with the Switch port that gobbles up train trips like a blazed Cookie Monster would Oreos. That said, Skyrim VR feels like the first time I've ever truly been in Skyrim. It's as though I've been investigating a foreign country using Google Street View for five years, and now I've finally caught a plane ticket over there!
As a person who has started way too many new characters, Skyrim's opening cart ride usually irritates me. It's like being forced to listen to one of my grandpa's stories – all the magic and wonder was lost years ago. In Skyrim VR, however, I found myself gawking like an idiot at every single reveal, just like a child might. Roaring overhead dragons are pants-messingly scary, familiar dungeons are somehow creepy again, and when you're finally let loose into the overworld proper, the majesty of Skyrim's frosty peaks and starry skies will make you feel insignificant.
As with all VR games, some graphical compromises had to be made, but this look is more than acceptable in the context of PSVR visuals. (If you go in expecting Skyrim Remastered, you're going to have a bad time.) You should probably remember that this is a game from 2011, so you're bound to see utilitarian walking animations, jaggy edges, the odd ragdoll abomination and a bit of muppet acting from the many, many NPCs in the game. The latter stand out in particular as the conversations are much more in-your-face through a headset, which is why I recommend putting buckets on the head of anybody you need to converse with. Side bonus: it will break their line of sight, so you can steal their thunder with impunity.
---
---
Speaking of buckets on heads, it's time to give my usual PSVR warning: Motion sickness can't be accurately predicted as it varies wildly from person to person. Fortunately, Skyrim VR has an exemplary array of control, view and motion options to let you jerry-rig a solution that works best for you. Traditionalists can opt to play via a DualShock 4 controller, and anybody looking to burn calories, or punch loved ones, can go the route of double PlayStation Move controllers. Personally, I've stuck with the former as the latter felt like a flawed novelty.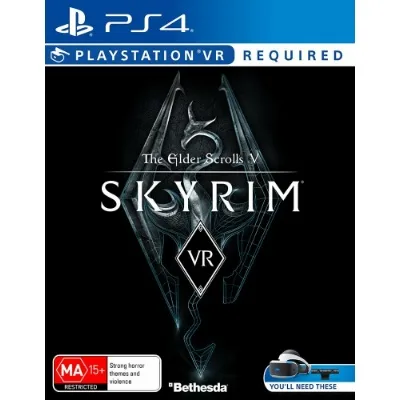 Buy The Elder Scrolls V: Skyrim VR
from Amazon
The biggest RPG of recent history gets a new lease on life in its virtual reality debut.
View details
If you have a high motion sickness tolerance and are going with a mage or ranged class, Move controllers are totally viable. There's something undeniably cool and empowering about using a 1:1 controlled hand to blast fireballs at people, while your other hand is freezing their fire. Likewise, I challenge you to not feel like Robin Hood when you're physically notching your arrows and drawing back the string to shoot. The first time you headshot a wolf that's running in for your jugular is Share button stuff.
Swordplay, sadly, is a different kettle of slaughterfish. Bethesda's solution may look 1:1, but it's a violent thrashfest in practice. Taking your time to angle your shield and weapon to block is responsive and reliable enough, but why would you bother? You can just charge in and flail like a nutter to eviscerate foes using zero tactics. You can run rings around belligerents, too, thanks to the ability to teleport to spots at will (and this gives you a huge advantage in stealth mode as well). This is assuming you can stomach a fight where you whip about like the Nightcrawler high on skooma. If not, rein yourself in by swapping to the option that involves holding a button to make yourself sedately walk toward whatever you're looking at (and even strafe left or right, by tilting the Move controller in the desired direction).
---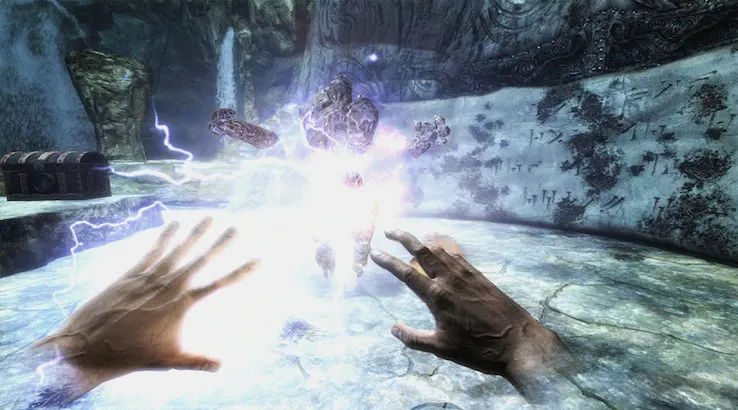 ---
Honestly though, waggle-killing baddies for a hundred hours will give you cardiac arrest or get you more shredded than a julienne salad. Take a hot tip: You're better off going the DualShock 4 route. Stabbing things is more or less the same shoulder button solution as before, but now your aiming reticle is controlled by your head, which keeps archery and projectile magic immense fun. Mercifully, the speed of turning left and right can also be tinkered with. You can have it transition smoothly or in increments that will stop many a spew.
Beyond that, it's business as usual for Skyrim. Newbies can dive into one of the largest open-worlds ever built for gaming, plus there's a satisfying main-quest that will cast you as a prophesied dragon-slayer who incrementally earns a collection of shouts (think dragon force powers). The real fun, however, is in forging your own path by cultivating and grinding up the skills that you value in an adventurer. From there you can go out randomly exploring, or join one of the many guilds and secret factions that infest this place – there are so many side-quests to do here it's actually intimidating.
Frankly, the PSVR peripheral has yet to see a game that offers this much runtime and value for money. Skyrim VR is in a league of its own in this regard, though it isn't perfect, and will require some options tweaking before it'll gel for you. When you do find that sweet-spot though – Wow! This VR experience has the power to blow you away quicker than a fus roh dah.
Skyrim VR
8.5 EXCEPTIONAL
What we liked...
Ridiculous value for money, content-wise
Sense of scale in VR really adds to the experience
A plethora of control tweak options
Ranged combat is fast, fluid and accurate
What we didn't like...
The switch to a full 3D map is confusing for vets
Graphics took a sizeable hit
Swordplay is a bit wobbly and shallow
VERDICT
By penning this review, I have fulfilled all my normal-reality responsibilities for the day. Now I can put my PSVR back on and return to my real life, where I'm a viking fighting a dragon atop the highest mountain in the world. Excuse me while I rim the Sky.
For more information on how finder scores games, check our review guidelines.
---
More guides on Finder
Get more from Finder