The Elder Scrolls V: Skyrim (Switch) review
Khajiit has softwares if you have coin.
We're reader-supported and may be paid when you visit links to partner sites. We don't compare all products in the market, but we're working on it!
Any gamer worth their salt needs to have visited Skyrim at least once as a rite of passage. And any Skyrim player worth their eight fingers – and thu'ums – needs to have been suckered into buying this game more than once as well. Since 2011, Bethesda has thrown a plethora of different platform releases, GOTY re-releases and remasterings at us. And we keep buying them, too, like we were dragonborn yesterday.
Now, thanks to the release of Skyrim VR and the very first handheld edition of The Elder Scrolls V: Skyrim, we're about to part with our gold again. Both versions are more or less the same adventure as before: you must don the horny helm of the Dovahkiin, a prophesied hero who's the only thing standing between the civil-warring peoples of Skyrim and a mob of dragons thought extinct. Once you've grinded your way through that epic undertaking – using nothing but grit, spit, sensibly-placed knee armour and an ever-growing collection of shouts (read: dragon Force powers) – you can lose hundreds more hours in the included expansions of Dawnguard, Hearthfire and Dragonborn.
Though I think the story-telling and quest design has been eclipsed by 2015's The Witcher 3, Skyrim still holds up remarkably well after all these years. Indeed, much of its appeal stems from the fact that you can ignore the script to create any type of avatar you want, not to mention the levelling system that lets you define yourself by your own actions. Do you desire to be a sneaky thief bowman? No problem. Always dreamed of being Gandalf the White? Take this staff and repurpose that old wedding dress. Want to be a Conan-esque brawler? Equip this two-handed sword, strip down to your undies and go punch some livestock. The choices are endless.
---
---
The only new content in this Switch version are motion controls and Amiibo support. The first is a control scheme that mimics the 1:1 archery many of you would have sampled in The Legend of Zelda: Breath of the Wild. You effectively take aim with the Joy-con and shoot by pulling back on the trigger; it's quite fun and more accurate than using the Switch's tiny analogue nubs. Swordplay is less recommended. Going the motion controller route puts you at a disadvantage, thanks to noticeable controller lag and the counter-intuitive thrashiness required to win. Last but not least, lock-picking with motion gives you direct control over the two pick implements and the Joy-con vibrations alert you to any sweet spots. It makes the process so much easier.
Amiibo aficionados will appreciate the support in this game, though it's not an amazing toys-to-life experience. Basically, you can tap any of your figurines to the Switch and make a Zelda-themed loot chest spawn in the world next to you (once per day per Amiibo). Random Amiibos yield low-level gear and odds and ends. The 22 Zelda-themed ones available come with a 20% probability of delivering a few Link-themed bits of loot, including the Champion's Tunic, Hylian Shield and Master Sword. (Note: non-Amiibo folk can eventually nab these from a chest atop The Throat of the World, once they learn the Clear Skies shout.) The Nintendo-themed kit is novel to use, but none of it can ever be upgraded to Daedric levels of godliness.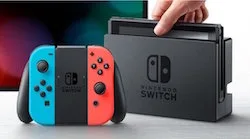 Purchase Nintendo Switch
from eBay
Purchase the Nintendo Switch with grey Joy-Cons or Neon Blue and Red Joy-Cons from eBay today.
View details
Visually, this is a decent shoehorning down into Nintendo's diminutive hybrid console. You can expect 1080p / 30fps in docked mode, and that'll drop to a respectable 720p in handheld mode. Those of you hoping for a portable version of last year's Skyrim Special Edition re-release ought to curb your enthusiasm right now. Those remasterings borrowed the lovely volumetric lighting from Bethesda stablemate Fallout 4, but the tech didn't make the cut in this version. You're also going to see some slight compromises on textures and shadows, and the foliage is noticeably thinner in the wilder parts of the world. Nothing deal-breaking here, though. You'd have to be eagle-eyed and anal retentive to nitpick what's being delivered.
We reviewed The Elder Scrolls V: Skyrim (Switch) on Nintendo Switch with a copy provided by the publisher.
Skyrim
8.0 Exceptional
What we liked...
Ridiculous runtime and value for money
No major graphical compromises
Neat inclusion of Zelda gear...
What we didn't like...
...but none of it's worth keeping for the end-game
Ye olde bugs still remain
Minor but noticeable lag with motion controls
VERDICT
Once again Bethesda shows that it's taking Switch ports seriously. This Skyrim translation isn't nearly as impressive as the black magic transmogrification that was shrinking Doom down to Switch, but what's on offer does justice to one of gaming's greatest RPGs. Veterans hoping to murder morning commutes ought to spend their gold on this. A new generation of adventurers should be Dovahkiin as a bean to dive into this, too.
For more information on how finder scores games, check our review guidelines.
---
More guides on Finder