The Block 2017 recap (02.08.17): Enya? Seriously? Enya?!
It's a bit of triumph for slow and steady and a bit of lip-service for easy listening on tonight's episode.
Bathroom week on The Block is nearing conclusion, and the teams are on tenterhooks about whether or not they'll even finish. Except Ronnie and Georgia, who are confident they'll pull it off in spite of the fact that their bathroom hasn't even reached its larval stage. Foreman Keith says it's a hundred-to-one shot the pair will complete their bathroom. It's sweet of him to be so optimistic.
Speaking of teams who are ages away from completion, our slothful squad, Jason and Sarah, are still moseying along. We see Jason driving on a shopping excursion, blasting Alanis Morissette on the stereo without a care in the world. It's an appropriate choice. While rain on your wedding day might not be a good example of irony, a plumber who can't finish a bathroom is getting pretty damn close.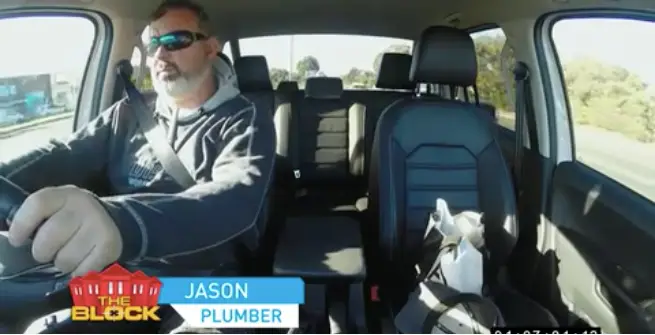 You oughta know ... how to finish a bathroom
Hannah and Clint are powering along, and Clint is getting very excited about the Bluetooth sound system being installed in the couple's bathroom. He's getting a pair of "sleek and sexy" speakers, which he says the house's eventual inhabitants can use to listen to Enya while they're in the tub. Enya? Really? At least they'll be in a convenient position to drown themselves.
Meanwhile, Sticks and Wombat are on a shopping trip to an antique store. The pair have decided on an aesthetic that mixes modern design with Victorian features. I guess that means a rain shower that makes you feel ashamed of your own nudity.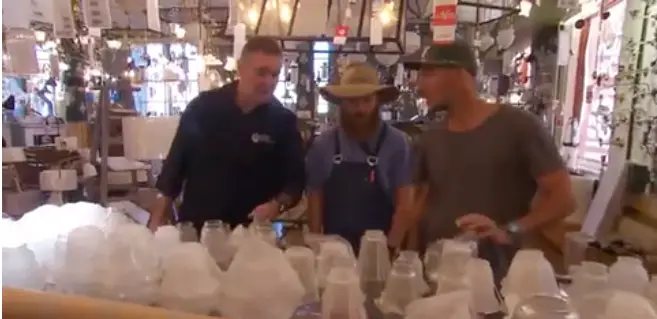 "Do you have anything more repressed?"
Back at the Block, Ronnie and Georgia are still waiting on their floors to be laid, while their waterproofer is standing around and being paid $80 an hour to look smug about the pair's poor time management. The couple come close to a meltdown over Ronnie's ridiculous insistence on putting a Bluetooth speaker on the floor next to the bathtub. Personally, I think a portable speaker is a better call than Clint's fixed ones. That way if it starts playing Enya, you can use it to bludgeon yourself.
Planning your own reno? A line of credit loan can get you the funds you need
It turns out, by the way, that Ronnie and Georgia aren't the only couple with a "secret weapon" bathtub. Josh and Elyse have one as well, and theirs is a behemoth. The couple are going with a "round" theme for their bathroom, with a round sink, round mirror and an enormous round tub. Either their goal to waste as much space as possible in a square room, or the two failed geometry.
Elyse tells us that the couple's round tub is 250 kilograms empty, and one tonne when full. Who wouldn't want a tub so heavy that it falls through the floor and bores its way to the earth's core the first time you take a bath?
That tub would have come in handy, it turns out, because Keith arrives to inspect Josh and Elyse's work while the couple are out shopping. Apparently the mess they left in Ronnie and Georgia's house was merely the pantomime before the play, because they've done everything possible to turn their house into a background shot from the beginning of WALL-E. An entire room is filled with loose timber and old insulation. It's so feral just looking at it on TV could give you an asthma attack.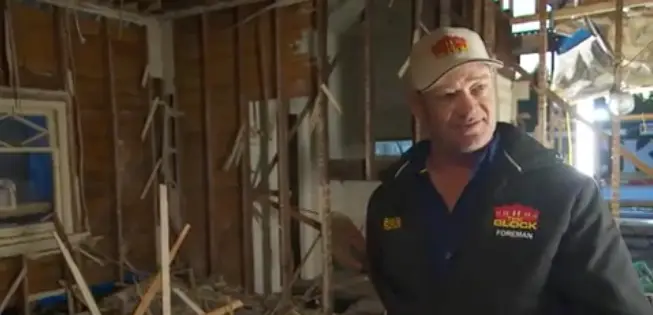 Keith literally risks his life to show us this mess
Keith understandably boots the couple from the premises for the night, considering their house is now toxic. Once again, it's still safer than most Sydney rental properties. Josh and Elyse are forced to bunk with Sticks and Wombat for the night.
As the evening winds down, Nine sees fit to show us both a shot of Wombat's bum and Ronnie in a bathrobe that's open to just above his navel. Lest you think Josh and Elyse's house is the only thing that can make people sick.
The next day, Scott Cam arrives with co-host Shelley Craft and Domain managing editor Alice Stolz. The trio will inspect everyone's progress, and we're told that each week Alice will be handing out a $2,500 in cash and $2,500 in Domain marketing budget to the couple whose room she deems to show the most promise. She'll score the rooms out of 10, and at the end of the competition the team with the highest cumulative score will have their house featured on the cover of Domain magazine. It's a valuable prize. Nothing beats the marketing power of having your house featured in a single issue of a print periodical. You know, other than having it featured EVERY NIGHT ON A NATIONALLY TELEVISED SHOW.
After chatting with all the couples, Alice declares Jason and Sarah the winners. Amazing! Their slow and steady strategy actually is working! Of course, it's a bit unfair as a number of the features in their bathroom naturally evolved from single-celled organisms while the two were trying to park their car at a tile store. The couple get a 9/10 from Alice.
In a tie for second are Sticks and Wombat and Josh and Elyse on 8/10 points. This is despite Shelley's concerns that Josh and Elyse's bathtub is so huge that several geological epochs may pass in the time it takes to fill it. Hannah and Clint and Ronnie and Georgia both score 7/10, but a brief aside of Clint bantering with his fellow Block contestants shows that he easily wins in the most likeable contestant stakes.
The episode finally sputters to a conclusion as Ronnie picks out a frankly hideous Bluetooth speaker for the bathroom against Georgia's wishes. Georgia appears to be reaching the end of her tether with Ronnie's unilateral decisions. If he keeps up with his antics, he'll be left with no-one but Enya to keep him company.
Missed an episode? You can read our recaps of every episode of The Block 2017 here.