The Block 2015: Auction order decisions
The Block contestants are renowned for kicking up a fuss when it comes to deciding auction order. Find out in which order the contestants' properties will go under the hammer in the grand finale auction that airs tonight.
We're reader-supported and may be paid when you visit links to partner sites. We don't compare all products in the market, but we're working on it!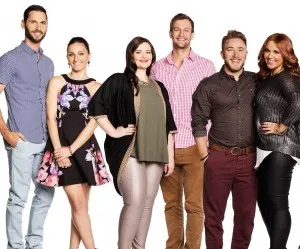 Over a span 3 months and a total of 88 days on The Block, the tenacious and tough contestants have finally transformed and reinvented the interior of the Blocktagon. Despite the Blockheads being able to choose their auction order based on their scores from the communal challenge last week, there was a bit of a kafuffle when settling on the final auction order.
Luke and Ebony initially selected first position which invariably left Kingi and Caro with fifth position. However, given that Kingi and Caro will most likely have the lowest reserve price (as they are on the ground floor), they weren't thrilled about this as they felt that going last could jeopardise their chance of performing well at auction.
After some negotiation and discussions with their real estate agent, the amicable Luke and Ebony decided that it was in everyone's best interests for them to take fifth position, leaving Kingi and Caro with first. Luke and Ebony justified this decision by saying that their open-plan space will be a major selling point so they felt comfortable allowing Kingi and Caro to set the benchmark for the remaining apartments by allowing their property to go under the hammer first.
As Scott Cam put it; "That's probably the nicest thing that anyone has ever done on The Block."
ALSO READ: Which auction yields the highest sale price?
ALSO READ: Blocktagon lingo explained
ALSO READ: Will auction clearance rates impact the auction results?
---
Auction order decisions
Now the apartments are sealed and ready for open inspection, find out which order the contestant's apartments will be auctioned tonight.
Contestants
Order
Rationale
Kingi and Caro
First
Along Luke and Ebony had originally locked in first position, after a little negotiation, the second-chance siblings decided on fifth position which left Kingi and Caro with first.
"We wanted to go first because we wanted to set the bar for everyone else", Caro said.
Suzi and Voni
Second
Suzi and Voni decided to go in second place , "We got a placement for the auction. We had third dibs at the auction, and we got number two which is exactly the place we wanted to be it's unbelievable", Voni said.
Dean and Shay
Third
When justifying their decision to go third, Dean and Shay felt that if there is a small buyers pool, going under the hammer third will be the most beneficial, "If we can get 1 or 2 apartments out of the way, it will calibrate in terms of pricing", Shay said.
Whitney and Andrew
Fourth
Although Whitney and Andrew had their hearts set on going third, they decided that going fourth would be the second best option for their unit.
"We'll go straight after Dean and Shay so any unhappy bidders on their apartment will spend even more on ours as it will be one of two apartments left", Andrew said.
Luke and Ebony
Fifth
After much back-and-forth discussions with their agent, Luke and Ebony decided to go fifth.
"Their agent [Kingi and Caro's agent] has told them to go first to bump it up and our agent has said you know our unit is a bit different to everyone else's because of the open plan so we will hold off and go last", Ebony said.
The grand finale and auction of The New Block 2015 airs tonight Wednesday November 25 at 7:30pm on the Nine Network.
Back to top
More guides on Finder