The best ways to use 50,000 Qantas Frequent Flyer points
From flight upgrades to gift cards, discover ways you can spend 50,000 Qantas Points.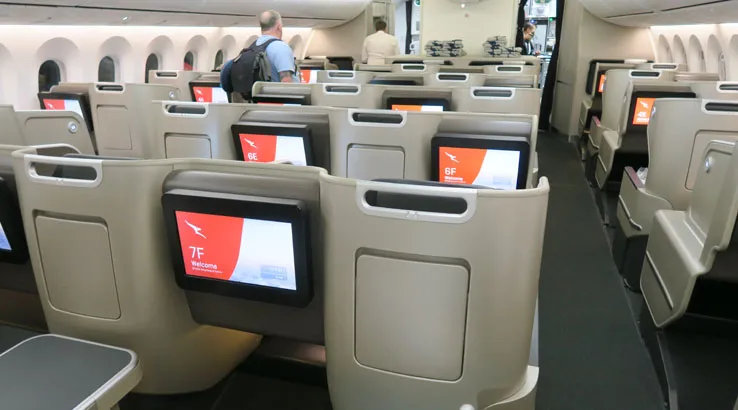 We're committed to our readers and editorial independence. We don't compare all products in the market and may receive compensation when we refer you to our partners, but this does not influence our opinions or reviews. Learn more about Finder .
There are plenty of Qantas credit cards on the market that boast big bonus points offers. Depending on the card, you can generally pick up between 40,000 and 120,000 bonus Qantas Points if you meet the spend requirement. But once you've got your points, what's the best way to spend them? To give you some ideas, you can use this guide to compare the flights and upgrades you could book with 50,000 bonus Qantas Points.
Flight upgrades
Generally, on a per-point basis, redeeming frequent flyer points for flights or flight upgrades offers the greatest value. While flight prices can vary significantly based on how and when you book, Qantas reward seats and upgrades have set point values based on miles flown and fare class.
The advantage of upgrades is that they require fewer points compared to redeeming full fares. Using points for upgrades can also give you more flexibility when it comes to flight dates and can enhance the benefits of fares you've already booked.
As a Qantas Frequent Flyer, you can use points to upgrade to premium economy, business or first class depending on your original fare class and flight, with point requirements based on miles flown. To give you an idea of different ways to use your 50,000 Qantas Points, we've included options for various fare class upgrades below.
Upgrades from business class to first class
To give you an idea, compare some examples of how you could put 50,000 Qantas Points towards upgrading your international business class flight to first class below.
| Departure | Destination | Points required |
| --- | --- | --- |
| Sydney | Los Angeles | 55,300 |
| Brisbane | Tokyo | 30,600 |
| Melbourne | San Francisco | 55,300 |
Upgrades to business class
While business class doesn't offer as many luxuries as a first class flight, it is still a comfortable way to travel compared to premium economy fares. If you're upgrading from economy or premium economy, you can compare some of the ways you can spend your 50,000 Qantas Points to get to business class below.
| Departure | Destination | Points required |
| --- | --- | --- |
| Perth | London | 54,500 |
| Sydney | Dallas | 54,500 |
| Brisbane | Hong Kong | 27,200 |
These are just a few examples of how you can use 50,000 points to upgrade your next Qantas flight. If you're wondering how many points you'll need to upgrade your flight, check out the points calculators on the Qantas website.
Flight redemptions
If you're looking to book flights with your points, you can compare some of the destinations you could visit with your 50,000 Qantas Points.
| Departure | Destination | Fare class | Points required |
| --- | --- | --- | --- |
| Sydney | Madrid | Economy | 50,000 (plus $993) |
| Sydney | Denpasar (Bali) | Business | 57,000 points |
| Melbourne | Rio de Janeiro | Economy | 50,000 points (plus $921) |
| Melbourne | Auckland | Business | 41,500 points |
| Brisbane | Mumbai | Economy | 51,200 points |
| Brisbane | Nadi (Fiji) | Business | 41,500 points |
These are just some of the flights you could book with 50,000 Qantas Points, but there are plenty of other options from other Australian departure locations to destinations around the world. To see where else your points can take you, check out the points map on the Qantas website to compare your options.
What else should I consider?
If you're thinking of taking advantage of an offer for 50,000 bonus Qantas Points (or more), make sure you also consider the following factors:
Eligibility. Bonus Qantas Point offers all come with specific terms and conditions you'll need to meet in order to get the reward. For example, with a Qantas Frequent Flyer credit card, you usually need to apply within a set timeframe and then spend a specific amount of money in the first few months you have the card. Check the details of each offer carefully so you don't miss out on these extra points.
Dollar value of rewards. The value of Qantas Points varies based on how you use them. In some cases, a bonus 50,000 points could save you over $1,000 (particularly for flight and upgrades). In other cases, you may only end up $300 better off.
Additional costs. Most Qantas bonus point offers require you to sign up for a service or meet spending requirements. If there are additional costs attached, such as a credit card annual fee or interest charges, make sure you weigh them up against the value of the points to decide if it's worth it in the short- and long-term.
Points + Pay. The Qantas Frequent Flyer program has many rewards that allow you to use a combination of points and cash if you don't have enough points in your account.
Buying Qantas Points. If you don't have enough points for a flight or flight upgrade, you can also buy Qantas Points to cover the shortfall. But there are strict conditions around this option, and it's usually ideal to earn more points instead.
Point expiry. Qantas Frequent Flyer points won't expire if you use or redeem them at least once every 18 months. That applies to any bonus points you get through the program as well.
Point sharing. As Qantas allows you to transfer points to an eligible family member's frequent flyer account, a bonus 50,000 points could also make a great gift for someone.
Credit cards with bonus points can help you build your Qantas Points balance quickly. The value of these points depends on the spend requirements to earn the points and how you spend them, so make sure to do your research and compare your options before you book your next flight.
*The use of terms "Best" and "Top" are not product ratings and are subject to our disclaimer. You should consider seeking independent financial advice and consider your personal financial circumstances when comparing products.
Back to top
More guides on Finder
Supercharge your frequent flyer points with Points Finder