The Benefits of Financial Advice
What do Financial Planners actually do?
We're reader-supported and may be paid when you visit links to partner sites. We don't compare all products in the market, but we're working on it!
Key Facts
Financial advice can provide you with valuable assistance in finding financial products to suit your situations.
Using the services of a financial adviser can be useful for certain situations where: you are buying a home, planning for retirement, deciding on investment or insurance products, etc.
or call 1300 743 254
What do Financial Planners actually do?
Like a doctor, financial planners are there for you when you need them. You might not need them for every financial matter but they can be really helpful when you're making big financial decisions. Whether you're buying a home, planning for retirement or deciding on investment or insurance products, financial planners make those tricky life decisions a little easier with their experience, knowledge and expertise.
When might the services of a financial planner be beneficial?
Financial planners can provide assistance across a whole range of areas of your financial life. These can include:
When you are buying a home: If you are buying a home, you may find that the services of a financial planner or adviser could help you in terms of choosing the right mortgage and the right loan for your needs. This can also be the case if you are remortgaging.
Savings and investments: A financial planner can help you make more informed decisions with regards to the best savings and investments to help ensure you yield the best return in the current market.
When you are planning your retirement: If you are nearing retirement age and you want to ensure that you have adequate funding, you could find that a financial planner who specialises in retirement and pensions could be extremely helpful. This could also be the case if you are not yet near retirement age but you want advice on how to maximise your retirement funds for the future.
Getting advice on financial products: There are many different financial products and services that you may be considering but that you may be unsure of where to start. This could include life insurance, income protection or trauma insurance. Again, the services of a financial expert could prove invaluable if you want to ensure you make the right decision.
Video case study: How an adviser can help you get life insurance cover
There are different types of life insurance policies available on the Australian market, each with their own set of:
Features and benefits
Conditions
And exclusions
You might be thinking, "how is policy A different to B, or maybe even with C? They all look the same to me. An adviser can provide personal advice that takes into account your personal circumstances, needs and financial situation.
They will help you make an informed decision on the type of cover, level of cover and policy arrangement that is most suited to you. This can remove much of the stress that you may be experiencing trying to find the right policy, saving you both time and effort as the adviser compares multiple policies for you.
'71% less likely' was calculated using figures from ASIC's Report 498: Life Insurance Claims: An Industry Review. The report states that the average declined claims in a non-advised policy is 12% in comparison to an advised policy at 7%. 12% (non-advised) is 1.71 times the amount of 7% (advised) hence a 71% less chance of an advised policy claim being declined.
What are the benefits of receiving financial advice?
Warren Buffett once said "to invest successfully, what's needed is a sound intellectual framework for making investment decisions and the ability to prevent your emotions from corroding that framework". Luckily you can achieve this by hiring a financial adviser.
While a lot of people aim to be financially independent, only a small number of Australians will achieve this goal. You can be among those few through professional and unbiased financial advice. It can improve your financial position and support the lifestyle of yourself and your family by providing:
Expert Skills and knowledge – The finance industry is a very complicated environment with complex legislation and an increasing number of wealth creation and investment options which are constantly evolving. Instead of treading this uncharted territory alone, a highly trained and skilled finance professional can walk you through and present opportunities which could improve your position.
Tailor-made plans – A financial planner should provide a customised strategy and plan that is in your best interests and suitable for your situation, goals and objectives.
Goal documentation – Another characteristic of good financial advice is to help you discover, document and update your financial goals and objectives. Written goals can act as a constant reminder to both yourself and your adviser as to what needs to be accomplished. You should bear in mind that written goals tend to be accomplished while non-written goals remain a dream.
What should I look for in a financial adviser? Five things to check
Their registration
If a business provides financial advice, they must hold an AFS licence which is issued and regulated by ASIC. Any financial planner whose services you are considering hiring should have a licence and be on ASIC's financial advisers register.
If they do not have a licence, don't use them as they are operating illegally and you will have no legal recourse if the advice they give you is incorrect or misleading.
You should also make sure they are licensed to provide advice on the products you are interested in (i.e. superannuation, insurance etc) and are not restricted to only giving advice on an approved product list.
Their FSG
A financial planner should also have a Financial Services Guide (FSG), which you can usually find on their website or obtain from their offices. Among other things, this tells you the services they offer, their fees, their licence number and any affiliations with other companies they might have.
Their qualifications
Basically, the more qualified a potential financial planner is, the better your chances of getting the right advice. Look for one who has a diploma (at the very least) or ideally a degree in a relevant discipline such as finance or accounting.
They should also be up to date with the latest industry regulations, so as well as having the piece of paper, make sure they are undertaking regular training activities through reputable organisations to ensure their ongoing professional development.
Their experience
Of course, someone can be highly qualified but because they're fresh out of university, have little or no industry experience. So ideally you should try and find a financial planner who has both qualifications and a number of years' experience under their belt.
Their fees
Before you agree to be advised by someone and sign any paperwork to that effect, make sure you find out how much their advice will cost you. They should outline their fees upfront and whether they include any service or administration fees and any fees for ongoing reviews of your financial situation. If they do, you should expect to have reasonable access to them when you have questions or wish to discuss a financial issue with them.
What are some things to think about before speaking to a financial planner/adviser?
It's a good idea to come armed with the following information:
What you own. Think of your house, any savings accounts you hold, shares, crypto-currencies and any other investments.
What you own. Think of your mortgage, credit card balance and any other loans.
How much you earn. Look at any income from your regular job as well as any dividends from your investments.
Your regular expenses. How much do you spend per week on living expenses?
Insurance that you have and insurance that you need. For instance, you might already have health insurance but don't have life insurance.
The status of your will. Check to see if it's up to date
General outline of what occurs when you meet a financial planner
When you find a financial planner who seems to tick all the right boxes, your meeting with them should go something like this:
They present their credentials. This should include their Financial Services Guide (FSG) and a Statement of Advice (SOA), which outlines their commission or remuneration.
The fact-finding stage. This involves discussing your current financial position and your goals for the future. You should take copies of all relevant documentation with you, including financial statements and details of loans and other debts.
The recommended strategy. The planner will then outline the steps you will need to take to reach your financial goals (this may be at your second meeting after they have deliberated more on the matter). According to ASIC law, this must be in the form of a Statement of Advice (SOA).
Discussion of recommendations. This may also be at a second meeting, after you have had time to consider their advice and this is the time to ask lots of questions about anything you aren't clear on or have doubts about.
Signing the paperwork. If you decide to go ahead with their plan, you will need to sign all relevant paperwork including any forms involved in the strategy such as insurance or loan applications and super rollover requests.
Obtaining financial advice from a professional can mean all the difference in getting your financial situation in order. A financial adviser can give you valuable assistance when you are making a decision on various financial related matters that you deem important such as which life insurance products should you choose or how to plan for your retirement.

An adviser can help you find cover from trusted life insurance brands.
Get competitive quotes from multiple brands

Lower rate of declined claims (according to ASIC)

Save time and effort
---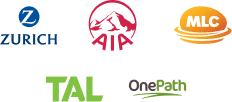 More guides on Finder