Tesla buying guide
What Tesla drivers wish they knew before buying.
We're reader-supported and may be paid when you visit links to partner sites. We don't compare all products in the market, but we're working on it!
Teslas are exciting cars, and some of the highest performing electric vehicles to ever hit the roads. The biggest advantage is that you don't need petrol and can wake up to a full tank every day, but they're also packed with advanced features and the latest driver assistance technology. This guide will show you how you can get in a Tesla driver's seat.

Choosing your Tesla model
When you buy a new Tesla you can customise it to near-perfection. Choose your model and then add your extras. All of them come with the Tesla Autopilot system and know how to steer within a lane, change lanes automatically with just a tap of the turn signal, self-manage speed with adaptive cruise control, and scan for free spots and parallel park themselves on demand. Meanwhile, front and side collision avoidance systems and digital control of the brakes, motor and steering help keep you safe and prevent the car from wandering across lanes.
Autopilot updates are being made constantly and are progressively enabled with software updates sent directly to your car. Although all Tesla vehicles have the autopilot hardware, it may have different functions and features depending on your chosen model.
At the moment your options are the high-performance Model S sedan, or the equally high performing model X SUV. The Model 3 sedan is due to be released in 2017 as a less powerful but more pragmatic and cost-effective alternative to the Model S.
Model S Sedan
First introduced in 2012, the sedan offers many of Tesla's innovative features without compromising on speed. It can accelerate from 0 to 100 in 2.7 seconds, making it the fastest accelerating car currently in production. Automatic features of the Model S Sedan include auto steering, lane changing and auto park. Sleek design coupled with safety makes for an impressive vehicle.
Model X SUV
The Tesla Model X is one of the safest, fastest and capable SUVs ever made. Able to accelerate from 0 to 100 in 3.1 seconds, but also able to seat up to seven people with enough room left over for all their gear, it delivers an uncompromising blend of safety, utility and performance. With the addition of Tesla's cutting-edge autopilot features and the incredible benefits of driving a powerful electric vehicle, it leaves other SUV drivers envious wherever it goes.
Model 3
The Tesla Model 3, available in 2017, is a premium sedan for real world driving, blending performance, safety and spaciousness with affordability. In fact, it's the most affordable Tesla ever made, with a rough starting price of USD$35,000 before incentives.
You can reserve a Model 3 today for $1,500, or can keep an eye on further developments to learn more about it.
Customising your new Tesla
You have a lot of choice, and can tailor everything from the battery to bonus features, and through these, the total cost.
Choose your engine power:
| Battery type | Model S | Model X |
| --- | --- | --- |
| 60 kWh | Model S 60 engine, up to 408km range | 60D engine, up to 355km range |
| 75 kWh | Model S 75 engine, up to 490km range | 75D engine, up to 417km range |
| 90 kWh | 90D engine, up to 557km range | 90D engine, up to 489km range |
| 100 kWh | P100D engine, up to 613km range, 0-100 in 2.7 seconds | P100D engine, up to 542km range, 0-100 in 3.1 seconds |
And choose your advanced features:
Feature
What does it do?
Available with Model S?
Available with Model X?
Recommended?
Autopilot Convenience Features
Enables advanced autopilot features like adaptive cruise control, on-demand parking and steering around curves
Yes
Yes
Highly recommended. These unique features are not only very useful, but are some of the things that make Tesla unique
Smart Air Suspension
Adjustable suspension for better handling, efficiency and comfort. Raise or lower the car as needed
Yes
Yes
Recommended if you often drive on snow, rough terrain or steep inclines
Subzero weather package
Cold weather system with heated seats and steering wheel, wiper blade defrosters and washer nozzle heaters
Yes
Yes
Recommended for subzero weather
Premium upgrades
Options for HEPA air filtration system, ventilated seats, LED fog lights and turning lights, leather finishes, accents, interior lighting and a quick-connection phone dock
Yes, but options available will vary
Yes, but options available will vary
Less essential, more luxury upgrades.
Recommend choosing only the select features that you want
Ultra High Fidelity Sound
More speakers, larger amplifier and subwoofer, specialised sound system designed uniquely for spacious low-noise Tesla environments
As a 12-speaker system
As a 17-speaker system
Recommended if you want a uniquely high-quality audio experience while driving, or spend a lot of time on the road listening to music
Charger upgrades
Improves your vehicle's charging speed and driving range per time spent charging
High-power charger upgrade. Improves range from 54km/hour of charge to 81km/hour of charge
High-amperage charger upgrade. Improves range from 48km/hour of charge to 72km/hour of charge
Recommended for driving longer distances, or if standard charge speeds are insufficient for you
Towing package
Steel tow bar, removable hitch and software monitoring of trailer sway, with 13-pin trailer electronics harness
No
Yes
Recommended if frequently using a trailer with your Model X
What Tesla drivers wish they knew before buying
Teslas are different. A lot of drivers report that it takes a bit of time to adapt to the features, but once you do it's easy and intuitive, and it's hard to go back.
Here's what Tesla drivers say they wish they knew before buying. Remember that these are just suggestions from Tesla drivers around the world, and that your own experience may vary.
Have a qualified electrician install upgraded power points in your garage before you get the car. Typical wall outlets can charge the car, but may be frustratingly slow.
The supercharger routing algorithms, by which Tesla vehicles navigate between supercharger stations, are geared to be conservative so you don't find yourself stranded. Once you get a good sense of the car's actual battery life you can rely less on the computer and more on your own intuition.
The charge indicator on a Tesla is, on the whole, considerably more accurate than a fuel gauge.
The Tesla Model S is a low, sporty and aerodynamic car. If you're a big or tall person, have a bad back or otherwise aren't sure you'll be willing and able to keep squeezing into a low car, it may be worth getting the Smart Air Suspension system. Raising the car with this can make it a lot easier to get in and out.
It's worth getting used to using your smartphone to control car features from a distance, like pre-cooling or pre-heating it.
Car insurance costs will vary depending on your chosen performance options. Selecting the most powerful of everything will push your vehicle a lot closer to supercar territory, driving insurance premiums right up.
Remember to charge your car overnight, so you can wake up every morning with a full tank.
It's not a cheap car. Both the Model S and Model X are truly outstanding vehicles, but they don't come cheap. The unique benefits of Teslas can make it easier to find financing options, but remember to keep a cool head.
Expect to spend more on tyres than with other cars. The rapid acceleration found in the Model S and Model X wear down tyres quickly, especially if you choose the larger 21" option. Not only will they wear out more quickly than on standard cars, but they also need more frequent rotation, and as high performance tires are more costly to replace.
How to charge your Tesla in Australia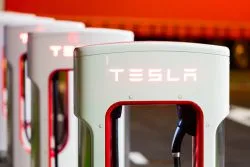 Tesla cars use an onboard charger to convert alternating current from wall outlets into direct current in the car battery. The emptier the battery, the faster it charges. When it gets close to being full, the car computer will taper off the current to gradually top it up without overflowing.
You can charge your car from wall outlets, as well as from Tesla supercharger stations located around Australia, which are special banks of multiple chargers working in parallel to rapidly recharge your vehicle. Simply pull up, plug in and charge it up.
Half an hour of charge from a standard outlet will get you about 17km. Charge overnight to fill up your car at home.
Half an hour of charging at a Tesla supercharger station will get you about 270km, near the maximum battery range. This is generally more than enough to get you to the next supercharger or your destination.
Superchargers are not exactly sparse in Australia, but they are only available in certain areas. More are also being built all the time. You can always find your nearest supercharger station online. This information is also linked to your car's computer, and you can easily find your nearest supercharger with your car's inbuilt touch screen display.
How much do the Model S and the Model X cost?
The cost of a Tesla car depends largely on your chosen engine power and extra features. Here's about how much you should expect to pay for the Model S and Model X brand new, with different engines and without extra features.
Tesla Model S
| | |
| --- | --- |
| Tesla Model S 60 | $111,800 |
| Tesla Model S 75 | $129,272 |
| Tesla Model S 90D | $159,438 |
| Tesla Model S P100D | $251,849 |
Prices for the 60 and 75 are for rear-wheel-drive only, while 90D and P100D are for all-wheel dual motor drive.
Prices include $2,300 estimated petrol savings over five years.
Prices do not include stamp duty, vehicle registration costs, luxury car tax or CTP insurance.
Tesla Model X
| | |
| --- | --- |
| Tesla Model X 60D | $125,051 |
| Tesla Model X 75D | $142,933 |
| Tesla Model X 90D | $167,503 |
| Tesla Model X P100D | $246,809 |
Prices include $4,200 in estimated petrol savings over five years.
Prices do not include stamp duty, vehicle registration costs, luxury car tax or CTP insurance.
How you can finance a Tesla
Tesla vehicles are extremely safe vehicles. Unlike many other high-powered or luxury cars, there are a lot of sensible, practical reasons to get a Tesla. Lenders and car finance groups can recognise the swiftly growing popularity of these unique vehicles, and may be more likely to approve tesla loans than less-practical but similarly priced equivalents.
This means you may be able to enjoy more favourable rates and better terms when financing a Tesla than other vehicles. Because they are demonstrably safer than many other cars, some insurers also recognise the benefits with lower car insurance premiums. This means that while Teslas are inherently expensive, high-end vehicles, they can continually save you money as you drive, not only by not needing to pay for petrol and because you can get government rebates for these eco-friendly cars, but also in countless other more subtle ways.
Luxury car loans are designed for cars like Teslas. You're paying for safety, convenience, environmental friendliness and versatility, not just speed and power. Compare your finance options to see if any are suitable for you.
Loans you can use to finance a Tesla
Images
Jonathan Weiss / Shutterstock.com
JPstock / Shutterstock.com
Jag_cz / Shutterstock.com
More guides on Finder