We're reader-supported and may be paid when you visit links to partner sites. We don't compare all products in the market, but we're working on it!
Term Life Insurance is a type of cover that provides a payment:
To your loved ones if you pass away during the 'term' of the policy (for example before the age of 90)
To you if you have been diagnosed with a terminal illness and are not expected to live for longer than 12 months
Compare and get a quote for term life insurance
You might notice that our table doesn't have the prices of each policy. Insurance quotes are based on a lot of factors making them all pretty personal. Hit the Get Quote button to get a tailored quote for your circumstances so you can start comparing!
Tip: Keep an eye out for the entry age. This is essentially the age limit, at which you can apply to take out a new policy.
An adviser can help you find cover from trusted life insurance brands.
Get competitive quotes from multiple brands

Lower rate of declined claims (according to ASIC)

Save time and effort
---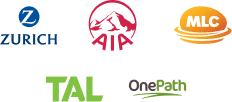 finder.com.au's comparison of term life insurance quotes
Below is a quick view of how much life insurance can cost you, per month.
| Policy | Cover amount | Monthly premium* |
| --- | --- | --- |
| MLC Insurance | $500,000 | $25.58 |
| ClearView LifeSolutions | $500,000 | $25.77 |
| AIA Priority Protection | $500,000 | $30.13 |
| AMP Flexible Lifetime Protection | $500,000 | $35.55 |
*Prices are an estimate based on a 35 year old non-smoking male office worker. Quotes last checked on June 2017 and are subject to change. For a closer estimate, enter your details in the form above.
Term life insurance provides cover for your family and anyone else that is financially dependent on you in the event that you pass away or are diagnosed with a terminal illness during the 'term' of your cover or before what's known as the expiry age.
What happens at the end of my policy term for term cover?
There is no cash payout or 'surrender cash value' in term life insurance. You pay a premium to have cover in place and if the term ends or you cancel your policy, you do not receive payment.
Is whole of life insurance no longer available in Australia?
Insurance companies in Australia no longer offer "whole of life" or universal life insurance in Australia. This type of cover was popular in the 1970s and 1980s but has now been replaced by term life insurance mainly due to whole of life insurance premiums being unable to keep pace with inflation and it being considered to be a poor form of long-term investment.
Do I need term life insurance in Australia?
Despite Australia being a developed country, as many as 95% families with children are underinsured, with around 40% of the population with no life insurance cover in place at all (Lifewise/Natwise, 2010; Comminsure, 2012). Most people are quick to insure their car or home before taking out life or income cover for themselves with 83% of Australians having car insurance in place. (AAMI, 2008).
Why is this the case? People argue that it is because the benefits of term life insurance are less tangible to something like car insurance, with others who choose to push the thought of actually needing life insurance to the back of their mind. When asked why they don't have life cover in place, many people will respond with one of the following:
"I don't really need it. Do a test and see if you have any needs that could be serviced by cover.
"Nothing will happen to me." While a sudden death isn't likely, think of what happens in that event.
"Life insurance is too expensive." There are ways to get cheap cover that allows you to make a small sacrifice for a greater peace of mind.
"It's just too complicated." Yes, it is a detailed product. However, it's easy to speak to an adviser to clear things up.
"It's only for families with kids." Not true, there are options for couples as well. Singles can take advantage of products like income protection and TPD.
Back to top
When is a good time to take out cover?
This will really depend on your own situation and what you would need to cover in the event of your death. Some key triggers that lead many Australians to take out cover or review their existing cover include buying a house, getting married and having their first child. These events may not apply to you but it is still worth considering the "living insurance" that provide a payment if you suffer a major illness or injury and do not pass away.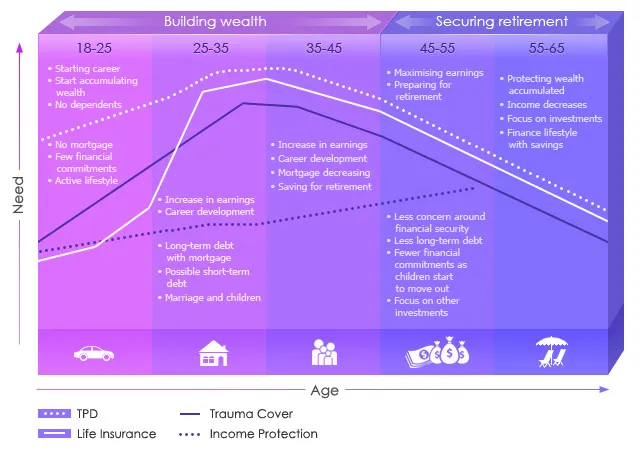 What is the age limit on Term life insurance?
Age limits for term life insurance varies between brands. The table below shows the maximum age of entry and expiry for term life insurance.
| Insurer | Maximum Age to Take Out Cover | Maximum Expiry Age |
| --- | --- | --- |
| AIA | 75 (Age Next Birthday) | 100 (Age Next Birthday) |
| Onepath | 74 (Age Next Birthday) | 100 (Age Next Birthday) |
| Comminsure | 65 (Age Next Birthday) | 100 (Age Next Birthday) |
| TAL | 75 (Age Next Birthday) | 100 (Age Next Birthday) |
| Clearview | 75 (Age Next Birthday) | 100 (Age Next Birthday) |
| Asteron Life | 75 (Age Next Birthday) | 100 (Age Next Birthday) |
The maximum entry age may also change based on the type of premium you choose and how much cover you apply for. Make sure you know these restrictions before applying for cover.
What expenses can term life insurance cover?
Replacing an income for your partner or your family that would be lost if you were to die
Cover mortgage or rent payments
Cover your child's education
Cover other personal debt i.e. car loan
Childcare if your spouse had to return to work
Funeral costs and financial planning
Everyday living expenses
How much is it going to cost me?
The amount you pay for cover will depend on a number of factors including;
Your age - the older you are the more you will pay
Your occupation - higher risk occupation may mean you pay a higher premium
Gender - rates vary between genders at different ages
Pre-existing medical conditions - will depend on the nature of condition and current treatment
How much does life insurance cost on average?
Frequently asked questions from our users
Can I bundle term life with other types of cover?
Term life insurance can also be combined with other types of "living insurance" TPD Insurance and Trauma Insurance - these provide a lump sum payment if you become disabled or suffer a trauma event such as stroke, cancer or heart attack.
---
Don't I already have cover in my superannuation?
Most super funds will provide a very basic level of cover life insurance to members. This is usually only a portion of what will actually be required to cover all of your debts/ongoing expenses of your family if you were to pass away. It is possible to either increase or decrease the cover in your superannuation.
Here are some benefits and drawbacks of life insurance through superannuation you might want to consider;
Benefits
Generally cheaper as cover is bought in bulk
Premiums may be tax-deductible
Premium is not taken from take home earnings
Premiums automatically deducted
Reduced health checks during application
Drawbacks
Types of cover available is limited (No Trauma)
Generally a reduced level of cover available
Benefit payment can be drawn out as funds are paid to trustee first
Benefit payment may be taxed
Reduced range of benefits
Cover may stop if you change funds
The decision of whether or not to fund your life insurance through superannuation is not always straightforward. You may wish to speak with an insurance consultant to get a better idea of what is best for your situation.
Have You Considered a Life Insurance Superannuation Rollover?
Many life insurance companies now offer whats known as a superannuation rollover. This lets you apply for a policy with a life insurance company and still fund the policy with either the life insurance companies super fund or the superannuation fund you currently have.
This means you can continue funding your cover through your superannuation but access cover from a life insurance company that may be more suitable to your situation.
Bit confusing? Learn more about life insurance superannuation rollovers
---
Is term life insurance tax deductible?
| Type | Taxed? |
| --- | --- |
| Life insurance outside of superannuation | Premiums are not tax-deductible |
| Life insurance inside of superannuation | May be tax-deductible if self-employed |
| Life insurance outside of superannuation benefit | Benefit payment is provided tax-free |
| Life insurance inside superannuation benefit | Benefit may be subject to tax |
---
Can I get cover without having to do a medical exam?
This will depend on your own situation and if you have had any medical complications in the past. There has been significant changes in recent years to how applicants are assessed and insurers are much more willing to tailor cover to people that have a pre-existing condition.
Most life insurance companies will require you complete a short medical questionnaire when applying for cover. If you meet their entry requirements, you will usually be able to apply for cover without having to undertake a medical exam or provide details of your medical history.
Most direct insurance brands will allow you to apply for cover entirely online or over the phone if you meet these entry requirements.
---
More questions
Apply and receive a preliminary quote
Term life insurance can be a quick and easy way to protect your family at some of the most vulnerable and expensive times of your lives, so take the time to consider this added protection for your loved ones. Enter your details in the form above if you would like to start comparing policies and get quotes with an insurance consultant. There is absolutely no obligation to sign up for a policy when making an enquiry.
Compare term life insurance quotes with an adviser or direct
More guides on Finder