Tent Finder: How to find the best tent for you
Compare camping, hiking, swag, family, pop up tents and more to find the perfect tent for your next camping trip.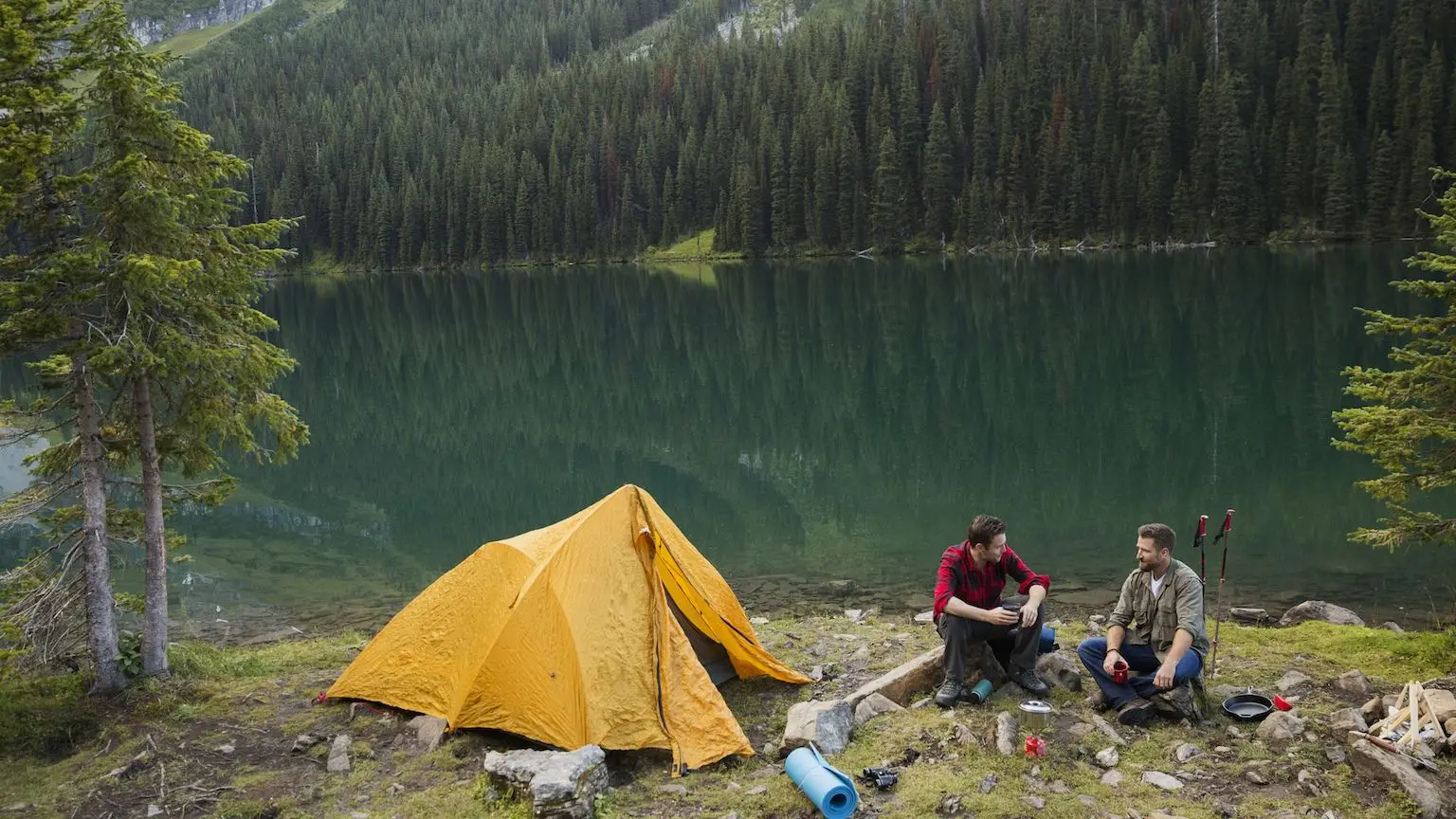 We're reader-supported and may be paid when you visit links to partner sites. We don't compare all products in the market, but we're working on it!
Best Rated Tents Brand: Caribee
If you're looking for a tent that's easy to use, durable and well designed, then Caribee is the brand for you. Recommended by 100% of those polled, it took out this year's best tent brand award.
Quick facts about comparing tents
You can find a two or three-person tent for less than $100 that would be suitable for backyard camping or shade at the beach but probably won't hold up to regular use or moderate rain.
If you're looking for a large, durable tent that will survive many seasons worth of camping trips, you could spend thousands on a quality tent.
There's also a wide range of options in the middle.
Compare tents
What types of tents are available?
If you're looking for a tent for your next camping trip, you have several styles to choose from. Each type is suited to different activities.
Check out descriptions of some of the most common styles below:
Dome. Dome tents are the most popular style in Australia. They can fit from two to ten or more people and can sometimes be divided into separate compartments. They are usually made out of lightweight fabric and are easy to carry around and set up.
Geodesic. Geodesic tents are a type of dome tent with additional interlocking poles. They are designed for extreme weather, high winds and high altitudes.
Instant. Pop up tents can be pitched in just minutes. While they aren't quite as sturdy as other types, they are extremely convenient to set up and take down.
Cabin. Cabin tents are typically used by families and have rigid frames and square walls. Most people can walk around comfortably inside, making them a great option for long-term stays in one location.
Hiking. Hiking tents are designed to be small and light enough to carry in a backpack all day. They typically only fit up to a few people.
Swag. Swags are ultra-portable tents for individuals or two people who don't mind getting very close. Many of them include a built-in sleeping mat.
Ridge. Ridge tents are triangular in shape and have one pole at each end that forms a ridge down the middle. They are often quick and easy to set up, but most of them do not allow enough room for adults to stand up inside.
How to compare tents
When searching for a tent, look for something that is user-friendly, big enough for your group and is suited to the weather you'll be camping in.
To get started finding your perfect tent, consider the following questions:
Can I easily set it up?
How many people will be using it?
What weather will I be camping in?
One of the most important, and often overlooked, factors when choosing a tent is how easy it is to set up. Try setting up the tent in the store or at home before you take it on a trip to make sure you know what goes where.
Sleeping capacity
Tent size is measured by the number of people who can sleep in the tent. Specifically, this measures the number of sleeping bags that can fit on the floor and does not include any additional gear. If you want to be able to move around comfortably, choose one that has a sleeping capacity one size up from the number of people who will actually be sleeping in it. If you plan to spend a lot of time in the tent or fill your pack with handy gear, you should choose one that sleeps two or three more people than you actually have.
Seasonality
Tents are rated by the number of seasons it can withstand while keeping you dry and relatively warm. Typically, tents that can withstand extreme weather conditions are more expensive and heavier because they have more layers.
Suitable seasons
Description
Two-season
These tents are lightweight but offer less protection against the elements. While they are suitable for Spring and Summer, you may need an extra tarp if you use one during heavy rain.
Three-season
These are the most popular type available in Australia. They are relatively light and can stand up to heavy rain better than two-season tents.
Four-season
These tents work all year round. They are heavier and more expensive than two-season models because they are more durable. While they work well in cold climates, they sometimes feel hot and stuffy in hot weather.
Five-season

Spring
Summer
Autumn
Winter
Extreme cold
High altitudes

Five-season tents are designed for cold weather and high-altitudes. If you camp during snowstorms, five-season models are the way to go, but if you just need protection from the Sydney winter they're not worth the money.
Additional features to look for
Hopefully, you've found a tent that is easy to use, roomy enough for your party and gear, and suited to the weather you'll be camping in. Next, check if it includes these extra details:
Floors
Look for durable, waterproof floors. You might want to purchase an additional footprint or tarp. Footprints are designed to go under your tent and act as an additional layer of protection.
Doors
You will want a door that is easy to get in and out of. If there will be multiple people in the tent, look for one with doors on two sides so that you won't have to climb over each other to enter and exit.
Windows
While doors provide some ventilation, additional windows and vents can help you keep cool in humid Australian weather.
Flies
A fly is an additional layer that sits above the tent and gets pegged into the ground. The fly acts as a waterproof layer and the space between it and the tent provides additional insulation. A quality model should come with a durable fly.
Vestibules
Some tents have vestibules or awnings that give you additional space to store gear and move around while still being undercover from light rain and sunshine. Make sure you put a tarp down under the vestibule or awning to keep the area from getting muddy.
Bags
Look for a tent bag that has extra room when your tent is rolled up inside. This will make it easier to store your tent when it is wet or when you don't have enough time or space to roll it up perfectly.
Pegs
Metal pegs are more durable than plastic pegs and less likely to blow away in the wind.
Poles
Look for poles that are made out of a durable, lightweight and flexible material such as aluminium or carbon fibre.
Pockets
Internal pockets give you more storage inside your tent and more floor space. However, pockets are not usually designed for heavy items.
Seams
Leaky seams can completely ruin a camping trip. Look for seams that are fully sealed with durable stitching.
Skylights
Skylights and sunroofs can add additional ventilation while giving you a chance to stargaze when you lie down at night.
Warranty
Check how long the warranty lasts and if there are any conditions that may void the warranty.
Best rated tent brand award breakdown
| | Total Score | Overall rating | Value for Money | Design | Durability | Ease of use |
| --- | --- | --- | --- | --- | --- | --- |
| Caribee | 8.33 | 4.54 | 4.15 | 4.62 | 4.54 | 4.46 |
| Other | 8.24 | 4.42 | 4.74 | 4.47 | 4.42 | 4.32 |
| Kathmandu | 8.07 | 4.45 | 4.25 | 4.4 | 4.35 | 4.1 |
| BlackWolf | 7.9 | 4.5 | 4.25 | 4.42 | 4.33 | 4.08 |
| Coleman | 7.88 | 4.3 | 4.12 | 4.34 | 4.18 | 4.26 |
| Oztrail | 7.86 | 4.33 | 3.93 | 4.19 | 4.19 | 4.14 |
| Adventure Kings | 7.71 | 4.15 | 4.11 | 4.3 | 4.11 | 4.04 |
| OzTent | 7.4 | 4.04 | 4.17 | 4 | 4.13 | 4.13 |
| Kmart | 7.03 | 3.76 | 4.1 | 3.76 | 3.68 | 4.16 |
| Spinifex | 6.89 | 3.8 | 3.73 | 3.6 | 3.53 | 3.67 |
| Burke & Wills | 6.88 | 3.71 | 4 | 3.86 | 4.43 | 3.86 |
| Macpac | 6.87 | 4 | 3.83 | 3.67 | 3.67 | 3.58 |
Data: Finder Retail Brand Survey, 2020, Kantar. Metric out of 5 stars unless indicated. Methodology and more info.
Previous Retail Awards
More guides on Finder