Tasmania travel restrictions | Where you can go in July 2020
Read our constantly updated guide on what you can and can't do in Tassie right now.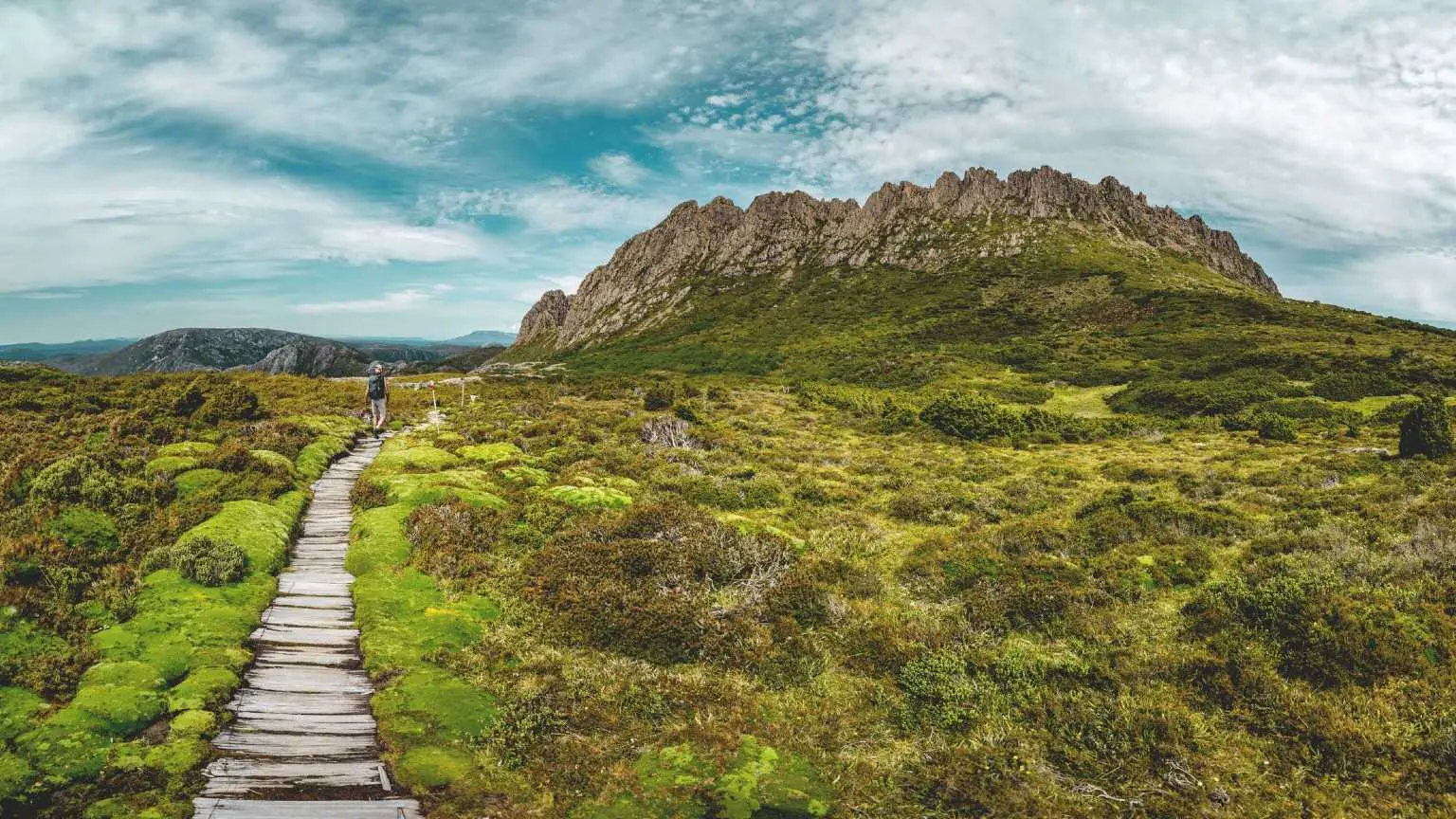 As of 3pm on 5 June, all regional travel for the purposes of leisure is permitted around Tasmania.
This includes overnight stays in hotels and campsites and the reopening of attractions such as zoos, cinemas, museums and national parks.
While this means you can get out and explore, physical distancing and hygiene rules are very much still in place. This means not everything is open, and attractions that have reopened may have ticketing services in place to maintain visitor numbers.
Here's what else you need to know to get out and explore Tasmania right now.
Accommodation in Tasmania
Overnight recreational stays, including at hotels, hostels, campsites, boats, holiday homes and family and friends' homes, are allowed in the state.
Staying with family or friends
Households may welcome up to 10 visitors at any one time. This number is in addition to the residents of the household itself.
Staying at hotels
Hotels are allowed to reopen across the state with no limit on the number of guests. Common areas can only have a maximum of one person per four square metres.
When you stay, you may notice extra hygiene methods in place to keep you safe. This might include sanitisation stations, the removal of shared cutlery in restaurants and spatial distancing or the closure of communal areas such as swimming pools and gyms.
Latest hotel deals in Tasmania
Staying at shacks
You're now allowed to travel to and stay at your shack, with the same restrictions as your primary residence.
That is, you and the residents of your household may stay there for as long as you wish. You can also welcome up to 10 visitors who may also stay there overnight.
Staying in a holiday home
If you're renting a holiday home or short stay such as an Airbnb or Stayz property, a maximum of 20 people are permitted in the home.
This limit is subject to the density limit of one person per four square metres.
Staying at hostels
Hostels are open for leisure travellers.
When staying in a hostel, you should expect enhanced safety and hygiene measures. These may include reduced capacity in shared dorms and common rooms as well as increased sanitisation stations for guests.
Camping and caravanning
National parks and their campgrounds are currently permitted to reopen for recreational activities and camping. However, the majority of campgrounds and their visitor centres are officially reopening on 15 June. This includes major sites such as the Overland Track, Frenchmans Cap, Walls of Jerusalem, the Three Capes Track multi-day experience, Maria Island, Ben Lomond National Park, Pine Valley and Arm River Track.
Density limits apply per site unless all who are staying are members of the same household.
Campers are advised to bring their own toilet paper, soap and sanitiser as not all parks may have their facilities maintained at this time.
See our National Parks section for details on which trails are open.
Boats and yachts
Boating has once again been permitted in the state. There is a maximum of 20 people per vessel and density limits apply.
Tourist attractions in Tasmania
All major tourist attractions and recreational experiences such as cinemas, zoos, museums, art galleries, historic sites, function centres and theatres can reopen with a maximum of 20 people at any one time.
Due to these numbers restrictions, some venues have chosen not to reopen while others are offering timed tickets to regulate capacity.
When booking online, RedBalloon and Adrenaline have introduced a "Now Open" stamp on attractions you can visit right now.
Popular attractions that are currently open include the following:
Mount Wellington
Royal Tasmanian Botanical Gardens
Cascades Female Factory (reopening on 3 July)
Port Arthur (Cascades Female Factory (reopening on 3 July)
Latest deals for Tasmania attractions and activities

Tasmania school holiday activities from $40
Ends
National parks
You can now visit any national park and reserve within Tasmania – not just those within 30km of your home as was previously the case. Overnight stays and multi-day hikes are allowed as long as the track is open.
The following parks have reopened:
Wellington Park
Royal Tasmanian Botanical Gardens
Cradle Mountain-Lake St Clair National Park (park now open, shuttle and visitor centre resume on 15 June)
The following tracks are reopening on 15 June:
Overland Track
Frenchmans Cap
Walls of Jerusalem
Ben Lomond
Maria Island
Three Capes multi-day experience
Pine Valley
Arm River
All visitor centres officially reopen on 15 June.
When out, don't forget to remain vigilant about social distancing and maintain a 1.5-metre distance between you and your fellow hikers/campers.
Beaches and local parks
Local beaches and parks are still open for daily visits. Once again, physical distancing rules apply.
Getting to and from your holiday
Driving within Tasmania
You are allowed to drive in your own vehicle anywhere within the state.
Hiring a car to travel is also permitted. When picking up and dropping your vehicle off additional hygiene methods may be used. This can include a zero-contact policy, where keys are placed in a sealed envelope for you to pick up as opposed to being handed them at the counter.
Flights within Tasmania
You may book flights and fly within your state without restriction. You won't have to self-isolate on arrival or return, though the experience may be different to what you'd usually expect. For example, the airport's food courts might not be open so it's a good idea to pack a snack if you tend to eat before your flight.
Airlines are also offering sanitary wipes and face masks for use on the plane.
Coach and bus services
Bus and coach services within and between cities are operational. Gathering limits do not apply on public transport so there are no limitations over how many passengers may travel.
It's advised that, where possible, passengers should maintain physical distancing on coaches and buses by choosing seats away from others.
Tassielink: All services running as normal.
MetroTas: Buses around Hobart and Launcestons are running as normal.
Derwent Valley Link: Operating as normal.
Redline Coaches: Special event services are suspended but all other services are running. Bookings are only being taken over the phone.
Mersey Link Bus Service: Operating as normal.
McDermott's Coaches: Transfers between Launceston and Cradle Mountain will run from 12 June until the end of August.
Tassie Tours: This Port Arthur shuttle is operating as per normal.
Ferry services
Spirit of Tasmania: Sailings between Melbourne and Tasmania are still in service. Self-isolation isn't required when arriving in Melbourne. However, unless you are an essential worker, you will need to quarantine for 14 days on your return to Tasmania. Tasmanian residents may do this at home. All other visitors will be placed in a government-managed facility.
Maria Island Ferry: Service resumes 15 June.
Bruny Island Ferry: Sailings operating as normal.
All personal boating, including overnight stays, is permitted in Tasmanian waters.
Ready to explore Tasmania? See our latest deals:
Frequently asked questions about travelling in Tasmania during COVID-19
How far can I travel from home?
There are no limitations to travel around Tasmania.
Are there any regional travel restrictions?
No. You may travel throughout the state without restriction.
Can I travel to Tasmania if I live in another state or territory?
Tasmania's borders are reopeing to the rest of Australia (except Victoria) on 24 July. Until then, only essential workers and residents returning home should travel to Tasmania.
Any non-essential travellers must quarantine for 14 days in a government-managed accommodation. Returning residents may quarantine in their households.
Do I need to limit the number of people I travel with?
There is a gathering limit of 20 people, all of whom must adhere to physical distancing rules unless they are members of your household.
Do I need to pre-book to visit dining venues and attractions?
While not necessary, it's highly recommended that you pre-book where possible. This is due to the current gathering limitations, which only allow 20 people in one venue at a time.
Will I need to self-isolate or go into quarantine when I return from my trip?
No. Anyone travelling within Tasmania does not need to quarantine when they arrive home. This only applies if you are travelling to Tasmania from another state or territory or from overseas.
If you are feeling unwell when you return or are showing symptoms of COVID-19, call the hotline on 1800 675 398 immediately.
Related Posts