6 of the most scenic Tasmania road trip itineraries
How to self-drive Tasmania in 2-14 days, including attractions and accommodation.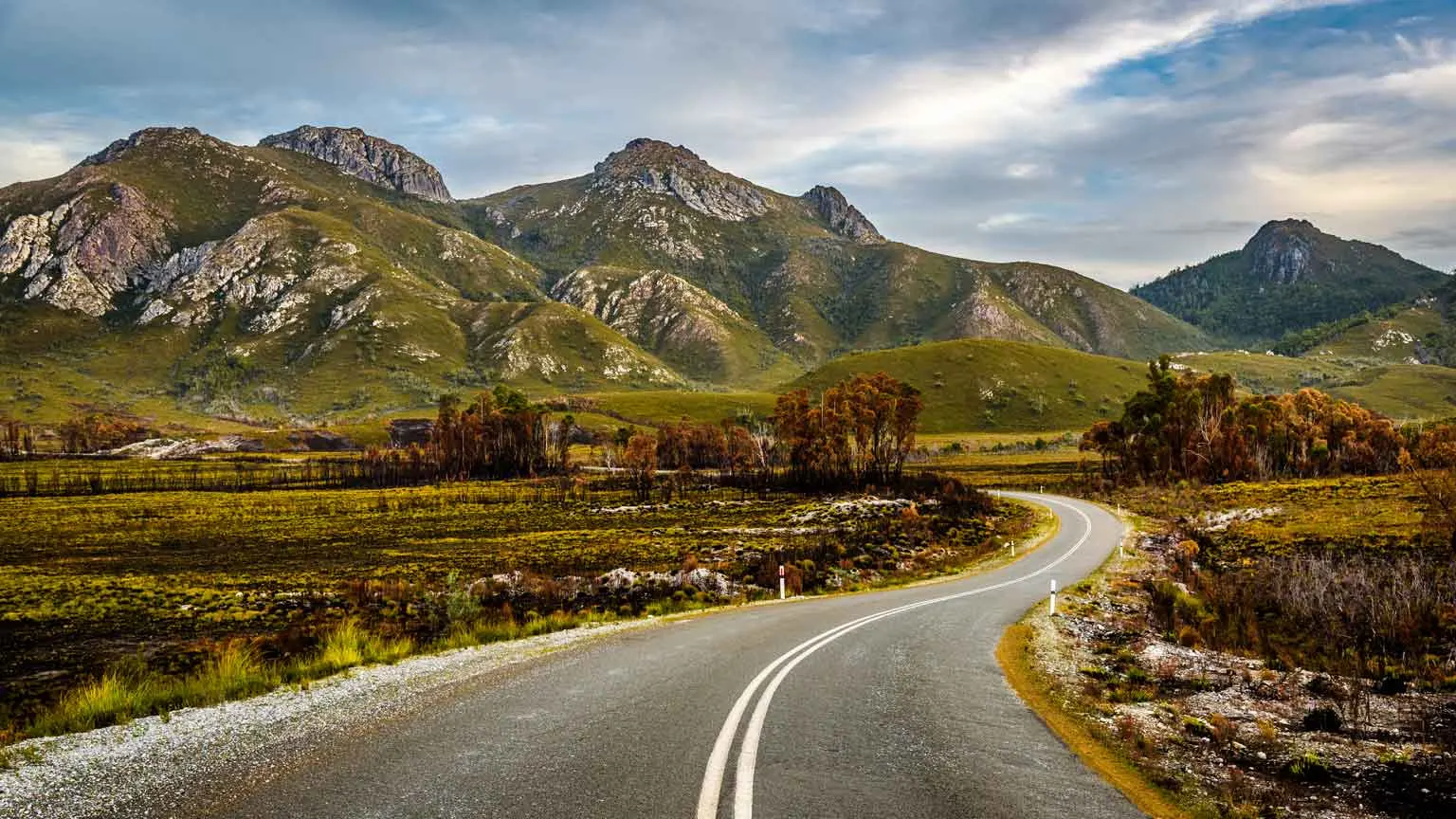 We're reader-supported and may be paid when you visit links to partner sites. We don't compare all products in the market, but we're working on it!
Tasmania is an island that you could spend a handful of days exploring in part or up to a fortnight zipping from edge to edge, drinking up jaw-dropping natural scenery.
To set the wheels in motion we've outlined self-drives for 2, 5, 7, 10 and 14 days so you can explore what the island down under has to offer. We've also included unmissable activities in each destination and tips on where to spend the night.
5-day itinerary: North-east coast loop Tasmania road trip
For those who don't have too much time to explore, the east coast Tasmania itinerary paints a picture of historical houses, lush bushland and coastal escapes.
---
7-day itinerary: Northern loop Tasmania road trip
It's possible to drive around Tasmania comfortably in a week and tick off those bucket-list essentials such as Bay of Fires and Cradle Mountain.
Total distance: 923km / 12.5 hours.
Route: Launceston-Coles Bay-Hobart-Strahan-Cradle Mountain loop.
Highlights: Bay of Fires, Freycinet National Park, Hobart, Cradle Mountain.
Best time to drive: Autumn or spring for cool hiking temperatures.
Things to do: Cruise along the Cataract Gorge, cruise on Wineglass Bay, kayak in Freycinet, visit MONA Museum, tour Cascade Brewery, take a Gordon River cruise and go canyoning in Cradle Mountain.
Stay at: Leisure Inn Penny Royal Hotel & Apartments, Edge of the Bay Resort, Grand Chancellor Hotel, Strahan Village and Cradle Mountain Hotel.
Eat at: Bryer in Launceston, Freycinet Lodge in Freycinet, Geographe Restaurant and Espresso Bar in Coles Bay, MONA or the Salamanca Markets in Hobart, Wild Bushman's in Strahan and Altitude Restaurant + Lounge Bar in Cradle Mountain.
---
10-day itinerary: Tasmania highlights loop
You'll leave Tasmania satisfied you've seen it all with 10 days in your kit to explore its highlights in-depth. From combing the beaches of Freycinet National Park to hiking around Cradle Mountain, this is the adventurous road trip path.
Total distance: 1,164km / 17.5 hours.
Route: Eastern and central Tasmania loop from Hobart via Coles Bay and Cradle Mountain.
Highlights: Hobart, Port Arthur, Freycinet National Park, Cradle Mountain National Park, Mount Field National Park and Bruny Island.
Best time to drive: Late spring or early autumn for good hiking and beach conditions.
Things to do: Go on a Cascade Brewery tour, visit the Port Arthur Historic Site, go kayaking, take a scenic flight or cruise Wineglass Bay, wildlife spotting after dark in Cradle Mountain, canyoning in Cradle Mountain and a Bruny Island cruise.
Stay at: Port Arthur Motor Inn, Freycinet Lodge, Leisure Inn Penny Royal Hotel & Apartments, Cradle Mountain Hotel, Bushy Park and Bruny Island.
Eat at: MONA in Hobart, The Fox & Hounds Inn Restaurant in Port Arthur, The Bay Restaurant in Coles Bay, La Cantina Restaurant & Pizzeria in Launceston, Altitude Restaurant + Lounge Bar in Cradle Mountain, Waterfalls Cafe and Gallery near Mount Fields National Park and Get Shucked Oyster on Bruny Island.
---
14-day itinerary: Tasmania full island round trip
Two weeks is more than enough time to slowly travel your way around the island. You'll hit all the highlights, being able to spend multiple days in scenic locations such as Freycinet, Cradle Mountain and Strahan where you can tuck into day-long activities.
You'll also have ample time to pop over to less frequented destinations like Ansons Bay and Stanley up north or Franklin-Gordon Wild Rivers National Park or Southwest National Park in the south.
Total distance: 1,780km / 1 day, 44 minutes.
Route: Hobart-Port Arthur-Coles Bay-Cape Portland-Stanley-Cradle Mountain-Strahan-Strathgordon-Bruny Island-Hobart.
Highlights: Port Arthur, Devil's Kitchen in Tasman National Park, Maria Island, Wineglass Bay, Friendly Beaches and Bay of Fires in Freycinet Peninsula, Tamar Valley, Cradle Mountain, Stanley, Strahan, Lake St Clair, Derwent Bridge, London Lakes, Gordon Dam, Bruny Island.
Best time to drive: Summer to get the most of the natural scenery.
Things to do: Port Arthur and Tasman Peninsula Tour, guided kayak tour through Freycinet Peninsula, wine tasting in Tamar Valley, visit the Tasmanian devils at the Devils at Cradle Sanctuary, spend the day canyoning in Cradle Mountain, go on a Gordon River cruise, ride the West Coast Wilderness Railway, cruise around Bruny Island and learn about Bruny Island Lighthouse on tour.
Stay at: NRMA Port Arthur Holiday Park, Triabunna Cabin & Caravan Park, BIG4 Iluka on Freycinet, Trevallyn House B&B, Discovery Parks Cradle Mountain, Stanley Cabin and Tourist Park, Regatta Point Tavern & Holiday Villas, Peppers Wilderness Lodge, Captain Cook Holiday Park.
Eat: Lucky Ducks in Port Arthur, The Fish Van in Triabunna, Richardson's Bistro and Artifakt Gallery and Cafe in Coles Bay, Samuel Pepys Cafe in Tamar Valley, Peppers Cradle Mountain Lodge Tavern Bar & Bistro in Cradle Mountain, Touchwood Cafe in Stanley, Bushman's in Strahan, The Possum Shed in Mt Field and Get Shucked Oyster and Bruny Island Cheese Co. on Bruny Island.
---
Great Eastern Drive Tasmania over 2 days
Often coined as one of the nation's greatest road trips, Great Eastern Drive captures the unparalleled beauty of the island's east coast. This includes well-known tourist spots like Wineglass Bay and Bay of Fires.
It starts in Orford which is an hour out of Hobart. However, if you're starting your trip from Launceston you can run the route backwards, starting in St Helens which is just over 2 hours from Launceston.
This one's perfect for anyone short on time as it can be completed in a day, though we recommend two days so you can tuck into a few activities.
Total distance: 176km.
Route: Orford-St Helens/Bay of Fires.
Highlights: Maria Island, Swansea, Coles Bay, Wineglass Bay, Friendly Beaches, Big Oyster Bay, The Hazards, Binalong Bay, Bay of Fires.
Best time to drive: Summer.
Things to do: Hire a bike to explore Maria Island, kayak Freycinet Peninsula, hike down to Wineglass Bay and skip stones in Bay of Fires.
Stay at: BIG4 Iluka on Freycinet and Cockatoo Cabin Binalong Bay.
Eat: The Fish Van in Triabunna for local and cheap seafood, Verdi in Swansea for sea views, Freycinet Marine Farm for top quality seafood, Coffee Away in St Helens for a cuppa and the Wharf Bar & Kitchen in St Helens for a blowout meal.
---
Hobart to Hartz Mountains: 2 days
Peel back the layers of Tasmania's south to uncover a hidden treasure south-west of Hobart.
Looking at the map, that whole area of Tassie abounds with national parks and conservation areas that are heavily overlooked by visitors. Are you after somewhere that'll please the carload? If so, the answer is the Huon Valley and Hartz Mountains.
Within it are hiking trails, local produce stalls and tree-top adventure walks.
Total distance: 298km / 5 hours, round trip.
Route: Hobart to Hartz Mountains and Tahune Adventures.
Highlights: Huonville, Franklin, Geeveston, Hartz Mountains and Hastings Caves and Thermal Springs.
Best time to drive: Summer.
Things to do: Jet boat down the Huon River, learn the art of boat building and glass blowing in Franklin, walk among the treetops at the Tahune Adventures Airwalk, hike one of the many Hartz Mountain trails and explore Hastings Caves.
Stay at: Huon Bush Retreats or Airwalk Lodge Hostel.
Eat: Willie Smith's Apple Shed and The Old Bank of Geeveston.
---
Need a car? Book a ride now
---
Deals and discounts on Tasmania travel
---
More guides on Finder