Best Sydney hotels to book in 2022
Find the best places to stay, compare prices and get the latest deals to save on hotels in Sydney.
We're reader-supported and may be paid when you visit links to partner sites. We don't compare all products in the market, but we're working on it!
We've done all the hard work for you so all you have to do is choose the best hotel that suits you. As not all hotels are created equal we've searched high and low for the stays that are in the best location, price, proximity and walkability to attractions.
From hotels that won't break the bank in the city centre and airport stays to boutique accommodation and beachside hotels, you're sure to find your perfect fit below.
Today's available deals on Sydney hotels
How did we pick these Sydney hotels?
Our editorial team selected the Sydney hotels on this list based on price, location and real customer feedback from hotel booking sites and review platforms. Where applicable, we used our own personal experiences to make recommendations.
Where are the best places to stay in Sydney?
Best hotels in Sydney CBD
Sydney CBD is very walkable and its main attractions are within close range of each other. The Hilton Sydney is perfectly situated on Pitt Street, which happens to be the CBD's shopping district. It's also the easiest street to navigate the city from, Circular Quay is directly down the road (a 15-minute walk) and Darling Harbour is just over 10 minutes by foot. Hyde Park is two streets over and the Royal Botanical Gardens are just 20 minutes away.
The Sheraton Grand Sydney Hyde Park
is just as convenient for seeing the city's sights. St. Mary's Cathedral, Hyde Park, George Street and the Sydney Tower Eye are all within five minutes of the hotel via foot.
The Grace Hotel
is also a great option as it's right on George Street where you'll find bars galore.
For a stay in the CBD that's a little quieter, we recommend The Rendezvous Hotel at The Rocks. This historic part of the city has fewer people and most balconies have beautiful views of the Harbour Bridge and the Opera House. Sit back and relax on your terrace or take a stroll down to Circular Quay (which is on your doorstep) where you'll find Opera Bar, Squire's Landing and Haciendas.
Best cheap hotels in Sydney
A stay in Sydney doesn't have to completely break the bank. The Sydney Central Inn is just as the name suggests, as it's located smack bang in the middle of the CBD. Located on Pitt Street, you can make your way to the main shopping district in no time. You'll also be 12 minutes away from Darling Harbour and just 30 minutes from Circular Quay, which has ferries to take you across to the Northern Beaches.
The Village Broadway
is a 15-minute walk down the road from Central Station and is across the street from the nearest shopping centre. Central Station can take you to any part of Sydney, including down the coast. For lunch plans, we recommend taking the 25-minute walk up to the Sydney Fish Markets in Pyrmont. You'll find Darling Harbour just 17 minutes from there.
The Casa Central Backpackers Hostel
and
790 on George
are also both on the station's doorstep if you intend to make use of public transport.
Finding a cheap hotel in the CBD is not the easiest of tasks, but The Song Hotel is exactly where you'll want to be. Located across the street from Hyde Park, you have St. Mary's Cathedral a few minutes away by foot. The great thing about this spot is Surry Hills is just a few streets south so you'll have a great range of restaurants and bars to choose from. The Sydney Tower Eye as well as the shopping district of Pitt Street are just 12 minutes away by foot.
Best boutique hotels in Sydney
These three hotels are all ideally placed across different sections of the city. The Sydney Boutique Hotel is conveniently located a few minutes from Kings Cross Station, which takes you directly to the Eastern Suburbs. If Bondi, Tamarama or Bronte Beach are on your hit list but you still want to be in the CBD, this stay is ideal. It's also 15 minutes from Hyde Park and St. Mary's Cathedral.
The Little Albion Guest House
is situated in one of the food hot spots of Sydney, Surry Hills. All the restaurants worth a visit will be in your vicinity here, such as The Dolphin Hotel and Chin Chin Sydney. In case you want to explore greater Sydney or different parts of the CBD, Central Station is just seven minutes away by foot.
You'll find Circular Quay on your doorstep by staying at the Harbour Rocks Hotel. The Rocks is made up of Sydney's historic laneways and oldest pubs, as well as the local markets. This hotel is ideal for those of you after some old city charm and the art scene. You also have the Museum of Contemporary Art around the corner.
See more boutique hotels in Sydney
Best 5-star hotels in Sydney
When deciding which hotels made the cut for the best of the best in Sydney, we couldn't look past these. The Park Hyatt is in a league of its own with uninterrupted views of Circular Quay and the Opera House. Located just below the Harbour Bridge, you're a short 15-minute walk from the Opera House, and directly behind it are the Royal Botanical Gardens and Mrs Macquarie's Chair. The InterContinental and Sofitel Sydney are both within five minutes of Circular Quay by foot and the Botanical Gardens are basically across the street.
Darling Harbour is another big city hot spot, and we recommend staying at either the Hyatt Regency, Sofitel Darling Harbour or the Fraser Suites. Any one of these hotels is within walking distance of Tumbalong Park and Barangaroo where you'll find great bars and restaurants.
Best hotels in North Sydney
When staying in North Sydney, the best stays will be close to public transport and have never ending views. Milson Serviced Apartments are conveniently situated less than five minutes walking distance from the ferry terminal, which can take you straight to Circular Quay as well as Luna Park. Milson Point train station is merely a three minute walk away for the days you want to rest your legs. The Meriton Suites are a short six minute walk from the North Sydney train station, which can take you to the CBD and beyond. You're also in close proximity to Luna Park and the Harbour Bridge.
Located in McMahons Point, if escaping the hustle and bustle of the CBD is your aim then the Harbourside Apartments are just the stay for you. Enjoy views of the Sydney Opera House, the Harbour Bridge and the CBD skyline all from your bedroom.
For stays that make the most of those beautiful North Sydney beaches, we suggest Neutral Bay Lodge, which is a few minutes away from the Hayes Street Beach. Or if Taronga Zoo is on your wishlist, consider accommodation at the Ballantyne at Mosman, as it's only a four-minute drive from the zoo and five minutes from Balmoral beach.
Best hotels in Manly
If you're visiting Manly, you'll want to be central to two locations: the beaches and the wharf. Located just north of Sydney, on days where you want to explore the CBD, you can take the 30-minute scenic ferry across. The Manly Paradise Motel & Apartments, Manly Lodge Boutique Hotel and the Novotel Hotel are all centrally located on Manly Beach, which is also connected to Queenscliff and Ocean beaches. The Paradise Motel and the Novotel Hotel are both right on the beach and the Lodge is just a five minute walk away. Manly Cove and East Manly Cove Beach sit on either side of the wharf. You'll find the wharf a five-minute walk from the Manly Lodge Hotel, eight minutes from the Manly Paradise Motel and 10 minutes from the Novotel.
However, if you're after something that's closer to the smaller beaches such as Quarantine and Store Beach, the Q Station Hotel is just a few minutes away from both. It's located in the largest park/bushland that surrounds southern Manly. You will be in the same reserve as the North Head Lookout Station, the Sanctuary and Drive View Point if you're after some nature.
Our Sydney accommodation reviews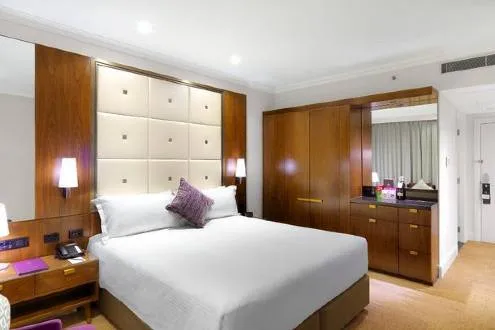 Amora Hotel Jamison Sydney
from Finder Hotels
Reviewed by: Stephanie Yip, Travel Editor
The Amora Hotel Jamison Sydney is a gem in the heart of the city. Its service is friendly, rooms are impeccable and yeah, it didn't hurt that we were upgraded to a suite for the price of a king room.
Budget: High
Pros: Very central location in the heart of Sydney CBD; Warm, inviting and modern decor; Was able to use a coupon code on my stay
Cons:Uphill from the train station which could be difficult with luggage
Our rating: 5/5
Check availability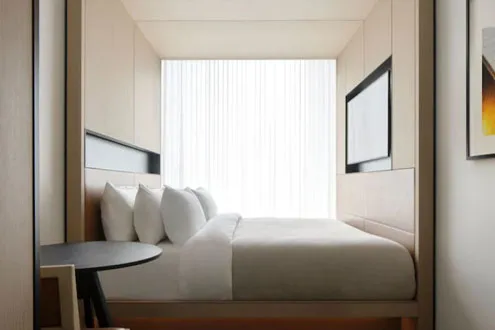 Little National Hotel Sydney
from Wotif
Reviewed by: Stephanie Yip, Travel Editor
Small on the outside, Little National Hotel Sydney packs a big punch for anyone looking for a tech-smart, super comfortable stay in Sydney CBD that won't blow your budget.
There's enough room to relax and stay connected – whether it's to family and friends or your work life – and more than enough little luxuries to make this a bit of a treat, too.
Budget: Mid-range
Pros: Convenient CBD location, modern rooms, beautiful rooftop terrace.
Cons: No restaurant, no pool, compact rooms.
Our rating: 4/5
Check availability
Alternate Sydney accommodation options
If a hotel isn't quite what you're looking for, then Sydney has plenty of other options to choose from. For accommodation that's more personal, check out Airbnb, Stayz or Homestay. You'll be able to find somewhere to stay in city suburbs from Balmain to Bondi Beach.
This type of accommodation is usually a family home so if you want to feel as though you never left your own bed, these are the perfect option. You'll find they are usually a little bit cheaper than most hotels in bigger cities and you may discover great spots in neighbours you wouldn't have otherwise found.
Frequently asked questions about Sydney hotels
Which hotels are near Sydney airport?
If you've got an early flight and need a stay near the airport, these will get you there the quickest:
Which accommodation is near Sydney Olympic Park?
If you're staying in Sydney Olympic Park, we recommend these stays:
Which TFE hotels are in Sydney?
Which sites let me book Sydney accommodation with free cancellation?
These sites let you make a refundable booking for your trip to Sydney, so there's less risk of losing the cost of your stay or deposit. Some sites only offer free cancellation on select Sydney hotels or at a slightly higher rate, so it's best to check the terms on your booking before confirming your stay.
Most sites, like Wotif or Expedia, will clearly state whether each Sydney hotel is non-refundable.
Which sites let me use a coupon code to book Sydney accommodation?
Using one of our coupon codes at these sites will save you money on your Sydney stay. Some may ask you to pay for your stay upfront rather than on arrival in order to apply the code to your Sydney booking, but the same cancellation policy does apply so if you are able to cancel, you'll be able to get refunded.
Which sites let me book Sydney accommodation without a credit card?
compare credit cards that offer hotel rewards here
.
Which Sydney hotel booking sites have rewards programs?
Get access to cheaper prices, collect points toward free stays and get extra perks like Wi-Fi or breakfast if you book your Sydney accommodation on sites like these: