Super Mario Odyssey hands-on: Sun's out, guns out
We strip down to our boardies and give Mario some much-needed R&R.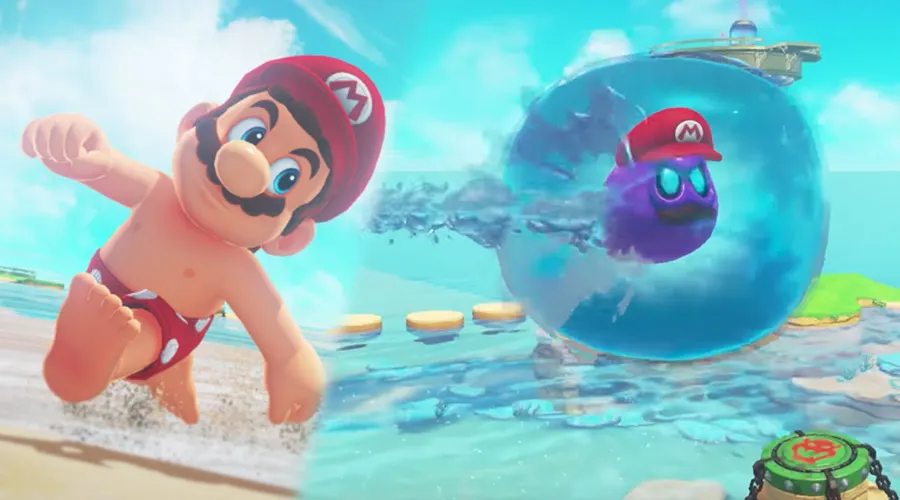 During Nintendo's last Odyssey-focused Nintendo Direct, the world was confronted with two tiny harbingers of pandemonium: Mario's wee hairless nipples. Late last week, we got our first chance to go hands-on with Super Mario Odyssey and we'd be damned if we weren't stripping Mario down to his unmentionables for a closer look at his pert little pepperoni slices.
More on those in a moment, but outside of Mario's coveted nips we also got to explore Odyssey's tutorial world (Cap Kingdom), the Luncheon Kingdom and the Beachside Kingdom.
While Cappy's tutorial world was a nice primer (and offered some context for Odyssey's story), the introduction was not entirely necessary. The moment we stepped into Mario's shoes, it all came flooding back. A quick twirl of the joystick let us gracefully pirouette on the spot (this is the very first thing I try in any 3D Nintendo game), crouching and jumping gave us a high backflip and a running crouch allowed us to long jump (though, to our surprise, an offensive tumble followed the long jump, powered by waggling the controllers).
There were also some new abilities and controls revolving around Cappy. You can toss Cappy with the Y button or with a swipe of the Joy-con, and different motions with the Joy-con result in different actions. For example, swiping up would send Cappy spinning towards the sky, and motioning down with both hands results in a powerful forward throw where Cappy spins vertically like a buzzsaw. Alright, so maybe we're not the all-knowing Mario master we make out to be in this new and exciting world, but for the most part, Odyssey's gameplay fits like a glove.
Luncheon above our weight
The second world we visited was the Luncheon Kingdom. This spicy world was inhabited by culinary Koopas and Lava Bubbles aplenty to possess, all which served a purpose in solving the world's various puzzles. This was the first opportunity we had to really get into the meat of Odyssey. With a relatively short time to explore, we covered as much ground as possible but it was nowhere near enough. Odyssey replaces collectible Stars with Moons, and the opportunities to nab a moon are frequent and a whole lot of fun. These range from comparatively run of the mill chores, like helping a local find a golden turnip for their stew, to tougher platforming sections.
Admittedly, engaging with the locals was the only time Odyssey even mildly slipped up. Engaging in a conversation with an NPC requires you to face them front on and press A, but perfecting the angle at which you approach with the Switch's slightly cramped controls isn't always an easy task. That's a small problem for those adjusting to the controls, and is likely to become second nature once your comfortable with the controls.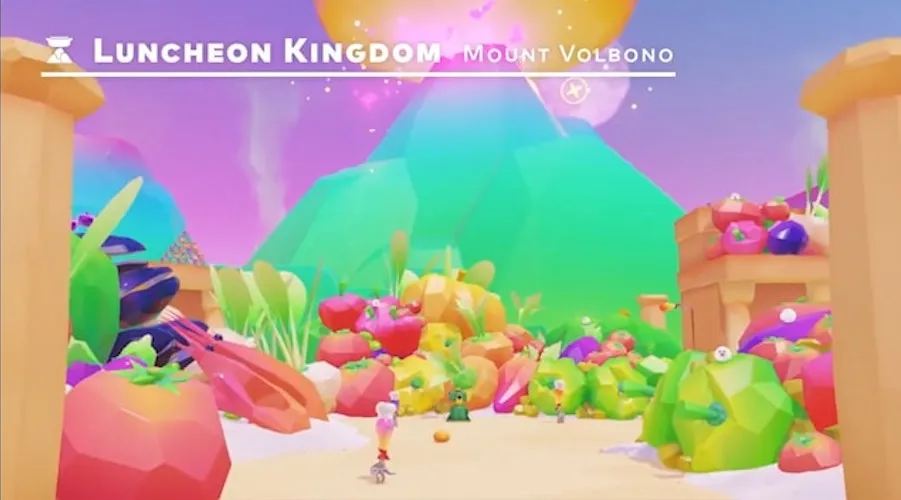 One moon in particular required some precision platforming and provided a healthy challenge. The goal was to possess a series of forks jammed into the side of a cake-like tower, flinging yourself fork-to-fork in order to reach the top. This section was a perfect example of Mario's iconic learning curve. The first fling placed us safely on the next platform, but the next added a new layer to the puzzle, throwing in moving targets and new mechanics the higher we got. The journey to the top was peppered with flubs and pitfalls, but once we got the feel for the forks, we were firing on all cylinders to the top. Hitting the top of the tower resulted in a breath of relief and a brief moment to soak in the vistas of the Luncheon Kingdom.
Seaside Squidicide
Finally, we sent Mario on a working vacation to the glistening beaches of Seaside Kingdom. It would be plain cruel to send Mario to the sandy shores of Seaside in a pin-stripe suit, so we opted for pirate's hat and Mario's bare nips in all their hairless glory. As much as we'd love to go on and on and on about Mario's nipples, there's really not much to the costume choice. The various clothes and caps (that we saw) are purely cosmetic.
Mario's abilities and powers all come from the creatures and things he possesses. One particularly handy possession we used in Seaside Kingdom was the squid. Possessing the squid allows you to use its water jets to race across the water's surface, rocket into the air or attack enemies and wash away patches of lava to uncover hidden pathways and the like.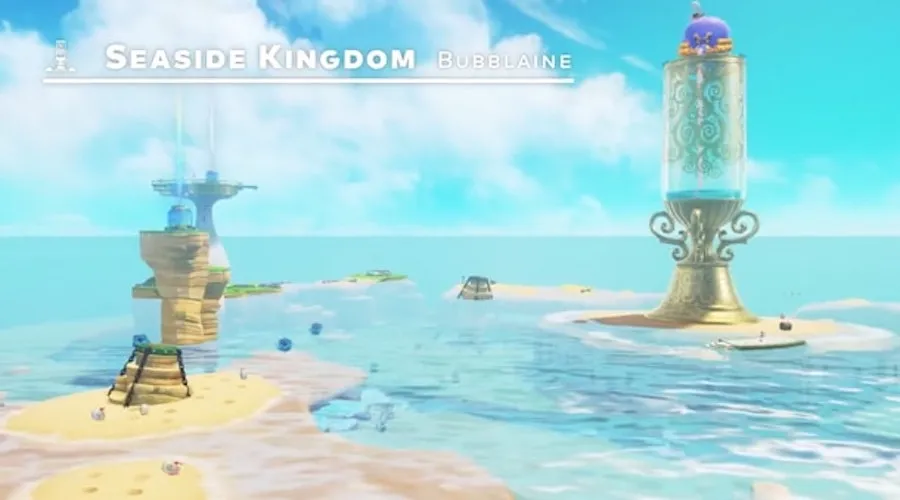 After some time exploring the Seaside Kingdom's sun-bleached hotspots, we went toe-to-tentacle with the world's boss. This monarchical mollusc darts across the water spitting spiky shells at you from afar. That's about all we can say about the boss battle without giving too much strategy away, but we will say Mario's going to need more than two gleaming nipples to take him down.
Cap it off
All in all, Super Mario Odyssey feels like coming home. The familiarity of Mario's tried and true gameplay combined with the wonder of discovery will warm your soul. Seeing old friends in new places and new costumes (or sometimes nothing at all, nothing at all...) is a gift from the gods and exactly what the Switch needs right now.
Don't get me wrong, the Nintendo Switch has done just fine without Super Mario Odyssey thanks to The Legend of Zelda Breath of the Wild and Mario Kart 8 Deluxe, but Odyssey feels like the first game built ground-up for the Nintendo Switch (though it is in fine company). The Switch's functions add to the finer details of Odyssey, like the way the HD rumble perfectly matches the game's sound design or the exceptionally accurate motion controls the Joy-cons offer. Honestly, Odyssey feels like the first game to take full advantage of the Switch without leaning too much on its gimmicks.
If it were any other year, I'd say hand Mario the title for Game of the Year now. Done. No need to wait. But that's honestly hard to peg in 2017, a year with Breath of the Wild, Horizon Zero Dawn and Destiny 2. Regardless, Mario and his wee nips are coming to Nintendo Switch 27 October and I for one will be (coincidentally) sick, bedridden for a week... minimum.
---
Looking for the best price on a Nintendo Switch? Look no further than our deals guide.
Related Posts
Latest gaming deals on Finder