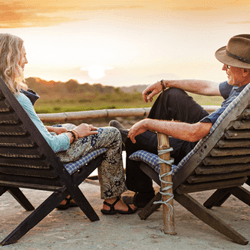 Kinetic was established in 1992 as an industry super fund for the recruitment industry. Over 300,000 Australians from all different industries invest with Kinetic Super. Kinetic have approximately $2.4 billion funds under management. Kinetic MySuper is authorised by the Australian government.
MySuper products provide a single diversified investment option, low fees, no commissions and a default level of insurance. Kinetic is an awarded super fund offering strong long term investment performance to members.
Kinetic also offer pension accounts so you can be comfortable in your transition to retirement as well as online resources and access to financial planning to help you understand your super investment choices.
Reasons to think about Kinetic Super
SuperRatings - Rising Star Finalist 2014 - For doing well to give more to fund members
SuperRatings - Gold Rating 2015 - MySuper, Superannuation and Pension products
Chant West - 5 Apples - 2015 - Kinetic Super and Kinetic Smart Pension products
A closer look at Kinetic Super
The Kinetic Super default investment option Growth (MySuper) is managed by Kinetic's investment team who offer a diversified investment across different assets classes such as Australian shares, international shares and property. Alternatively you can mix and match your own investments from a number of pre-mixed investment options and single asset classes. Kinetic can put you in contact with a financial advisor to help you pick your investments too. Kinetic Super also provide pension products for retirement, a pension account and a transition to retirement account.
What's internet banking like for Kinetic Super?
KInetic Super Member Online Services is an online platform you can use to monitor your fund balance, change your investment options, update your insurance cover and personal details and more. This service is available 24 hours a day 7 days a week and all you need to login to your account is an internet connected device.
What super funds are offered by Kinetic Super?
MySuper is the default balanced investment option. If you don't want to invest in Kinetic's Growth option, you can choose from up to 8 different pre-mixed and single asset class investments to suit your goals.
Kinetic MySuper
Growth investment option
Kinetic's Growth default fund is an authorised MySuper product. This fund invests in a diversified mix of assets and has had an average return of 6.57% p.a. in the 10 years up to the 30th of June 2015.
If you don't want to invest in the default option, you can mix and match your investment in the following assets and pre-mixed investments.
Pre-mixed investment options. Kinetic investment managers choose to invest in specific types to assets to suit different investment strategies.
Asset class options
If you want to invest directly in different assets, like shares, you can spread your investment across one or a number of different assets.
Australian shares
International shares
Property
Bonds
Cash
You can change your investment choices any time you like via Kinetic Member Online Services.
Back to top
Other features of Kinetic Super
Fees. As well as the following main fees, exit fees and buy sell spread charges can apply.

Administration fee. $80.60 p.a. plus 0.25% of assets up to $500 p.a.
Indirect Cost Ratio fee. This investment fee ranges from 0.04 to 0.57% p.a. depending on your choice of investment. Consult the product disclosure statement for a full list of fees and charges.

Insurance. $5 million of Death and $3 million of TPD cover is provided when you join the MySuper fund. Nominate a beneficiary when you join Kinetic Super. You can apply to add income protection insurance for a premium. Self employed and non-employee sponsored members must apply for the default level of cover.
Contributions. As well as your employer contributions, you can make personal BPAY, direct debit or cheque contributions.
Online access. Change your investment mix, update your details and review your insurance cover using Kinetic's Member Online Services.
What pension accounts are offered by Kinetic Super?
Kinetic Super offer a Smart Pension account. The Kinetic Super Smart Pension can work as a pension account or a transition to retirement account.
Kinetic Super Smart Pension
Deposit a lump sum payment into your pension account and select how much you want to receive and how often you want a pension paid. You also get to choose how to invest the money in your Smart Pension account.
Investment options. You can invest in 3 pre-mixed and 5 single asset classes.
Pre-mixed options:
Asset class options:
Australian shares
Overseas shares
Property
Bonds
Cash
You can change your investment choices once a week as many times as you like.
Minimum investment. The minimum amount you need to open a Kinetic Super Smart Pension is $20,000.
Fees. Consult the product disclosure statement for a full list of fees and charges. The main fees you're likely to pay are an administration fee (0.5% p.a. for the first $100,000 and 0.2% on any balance over this amount) and an Indirect Cost Ratio fee (0.04% p.a. - 0.57% p.a.).
Contributions. You can deposit a lump sum into Kinetic's pension account to start your pension. Once your pension has started, you can't make any additional contributions. You can open two or more Kinetic Smart Pension accounts at a time.
Tax. Pension payments are tax free once you reach the age of 60.
Online access. Monitor and update your pension account online using Kinetic Member Online.
Back to top
Information you need to know before you apply for Kinetic
If your employer has not enrolled you in a Kinetic fund and you want to become a member, you can apply to join this fund online. The online application takes about ten minutes to complete. Provide your personal details and your Tax File Number to complete the application.
Kinetic will send you a welcome pack once the fund trustee has approved your membership. The welcome pack outlines your investment options and your insurance cover, you can update this information at any time on the Kinetic super website.
Kinetic offer you a cooling off period after you join. You have 19 days to cancel your membership without paying the exit fee from the time you're approved
Am I eligible for a Smart Pension?
You can apply for a Kinetic Smart Pension if you meet these eligibility requirements
You're an Australian or New Zealand citizen or Australian resident
You have reached your preservation age
You must not have retired (transition to retirement pension)
You have met a condition of release and have access to unrestricted non-preserved super funds. (account based pension)
You have funds invested in a complying superannuation fund
---
If you have any questions about the products on this page, ask us a question. We can't answer any personal questions or provide financial advice, we can help you with your comparison of super funds and pension accounts.