Student Travel Money Guide
Explore travel money options for students, including foreign cash, travel money cards and credit cards.
We're reader-supported and may be paid when you visit links to partner sites. We don't compare all products in the market, but we're working on it!
Whether you're going overseas on a holiday, a study trip or a combination of both, the travel money options you use will affect your overall budget thanks to exchange rates and fees. While you can't do much about exchange rates, there are ways to avoid some of the fees that can come from paying with debit or credit cards or using currency exchange services (among other things). In fact, as a student you may even be able to get special discounts.
Here, you can find out about different travel money options, how to decide what type of travel money to use and how to save money when you're overseas. We also look at ways to save money on your overseas spending and options for earning money overseas so you can be prepared for all kinds of adventures when you get there.
What are my travel money options?
There are many types of travel money products you can use when you go overseas, including a range of different cash and card options. We've included details of the five key options to consider, so that you can choose travel money products that suit your travel plans and needs.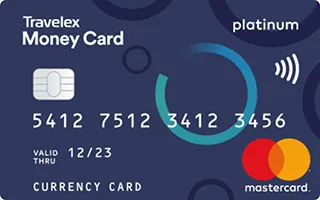 Travelex Money Card
Up to 10 currencies on 1 card
Lock in exchange rates
No overseas ATM fees
Travelex Money Card
Load and hold up to 10 foreign currencies at a time. Lock in exchange rates. Pay nothing for international ATM withdrawals.

No international ATM fees
24/7 emergency assistance
Access wherever Mastercard is accepted
PIN security
Prepaid so you can manage your spending
Prepaid travel money cards
Prepaid travel cards allow you to load and spend money in a foreign currency when you go overseas or shop online with international retailers. Many prepaid travel money cards also give you the option of loading and spending funds in multiple currencies, which is ideal if you're going to several countries when you're overseas. Some of the benefits you can enjoy with these cards include:
Mastercard or Visa access. Most prepaid travel money cards are Mastercard or Visa options that allow you to spend money at millions of locations around the world.
Savings on foreign transaction fees. Unlike student debit cards and credit cards, prepaid travel money cards give you a way to avoid international transaction fees when you pre-load funds in the local currency.
Locked in exchange rates. While exchange rates vary on a daily basis, if you pre-load your foreign currency on a travel money card, you can lock in the exchange rate. This means you'll know exactly how much money you have available at any time.
Online account management. Most prepaid cards include an online account service so you can check your balance, load more funds and transfer your cash between different currencies.
Security features and insurance. These cards include similar security features to Mastercard and Visa debit cards, with zero liability for fraudulent charges and global support services. It's also easier to make an insurance claim when compared to cash because you can prove how much money was loaded onto the card.
Frequent flyer points. Both the Qantas Cash prepaid debit card and the Velocity Global Wallet Card offer 1 frequent flyer point per $1 spent overseas and 1 point per $2 spent in Australia. This gives you a way to maximise rewards when you travel so you can get extra perks in the air or on the ground.
Common prepaid travel money card fees
When you're comparing prepaid debit cards, keep an eye out for fees that may be applied for card purchase or activation, loading funds on your card, ATM withdrawals and currency conversion (if the local currency is not loaded on your card).
Foreign currency
Cash is often needed for taxi fares, meals and other smaller payments on trips, so it's a good idea to have some with you before you go overseas. You can get foreign currency both before and during your trip in the following ways:
Buying foreign currency from a bank. Major banks and credit unions in Australia provide foreign currency exchange for members, and some also offer this service to non-members. Usually there will be a minimum amount you can order, for example $250 or $500, which can then be picked up in-branch within a few days.
Foreign currency exchange services. There are also dedicated services for buying foreign currency, both in-person and online. These include services such as Travelex and American Express, with outlets often found in travel agencies, shopping centres, Australia Post branches and at airports.
Withdrawing cash overseas. You can also use a debit card or credit card to withdraw money at an ATM when you're overseas. This option is especially useful if you've run out of foreign currency partway through your trip.
Foreign currency tip
Make sure you find out about service fees and compare exchange rates before buying foreign currency from a bank or another dedicated service and remember to ask if students can get a discount. If you're withdrawing cash overseas, check the card fees that may apply and remember that charges could come from the overseas ATM operator as well as your bank.
Student debit cards
Student Mastercard or Visa debit cards are linked to your bank account and give you access to your own funds both in Australia and overseas. These cards usually waive monthly fees for students and include the following features:
Zero liability on fraudulent transactions
Global support services
Ability to cancel or lock your account if your card is lost or stolen
Internet and mobile banking services
Contactless payments
Some student debit cards also provide unique benefits and savings. The Westpac Choice Student, for example, offers new customers a one-year student card that comes with over 42,000 discounts on attractions and experiences overseas and in Australia. Meanwhile, the CommBank Smart Access Student Options comes with an everyday debit card and offers a $0 Travel Money Card issue fee when you apply in a branch.
While you can use an everyday student debit card for purchases and ATM withdrawals overseas, you will usually have to pay a foreign transaction fee worth around 2–3%. You may also have to pay an ATM fee and factor in conversion from Australian dollars to the local currency.
Student credit cards
Student credit cards give you access to a line of credit that can be handy if you need access to extra funds when you're overseas. Most student credit cards are Mastercard or Visa options that offer similar features to debit cards.
But credit cards are more likely to include security features such as 24/7 fraud monitoring and chargeback services that allow you to request a reversal of certain transactions. Some of the more premium cards also offer complimentary extras such as travel insurance, though usually student credit cards don't provide these perks.
What are the costs of using a student credit card overseas?
Similar to debit cards, most credit cards charge foreign currency fees worth 2–4% of the total transaction. Plus, if you use a credit card at an ATM, you will pay cash advance fees, interest charges and possibly an ATM fee. So if you want to save on fees, you can look at credit cards that offer $0 foreign transaction fees – just make sure you meet the application requirements as a student before you apply.
Traveller's cheques
Traveller's cheques provide you with a set amount of money in a foreign currency. These cheques are secure and can be replaced or refunded if they are lost or stolen. While this travel money option can be used as a form of payment in some locations around the world, they are not as widely accepted as cash or cards.
Traveller's cheques may have fees when you buy them and some of the businesses that accept them may also apply a processing fee for the service. So basically, you're better off with cash and cards for most overseas trips.
Compare travel cards and student cards
What's the best* travel money option for students?
There is no "best" travel money option that will work for everyone. The right option for you depends on a variety of unique factors, including:
Your travel location/s. Where you're going and the currencies that are accepted have the biggest impact on the type of travel money you'll choose. For example, if you're travelling through regions with a lot of market-based businesses, such as Asia, cash will probably be your primary form of payment. Meanwhile, for places like America, Canada, Great Britain and most of Europe, a combination of cards and cash could be ideal.
How long you're away. While mainly using cash is often convenient for shorter trips, keeping a huge pile of money in your suitcase or in a wallet is risky if you're travelling for months on end.
The currencies you'll be spending. Some currencies take longer to order when you buy them at the bank, while prepaid travel debit cards only offer a limited number of currencies you can load and use. Check the details for each currency you'll need when you're overseas before choosing your travel money so you can pick the most affordable and convenient options.
Your budget. If you're travelling on a budget, ordering cash or locking in the exchange rate with a prepaid travel money card will help you keep track of how much you have to spend. If that's not so much of a concern, using your regular debit card or credit card could be fine – just remember to factor in foreign transaction fees and any interest charges or cash advance costs that will apply.
Who you're travelling with. Whether it's friends, family or fellow students, your travel companions can influence how much you spend, especially if you're splitting costs. Make sure you consider this before you go and talk about your individual budgets so it's clear how much you intend to spend. Aiming to prepay as much of your trip as possible can also help reduce additional shared expenses when you're overseas.
Your travel insurance. Travel insurance helps cover the cost when unexpected situations arise and is an important investment for your trip. As well as the upfront cost of this cover, make sure you consider the excess you will have to pay if you make a claim. If you can't pay these costs from your savings or budget, it may be good to consider taking a credit card for emergency funds.
Example: Organising travel money for a trip to Machu Picchu
In this example, let's say you're going on a university research trip to Machu Picchu as part of an archaeology degree. To help you decide on student travel money options, you consider the following:
Travel plans. You'll travel through Peru with your uni group for three weeks. You've then decided to travel through the US on your own for two weeks.
Currencies. Peru's national currency is the nuevos sol (currency code PEN). Some places also accept US dollars, though this is more common in cities and large towns than regional areas.
Budget. In this scenario you've already paid for your flights, accommodation and travel insurance but not for transport between locations in Peru. Based on this, you estimate that you have enough saved to spend around AUD$100 per day on food, travel and experiences. You also want to avoid fees that could eat into your spending money.
Travel insurance. For this trip, you've bought comprehensive travel insurance that covers you for the full five weeks that you're. After checking the policy, you see that the biggest potential excess you'd have to pay for a claim is $300.
For this trip, having both PEN and USD foreign currency before you leave will make it easier to get around and buy what you need. So the first thing you do is get AU$350 worth of PEN and AU$150 worth of US dollars. You plan to have the rest of your spending money on cards.
In this case, let's say you're also a Virgin Australia Velocity Frequent Flyer member and have a Velocity Global Wallet. This prepaid travel card supports US dollars, meaning you can pre-load it with the money you want to spend in the US. As there may be locations where only cash is accepted, you also decide you want to take a back up card for getting cash out at ATMs and choose one that offers a global ATM alliance.
Along with these cards, you decide to take a student credit card as a second backup option in case you run out of money. These travel money options mean you can spend money in different ways based on where you are, while also keeping fees to a minimum.
Get travel insurance quotes
Type or Select your destination(s)
Popular Destinations
Americas
Asia
Europe
Pacific
Africa
Can't find your destination? Just type it in the box above.
How can I save money on my overseas spending?
Here are five top tips to keep costs down on your student travel plans.
Compare exchange rates. Exchange rates fluctuate on a daily basis and also vary based on the travel money option you choose. So comparing exchange rates between travel money providers can help you make your money go further when you're spending it overseas.
Withdraw cash in larger amounts. If you're getting cash out when you're overseas, aim to withdraw enough money for several days of expenses. This will help keep ATM fees and currency conversion costs to a minimum.
Set a daily budget. Get an idea of your daily spending limit by dividing your travel money by the number of days you're away. For example, if you're going on a 20-day trip and have $5,000 to play with, that works out to be $250 per day. You can then divide that amount up based on different expenses, such as food, transport, sight-seeing and souvenir shopping. And if you go over or under your budget on one day, you can vary what you spend the next day to make up for it.
See if your bank has a global ATM network. Major banks often have partnerships overseas that allow you to withdraw money without paying additional ATM fees. For example, Westpac is part of the Global ATM Alliance that offers no ATM fee at over 50,000 ATMs around the world and Citibank offers access to an international network of over 4,000 Citibank branches and 20,000 Citibank ATMs when you're travelling.
Ask about discounts. Some providers and services will offer discounts or waive fees for students. Even if it's not advertised, it may be worth asking just to see if you can get savings.
Can I earn money when I'm overseas?
You may be able to earn money when you're overseas through educational scholarships, Centrelink or working overseas. Depending on your travel plans and circumstances, you'll need to consider some or all of these factors:
Relevant visas. Student visas often limit the number of hours you can work, so if you're on exchange and want to get a job, make sure you check these requirements. If you'd like to stay in a country after finishing an exchange program, you may also need to apply for a specific work visa. Your school or university should be able to help you with requirements for specific countries. Alternatively, you can check out the relevant government website for the country you want to work in.
Foreign tax registration. If you're earning money from a job overseas, you'll also need to apply for a tax file number for that country. And if you pay tax overseas, you'll also have to file a tax return for that country. Check government websites for information about specific tax systems outside Australia.
Australian tax implications. If you earn money overseas, you'll have to report it on your Australian tax return for that financial year. This could affect your tax refund or payment amount.
Foreign bank accounts. Some overseas employers will only pay you if you have a bank account registered in that country. If you can get payment in cash, compare local bank accounts and aim to open one with no or low fees so that you get as much of the money you earn as possible.
Money transfers vs withdrawing it. If you're returning to Australia and still have money in an overseas bank account, you can transfer it through the banks or a money transfer service. Both of these options may attract fees. Alternatively, you could withdraw all your money, close the account and aim to spend it before you return home.
Currency conversion. If you have cash leftover from working overseas, you can buy Australian dollars before you return home, or when you're back in Australia.
After working hard and saving up money for travel as a student, it's important to make sure your dollars take you as far as they can. So if you compare a range of travel money options and look for specialised student offers, you'll be able to choose the right products for every trip you take.
Pictures: Shutterstock
Back to top
* The products compared on this page are chosen from a range of offers available to us and are not representative of all the products available in the market. There is no perfect order or perfect ranking system for the products we list on our Site, so we provide you with the functionality to self-select, re-order and compare products. The initial display order is influenced by a range of factors including conversion rates, product costs and commercial arrangements, so please don't interpret the listing order as an endorsement or recommendation from us. We're happy to provide you with the tools you need to make better decisions, but we'd like you to make your own decisions and compare and assess products based on your own preferences, circumstances and needs.
More guides on Finder
Handypay Green Loan

A Green Loan from Handypay could help you make your home more energy-efficient. Handypay green loans are available up to $75,000 on terms of up to 10 years.