Free Student Resume templates (Australia)
Make sure your student resume stands out from the crowd.
We're reader-supported and may be paid when you visit links to partner sites. We don't compare all products in the market, but we're working on it!
A well-written resume is one of the most powerful tools you can have at your disposal during a job hunt.
Here we discuss the nitty-gritty details of putting together a student resume, including how to write one, and exactly what to include.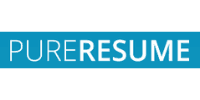 Pure Resume Offer
Get a professionally designed resume starting from $24.99.
What is a student resume?
A student resume is usually the first point of contact you'll have with a future employer. It's a one to two-page document that allows you to highlight all of your achievements and experiences this far in your life. Ultimately, it gives you the opportunity to explain why you're suitable for the job that you're applying for.
While you may not yet have much professional experience in the working world, a student resume allows you to hone in on the skills that you've developed during your school and college years and how they'll help in your future career.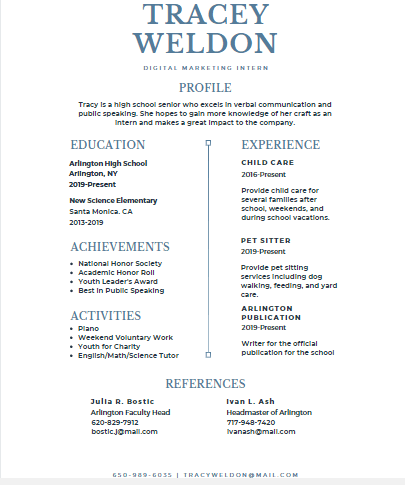 Download this student resume template at Canva
How do I write a student resume?
Writing a resume can be done in three easy steps:
1. Choose the right format for you
Reverse chronological. This is an excellent option for those with more work experience as it allows you to list your previous employment at the top of your resume.
Skills-based resume. Usually a better option for students with limited work experience, a skill-based resume focuses on your most relevant skills for the job.
Combination resume. Ideal for those hoping to showcase a huge range of skills, a combination resume allows you to prioritise relevant experience first.
2. Choose a layout for your resume
You'll find hundreds, if not thousands, of student resume examples all over the internet to take inspiration from. If in doubt, check out the ready-to-go student resumes templates on Word.
3. Write your content
Once you've settled on the aesthetics of your resume, it's time to start writing. The content is undoubtedly the most crucial aspect of the whole resume, so check out what to include below.
What does a student resume include and not include?
The content of your resume will vary depending on the type of industry that you're hoping to go into. Saying this, most student resume examples will include a basic skeleton structure that covers the following.
Personal Details
This small section contains information such as your name, address and contact details. Generally speaking, it's good practice to include both a telephone number and an email address. You can also choose to include your date of birth and marital status, though this is not strictly necessary.
Career Objective
Using just a few sentences, you can introduce yourself to the employer highlighting what you're doing at the moment, your goals for the future and your key skills. It can also be useful to state the type of position that you're looking for and your availability.
Key Skills
Consider tailoring your skill section to each individual job application, so an employer can see straight away that you have the relevant skills for the job. If you're not sure what your key skills are, ask family and friends or past employers for help.
Education and Qualifications
As a student, you may not have much experience in a working environment, so it's important to list all of your academic achievements. It's best practice to list these in reverse chronological order with your degree title at the top and any relevant school qualifications underneath.
Experience
Whether its industry-specific experience or volunteer work, all experience is a good experience to list on a resume. To structure you resume a little better, consider dividing this section into headings.
Previous Employment. Starting with your most recent job, list your position title, when you worked there and for how long as well as a list of responsibilities and achievements you had in the role. If you haven't had a job before, that's not a problem, simply hone in on the following sections instead.
Placements. Summer internships, field experience or working placements; all of these provide you with invaluable experience to include on your CV.
Volunteering. A section to include any unpaid work you have undertaken for the not-for-profit sector. Organise this in the same way you would your work experience.
Extracurricular. If you played a part in clubs, societies, sports groups or student representative roles at school or college, here is where to include it. Explain your role in the club or group and highlight any skills that you developed.
Referees
Including a few referees on your CV will give some accountability to the information that you've provided. Referees are people that the employer will contact for reference. It's important to ask a referee for their permission before listing their details on your resume.
If you'd prefer not to list them, a simple statement that reads 'Available on Request' will allow you to check-in with your referees before your potential employer contacts them.
Get a resume template to meet your needs
Dos and Don'ts of writing a student resume
DO
Make your resume as concise as possible without omitting crucial information.
Tailor your resume to each specific job application.
Break up your resume into easily scannable chunks.
Aim to write between one and two pages.
DON'T
Use negative or complex language.
Overcomplicate the layout of your resume or make the page too busy.
Make any grammar or spelling mistakes.
Where else can I get free documents and templates like a student resume?
Student resume templates and examples can be extremely beneficial when you're writing up your first draft. In addition to the templates available via the brands shown in the table above, your other options include industry-specific resumes from JCU, resume templates from The University of Sydney and student resumes from Career FAQs.
More guides on Finder