Street Fighter 30th Anniversary Collection review: Go ahead and insert coin
As timeless as Guile's theme.
We're reader-supported and may be paid when you visit links to partner sites. We don't compare all products in the market, but we're working on it!
ivid memories of the first time I ever saw Street Fighter II in an arcade. It rocked me like a QCF + HP dragon punch. I was hit-stunned. The player characters onscreen were huge and "radical". The ability to go one-on-one was "bodacious". And we were so crap at it that any successful Hadouken was met with rapturous applause. God this 30th Anniversary Collection makes me feel old...
Basically, this time capsule is filled with 12 of the finest fighting games ever devised by genre-Gods Capcom. Well, 11 of the finest at least, the original Street Fighter is a primitive mess that's remembered fondly by almost nobody. It's more or less here for laughs (at its expense) as a museum piece that complements an already impressive stash of time capsule curios.
The main event doesn't really start until Street Fighter II: The World Warrior, a tier for the franchise that eventually grew to include Street Fighter II: Champion Edition and Street Fighter II': Hyper Fighting. It set a bunch of standards that are still in play today: six buttons to unleash attacks of varying aggression (divided evenly into punches and kicks), special moves that required "secret technique" inputs and combos of linked attacks that couldn't be interrupted. You could also panel-beat the shit out of cars for some reason. Don't ask why. Just accept and love it.
---
---
As this tier progressed, the roster of pugilists increased from six to include four more playable boss characters, and Capcom cranked up the speed in a Hyper variation. To be honest these three titles stand up remarkably well for their age. Dropping in for a grudge match with a mate (or some online rando) is still intense, as is cranking the difficulty up for a single-player run to go mess up M. Bison. 30th Anniversary has it where it counts: this controls flawlessly and the online code is rock solid.
The visual presentation won't flash kick your army boots off, though. Yes, ok, it's 4K and a solid 60fps. And it's also cool that you can have the action stretched wide to 16:9 (unadvised) or kept to its 4:3 ratio with the original old school bezel art that adorned ye old cabinet. That said, we were spoiled recently with Ultra Street Fighter II: The Final Challengers on Nintendo Switch, a remastering that redrew all sprites into gorgeous high-definition drawings.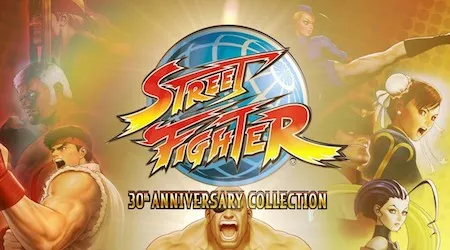 Click to buy Street Fighter 30th Anniversary Collection
from Amazon
View details
What we have here is a big step down. Your filtering options are limited to pixel perfect, a faux TV mode with scan lines or an arcade setting that introduces CRT discolouration to the latter. It's hard to get excited about this.
From there we got a half-sequel that is Super Street Fighter II which introduced four more characters before going hyperactive in a version called Super Street Fighter II Turbo. The Super offshoot is loved for introducing its titular super bars and Capcom did some much-needed rebalancing of the roster and added in a few new special moves. Superior sound and audio were also achieved by this running on the CPS System II hardware, too. Fair warning though: the difficulty seems to be bugged at the time of writing. Until Capcom patches this, newcomers should expect to have their arses beaten pretty soundly.
From 1995 onward Capcom went through its edgy teenager phase with Alpha, a sub-series that changed things quite drastically, both in terms of fisticuffs and art style. Across the course of Street Fighter Alpha, Street Fighter Alpha 2 and Alpha 3 you'll need to get acquainted with "isms", pre-selected fighting styles that fundamentally change how you supers are earned and what they'll be. These will also determine if you can do a bunch of other new techniques like air blocking, alpha counters, air recovery and ground recoveries.
Personally, the Alpha series is my absolute favourite and it's a joy to be able to replay it in 4K today. However, it's a mystery as to why Capcom didn't deliver the absolute pinnacle version, Street Fighter Alpha 3 MAX. It bolstered the default 25-character roster to a whopping 38 and was included in the Street Fighter Alpha Anthology on PS2, like, 12 years ago. So that's a bit of a medium kick to the groin.
Last but not least we fast forward to 1997 and the beautifully-animated Street Fighter III, Street Fighter III: 2nd Impact and Street Fighter III: Third Strike. Arcades weren't anywhere near as popular nor prevalent at this time which puts this numbered sequel(s) in a bit of a blind spot for many gamers. They look amazing running on CSP System III hardware and are an absolute joy to rediscover.
You're looking at a massive overhaul of the roster that is heavily weighted towards new characters (many of whom never reappeared in the later 2.5D versions). The Street Fighter III system also folded in selectable Super Arts, forward / backward dashing and the high-skill ability to neutralise attacks with well-timed parrying. Street Fighter III is blisteringly fast and tactical. It stands up as quite the capstone to what was 12 years of 2D brawling.
Looking beyond the flat dimension, it's a shame that this package omits Capcom's early flirtations with 3D. The three Street Fighter EX games, which were developed by Arika and ran from '96 to 2000, were an important step in the franchise. I'd prefer those games to be included, rather than the museum option that largely rehashes concept art and posters that have been floating around for decades. (Mind you, the in-depth character profiles, jukebox and sprite viewer are pretty cool.)
Either way, the main purpose of this package – smoothly beating the snot out of people and AI - has been faithfully preserved for a whole new generation of fighters. This is very much your gaming heritage, people. Go ahead and insert coin.
We reviewed Street Fighter 30th Anniversary Collection on PlayStation 4 with a copy provided by the publisher.
Street Fighter 30th Anniversary Collection
7.5 VERY GOOD
What we liked...
Looks and runs perfectly in 4K
12 games is a generous haul for the price
Museum options go quite deep into history
Guile's theme goes with everything
What we didn't like...
Some odd game/version omissions
Finer control over the dip switches needed
VERDICT
Street Fighter 30th Anniversary Collection isn't a perfect round. But while there are a few things diehard fans like myself would have done differently, what's presented is a pretty deadly combo.
For more information on how finder.com.au scores games, check our review guidelines.
---