This week in streaming: Stranger Things happen when you're The Loudest Voice in television
The 80s are back.
As always, the start of a month brings a fresh heaping of new TV shows and movies to devour. And even though July might feel a little slow at times thanks to the icy weather and tax-time tribulations, at least there's plenty of top-notch entertainment to keep you company while you rug up on the couch.
Highlights this week include the continuing adventures of the Stranger Things crew in the third season of the hugely popular Netflix original series. This time around, the plucky Hawkins kids have to face the challenges of adolescence in addition to enemies from the Upside Down, both of which threaten to tear the close friends apart.
Also worth checking out this week is The Loudest Voice, Russel Crowe's new drama series premiering on Stan. Crowe plays the role of Roger Ailes, the founder of media outlet Fox News. The series chronicles Ailes' rise to prominence in both the media and politics as well as his fall from grace in the wake of multiple sexual harassment accusations.
That's just a taste of what this week has in store for Aussie streaming services. For even more of our top picks, click or tap the icons for each streaming service below to see what it has to offer.
For a complete schedule of upcoming programming, check out our list of everything coming to Aussie streaming services in July 2019.
---
Monday 1 July
Designated Survivor: 60 days
Genre

Drama
Runtime

N/A
IMDb

N/A
Netflix synopsis
Designated Survivor: 60 Days follows the main storyline of the original format, but has been adapted to feature more of the Korean reality. It is a story of a politician, who suddenly ascends from the position of Minister of Environment to President, as an explosion at the National Assembly kills everyone in the Cabinet who is ahead of him in terms of the presidential succession.
---
Thursday 4 July
Stranger Things Season 3
Genre

Drama, Fantasy
Runtime

51min episodes
IMDb

8.9
Netflix synopsis
From rabid rats and Soviet espionage to New Coke and a brand-new mall, it's the summer of 1985 in Hawkins... and big changes are afoot.
---
Saturday 6 July
Free Rein Season 3
Genre

Family
Runtime

26min episodes
IMDb

7.5
Netflix synopsis
Competition heats up at Bright Fields over the summer as tryouts for the UK Under 18s team pit friend against friend for just one available spot.
---
Monday 1 July
The Loudest Voice Season 1 premiere
Genre

Drama
Runtime

7-part mini-series
IMDb

6.9
In today's politically charged media landscape, no figure looms larger, even after his passing, than Roger Ailes, who molded Fox News into a force that irrevocably changed the conversation about the highest levels of government.
---
The Rook Season 1 premiere
Genre

Drama, Fantasy
Runtime

N/A
IMDb

7.1
A supernatural thriller in which a woman wakes up with no memory of who she is. As shadowy paranormal adversaries pursue her, she must also grapple with extraordinary abilities of her own.
---
Tuesday 2 July
The Happytime Murders
Genre

Action, Comedy
Runtime

1hr 31mins
IMDb

5.3
When the puppet cast of a '90s children's TV show begin to get murdered one by one, a disgraced LAPD detective-turned-private eye puppet takes on the case.
---
Tuesday 2 July
Divorce Season 3 premiere
Genre

Comedy, Drama
Runtime

30min episodes
IMDb

6.8
Foxtel synopsis
In Season 3, Frances and Robert are living independent lives, but still share an emotional and day-to-day connection through their children Tom (Charlie Kilgore) and Lila (Sterling Jerins).
---
Monday 1 July
Love & Hip Hop Season 5
Genre

Reality TV
Runtime

21min episodes
IMDb

5.0
Amazon synopsis
Love & Hip-Hop is taking another bite out of the Big Apple in season five. Equipped with the core cast as well as some new faces, Love & Hip-Hop follows the stories of the heartache, successes and failures of the lives of NYC's Hip-Hop scene.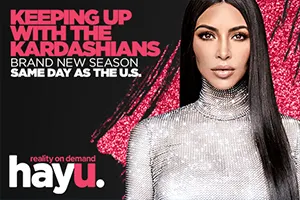 Watch the latest reality TV with a 30-day free trial
from hayu
Take advantage of hayu's limited 30-day month trial and access thousands of hours of Keeping Up With the Kardashians, Made in Chelsea and so much more.
View details
---
Monday 1 July
Goosebumps 2: Haunted Halloween
Genre

Adventure, Comedy
Runtime

1hr 30mins
IMDb

5.6
IMDb synopsis
Two young friends find a magic book that brings a ventriloquist's dummy to life.
The Long Dumb Road
Genre

Comedy
Runtime

1hr 30mins
IMDb

6.0
IMDb synopsis
Two guys serendipitously meet at a time when they both find themselves at personal crossroads and decide to embark on an unplanned road trip across the American Southwest.
Friday 5 July
Kung Fu Panda: The Paws of Destiny Season 1
Genre

Animation, Adventure
Runtime

24min episodes
IMDb

8.0
IMDb synopsis
As the Dragon Master, Po has endured his fair share of epic challenges but nothing could prepare him for his greatest one yet - as a Kung Fu teacher to a group of rambunctious kids from Panda Village who have been imbued with a mysterious and powerful chi energy.
---
Friday 5 July
Robbie Hood
Genre

Adventure
Runtime

Six episode mini-series
IMDb

N/A
SBS synopsis
Robbie Hood is a modern Australian retelling of a classic tale. It is a story about Robbie, a thirteen-year-old misfit with a heart of gold. He and his two best mates - little Georgia Blue and big Little Johnny - skirt the law to right the wrongs they see going down in their hometown of Alice Springs.
The Last Man on Earth Seasons 1 to 4
Genre

Action, Comedy
Runtime

22min episodes
IMDb

7.4
SBS synopsis
In 2022, a cataclysm strikes Earth, seemingly wiping out the population - save for former family man and bank employee Phil Miller (Will Forte). Sad and very lonely, Phil travels the United States, Canada, and Mexico in his RV searching for other survivors.
---
Latest streaming headlines