This week in streaming: Bear Grylls, Batman and Bold Type
Prepare for adventure in Netflix's second big interactive series.
Winter might be coming for both Game of Thrones fans and Australia as a whole, but that needn't keep you from enjoying the great outdoors vicariously through this week's crop of new titles coming to Aussie streaming services.
The down and dirty action kicks off on Netflix with the arrival of a new entry in the platform's interactive entertainment initiative. You vs. Wild follows a similar structure to the recent Bandersnatch, allowing viewers to choose how the show plays out by making decisions at various critical junctures. But where Bandersnatch was all about trippy sci-fi themes, You vs. Wild sees popular thrill-seeker Bear Grylls put his life on the line adventuring through some of the most dangerous environments on the planet. And before you ask, no, you can't send Grylls to his grave no matter how ill-advised the choices you make are.
Stan explores a different type of jungle this week with the premiere of season three of The Bold Type. As in previous seasons, the show follows Kat, Sutton and Jane as they navigate the chaos of working for Scarlet Magazine, a world-famous women's magazine. Between issues like gender equality, workplace harassment and racial stereotyping, the new season is set to be every bit as dangerous as venturing into the Aussie outback.
Prefer a lighter form of escapism? Then you'll want to tune into Foxtel instead, where Scooby-Doo and Batman: The Brave and the Bold sees the titular crime-fighters team up to take down a mysterious villain from Batman's past. The caped crusader isn't the only superhero to fight alongside Mystery Inc. either, with the likes of Aquaman, Black Canary and Catwoman lending their assistance for some family-friendly biffo.
Speaking of family, comedian Chad Daniels dives into the dangerous waters of raising teenagers in his latest stand-up special, hitting Amazon Prime Video this week. Chad Daniels: Dad Chaniels sees the man of laughs relate tales of torturous parenting from his own life – embellished for the sake of tickling your funny bone, of course.
SBS on Demand closes out the week in standard fashion with a fresh serving of international crime drama. Raven comes by way of Poland and follows a drug-addicted police officer as he returns to his home town in an effort to make up for the mistakes of his past. It's never that simple though, and he soon finds himself grappling with the darkest elements of both the criminal world and his own mind.
Take a look at the highlights of this week's new streaming releases below. For a complete schedule of upcoming programming, check out our list of everything coming to Aussie streaming services in April 2019.
---
Wednesday 10 April
You vs. Wild
Genre

Adventure
Runtime

8 episodes
IMDb

N/A
---
The Silence
Genre

Horror
Runtime

N/A
IMDb

N/A
---
Thursday 11 April
Black Summer Season 1
Genre

Action, Horror
Runtime

8 episodes
IMDb

N/A
---
Friday 12 April
Special Season 1
Genre

Comedy
Runtime

8 episodes
IMDb

N/A
---
Wednesday 10 April
The Bold Type Season 3 premiere
Genre

Drama
Runtime

45min episodes
IMDb

8.1
---
Wolfblood Season 3
Genre

Family, Fantasy
Runtime

30min episodes
IMDb

7.9
---
Friday 12 April
Stargate Universe Seasons 1 and 2
Genre

Sci-Fi, Drama
Runtime

43min episodes
IMDb

7.7
---
Monday 8 April
Scooby-Doo & Batman: The Brave and the Bold
Genre

Animation, Action
Runtime

1hr 15mins
IMDb

6.7
---
Friday 12 April
Luis and the Aliens
Genre

Animation, Adventure
Runtime

1hr 26mins
IMDb

6.0
---
---
No notable new releases coming to hayu this week.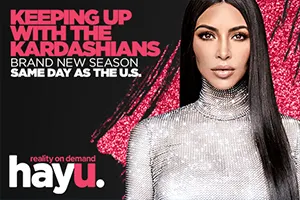 Watch the latest reality TV with a 30-day free trial
from hayu
Take advantage of hayu's limited 30-day month trial and access thousands of hours of Keeping Up With the Kardashians, Made in Chelsea and so much more.
View details
---
Friday 12 April
Chad Daniels: Dad Chaniels
Genre

Comedy
Runtime

1hr 15mins
IMDb

8.5
---
Thursday 11 April
Raven mini-series
Genre

Crime, Drama
Runtime

1hr episodes
IMDb

N/A
---
Latest streaming headlines