The biggest new releases coming to Netflix, Stan, hayu and Foxtel this week

From digital privacy to political plots, there's no shortage of quality television hitting Australian streaming services this week.
Foxtel has had quite a run of prominent new releases of late, but this week it's Netflix's turn to ratchet up the entertainment with a hefty blast of fresh movies and TV shows you won't find anywhere else.
To kick the week off, Netflix is adding the musical documentary 27: Gone Too Soon to its library this Tuesday. Focusing on artists like Jimi Hendrix, Kurt Cobain and Amy Winehouse, the film explores the curious trend of musicians dying at the age of 27, interviewing the friends, family and doctors of the so-called "27 Club" in an attempt to find a logical explanation for the bizarre phenomenon.
The packed week continues with the debut of Anon, a sci-fi thriller that hits on topical themes of privacy, digital surveillance and the limits of self-expression in a society where everything you do is public record. Starring Clive Owen of Children of Men fame, the flick comes by way of Andrew Niccol, the man behind The Truman Show, Gattaca and In Time.
On the complete opposite side of the emotional spectrum, Friday will see the release of the first season of A Little Help with Carol Burnett, a light-hearted talk show where Burnett (who you may know from Mad About You or The Carol Burnett Show) enlists young kids to advise celebrities and regular people on a wide array of everyday topics. The advice might not always be practical, but it's sure to deliver plenty of laughs.
It's a much quieter week over on Stan, with just a single standout new release making it to the streaming service. Admittedly, The Big Sick is a fantastic addition, following the Pakistani comedian Kumail Nanjiani in a dramatic adaptation of his real-life romance with an American grad student. Highlighting the challenges of mixed-culture relationships even in this day and age, the flick combines heartfelt romance with offbeat comedy, and has earned numerous awards for its authentic representation of cultural conflict.
Foxtel closes out this week's viewing with a generous helping of fresh TV. For lovers of British television, the crime drama series Strike is one to keep an eye on when it kicks off on Tuesday. Based on J.K. Rowling's detective novels (written under the pen name Robert Galbraith), Strike follows former Special Investigation Branch detective Cormoran Strike as he turns his talents to solving crimes too tricky for the police.
If that doesn't do it for you, Game of Thrones star Kit Harington returns to Foxtel in the period drama Gunpowder. The three-part mini-series chronicles the real-life Gunpowder Plot, which saw a group of English Catholics attempt to assassinate King James I by blowing up the entire House of Lords. Interestingly enough, Harington is actually a direct descendant of the character he plays in the series, adding an extra layer of authenticity to the story.
Take a look at the highlights of this week's new streaming releases below. For a complete schedule of upcoming programming, check out our list of everything coming to Aussie streaming services in May.
---
Tuesday 1 May
27:Gone Too Soon
Genre

Documentary
Runtime

1hr 30mins
IMDb

N/A
---
Friday 4 May
Anon
Genre

Sci-Fi, Thriller
Runtime

1hr 40mins
IMDb

N/A
---
Dear White People – Volume 2
Genre

Comedy, Drama
Runtime

30min episodes
IMDb

6.3
---
End Game
Genre

Documentary
Runtime

40mins
IMDb

N/A
---
A Little Help With Carol Burnett Season 1
Genre

Talk Show
Runtime

TBA
IMDb

N/A
---
The Rain Season 1
Genre

Thriller
Runtime

45min episodes
IMDb

N/A
---
Tuesday 1 May
The Big Sick
Genre

Comedy, Drama
Runtime

2hrs
IMDb

7.6
---
Tuesday 1 April
Gunpowder Season 1 premiere
Genre

Drama, History
Runtime

59min episodes
IMDb

6.8
---
Strike Season 1 premiere
Genre

Crime, Drama
Runtime

1hr episodes
IMDb

7.9
---
Wednesday 2 May
Ice Season 1 premiere
Genre

Crime, Drama
Runtime

1hr episodes
IMDb

7.0
---
Thursday 3 May
For The People Season 1 premiere
Genre

Drama
Runtime

43min episodes
IMDb

6.9
---
---
No notable new releases are coming to hayu this week.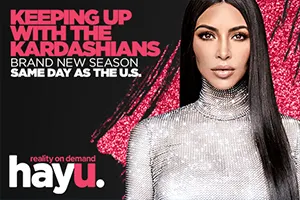 Watch the latest reality TV with a 30-day free trial
from hayu
Take advantage of hayu's limited 30-day month trial and access thousands of hours of Keeping Up With the Kardashians, Made in Chelsea and so much more.
View details
---
Latest streaming headlines