The biggest new releases coming to Netflix, Stan, hayu and Foxtel this week

One of the most iconic sci-fi series of all time makes its return in this week's line-up of streaming TV.
It seems the streaming world is taking a breather this week, dialling back the onslaught of big new releases that has been the norm for the last month or so.
The most notable addition comes by way of Netflix in the form of Lost In Space, a reboot of the classic 1965 sci-fi TV show that gave birth to that iconic catch phrase "Danger Will Robinson!". Like the original, the series follows the space-faring Robinson family after their ship is knocked off course, stranding them on an unknown planet ripe with threats both alien and human. Matt Sazama and Burk Sharpless are the minds behind this remake, a pair you may know from their work on The Last Witch Hunter and Gods of Egypt.
Over on Stan, this week's biggest new arrival is the first season of The Wrong Girl, the Australian-made drama series based on a similarly-titled book from Zoë Foster Blake. It stars Jessica Marais of Packed To The Rafters fame as Lily Woodward, a morning show producer juggling the demands of her high-pressure career, her complicated friendships and a desire to find someone she can spend the rest of her life with.
It's relatively quiet on the Foxtel front this week, too, with the only standout release being the debut of Sell It Like Serhant. In this reality TV show, US real estate agent Ryan Serhant travels America helping out salespeople from a variety of industries, lending his experience as a successful seller to those struggling to cinch the deal.
Take a look at the highlights of this week's new streaming releases below. For a complete schedule of upcoming programming, check out our list of everything coming to Aussie streaming services in April.
---

Friday 13 April
Lost in Space Season 1
Genre

Sci-Fi
Runtime

1hr episodes
IMDb

N/A
---
Come Sunday
Genre

Drama
Runtime

1hr 46mins
IMDb

6.6
---
Chef's Table: Pastry
Genre

Documentary
Runtime

50min episodes
IMDb

8.7
---

Sunday 8 April
Date and Switch
Genre

Comedy, Romance
Runtime

1hr 31mins episodes
IMDb

5.8
---
Tuesday 10 April
Wolf Blood Season 2
Genre

Fantasy
Runtime

30min episodes
IMDb

7.2
---
Thursday 12 April
The Wrong Girl Season 1
Genre

Drama
Runtime

1hr episodes
IMDb

7.1
---
The Bling Ring
Genre

Drama, Comedy
Runtime

1hr 30mins
IMDb

5.6
---

Monday 9 April
Hunter Street Season 2 premiere
Genre

Adventure, Comedy
Runtime

22min episodes
IMDb

7.0
---
Thursday 12 April
Sell It Like Serhant premiere
Genre

Reality TV
Runtime

TBA
IMDb

N/A
---
---

No notable new releases are coming to hayu this week.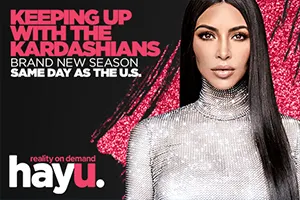 Watch the latest reality TV with a 30-day free trial
from hayu
Take advantage of hayu's limited 30-day month trial and access thousands of hours of Keeping Up With the Kardashians, Made in Chelsea and so much more.
View details
---
Latest streaming headlines