Strafe Preview: Fraggin' in the '90s
The '90s are back, and they're bloodier than ever.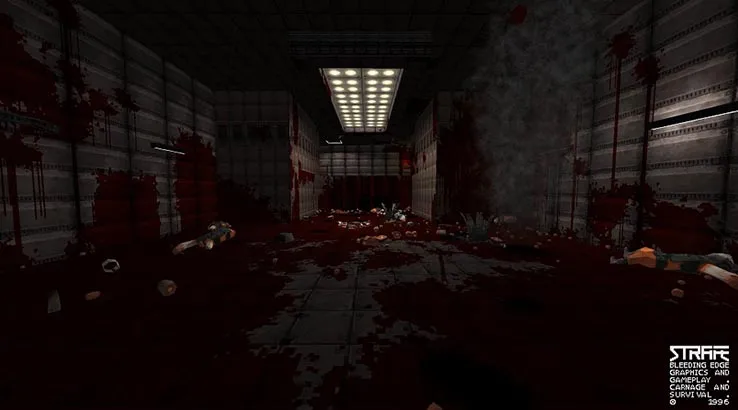 We're reader-supported and may be paid when you visit links to partner sites. We don't compare all products in the market, but we're working on it!
The '90s was a formative time for video games. From The Secret of Monkey Island to Baldur's Gate to The Legend of Zelda: Ocarina of Time, the era laid down much of the framework that games build upon to this day. With such a rich history, it's no surprise that spiritual throwbacks like Broken Age and Pillars of Eternity are becoming increasingly common. The past is often a rosy place, and it's only getting rosier in these troubled modern times.
But while classic RPGs and point-and-click adventure games are making a comeback, little attention has been paid to the most important genre of the 1990s: the first-person shooter. Other than last year's phenomenal DOOM reboot, the well has remained virtually untapped, the fast and furious FPS a forgotten relic of video games' past.
Strafe aims to change all that.
Sporting low-poly visuals and a singular focus on running and gunning,
Strafe
wastes no time in reminding you how slow FPSs are these days compared to what they once were. The lightest tap of the movement keys sends you hurtling down the derelict hallways of the ICARUS, the massive space ship you find yourself stuck on. This speed quickly proves invaluable as hordes of hideous monsters spill out of the shadows, descending upon you with single-minded determination. It's here that the game's title provides sage advice: if you don't strafe, you will die, fast.
The thing is, you're probably going to die anyway, whether you're strafing or not. Strafe is a brutal game, combining the speed of a Quake with roguelike elements such as run-based permadeath and randomly-generated levels to keep you on your toes. Your ultimate goal is to make it from one end of the ICARUS to the other, a task I came nowhere near completing in my time with the game's beta build. Just making it to the third level in the first zone was a triumph of endurance, leaving my heart pumping and my arms shaking like I'd just chugged a can of Red Bull.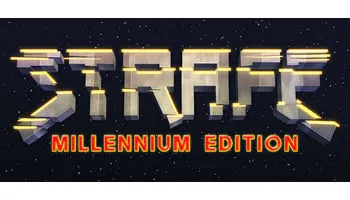 Click to buy Strafe
from Humble Bundle
Order your game from Humble bundle now!
View details
Strafe doesn't expect you to survive, but it does give you a few tools to help you die slower. Each run starts you with your choice of a shotgun, an assault rifle, or my personal favourite, a railgun, but you'll quickly stumble across more exotic fare like plasma rifles and energy disc launchers, limited in ammo but crucial for dealing with Strafe's tougher enemies.
As you blast these malformed creatures into bloody giblets, you'll collect scrap that can be crafted into ammo and armour at workbenches scattered throughout the ship. Save that scrap, though, and you'll be able to exchange it for credits at inter-level item shops. Those credits can then be spent on a variety of non-permanent upgrades, from a simple double jump to a pair of spike boots that turn you into an M-rated Mario stomping enemies into crimson goop.
It's these diversions from the traditional Doom formula that make Strafe more than a mere nostalgia trip. For every brainless enemy horde running directly into your line of fire, there's a crafty foe scampering across the walls, ready to pounce when you least suspect it. For every bog-standard assault rifle or shotgun, there's a unique melee attack for when you run out of ammo. For every blatant Duke Nukem-inspired death animation, there's a creative kill screen that tracks how many enemies you killed, what upgrades you earned, and how many gallons of blood you spilled. These small touches help Strafe forge an identity all its own.
No homage to the '90s would be complete without a suitably extreme soundtrack, and it's here that Strafe excels. Full of spacey synth tunes and wailing guitar licks, Strafe's music serves as a fitting companion to the frenetic firefights, driving you onwards with its pounding beats and catchy riffs. I've had the first few tracks stuck in my head for days, and that alone has kept me coming back to Strafe again and again.
Taken on their own, the best parts of Strafe aren't necessarily groundbreaking, but collectively they capture the relentless intensity Doom and its contemporaries pioneered. The thumping music, the breakneck speed, the fountains of blood and the buckets of gore - it's a perfectly synchronised dance of death, a beautiful ballet of blood almost enchanting in its excess. From my time with Strafe, it's clear it understands what made the era of CRTs and 56K modems such a weird and wonderful period for video games. If you want to relive the spirit of the '90s as much as its style, Strafe is a game you should definitely keep your eye on.
Strafe will be released May 10 on Steam.
More guides on Finder