Stories Untold review: This ain't your daddy's text adventure
The debut game from No Code Studio proves there's plenty of life left in the humble text adventure.
We're reader-supported and may be paid when you visit links to partner sites. We don't compare all products in the market, but we're working on it!
As far as video game intro sequences go, Stories Untold's is up there with the best. From the first baleful note of its synth-heavy soundtrack, the mysterious not-quite-a-text-adventure establishes an atmosphere of intrigue and dread. The mood intensifies with a montage of chunky '80s technology floating serenely through the air, classic computers tumbling alongside battered cassette players and old-school amplifiers. To cap it all off, in drifts a classy title card ripped straight from a budget VHS horror movie, all block letters and serif tips. The whole sequence makes a stunning first impression, setting a bar so high we expected the actual game couldn't possibly live up to it.
Like all good mysteries, though, Stories Untold is a master at subverting expectations.
Split into four episodes,
Stories Untold
bills itself as an experimental text adventure delivered in the form of a horror anthology, though that description sells it short. Though your primary form of interaction does come from typing commands into boxy computer terminals, it's how the game plays with the world outside those terminals that makes it so special.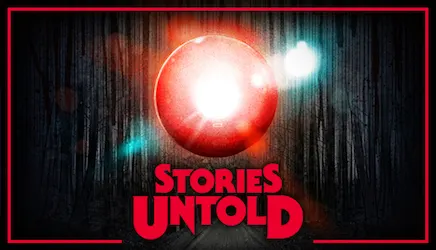 Stories Untold for PC
from Green Man Gaming
Order today from Green Man Gaming.
View details
Take the first chapter, for example. Without going into spoiler territory (and we'd advise anyone remotely interested in Stories Untold to go in as blind as possible), you find yourself sitting at a desk with an old computer system hooked up to a wood-panelled TV. The House Abandon, a fictional text adventure in the vein of Zork, is running on the computer, and as you play through it, elements of its story start bleeding into the world around you. The text tells you the power goes out, and a moment later, you're plunged into darkness as the bulb in your desk lamp blows. A sentence mentions an important date, and suddenly the alarm clock above the TV starts shrieking and flashing that date over and over.
If these examples sound a little trite, rest assured, things get a whole trippier as the game progresses. To say any more would spoil the surprise, and surprise is definitely Stories Untold's greatest strength. Even its genre is an illusion constructed to mess with your expectations. By the time you reach the credits, you'll have done a whole lot more than just type commands into a computer terminal.
That's not to say the text-adventure side of things is weak, far from it. Not only is the writing lean in a way that inspires imagination without succumbing to the insufferable exposition dump, the text parser that interprets your typed commands is worth praising, too. Even if you didn't grow up on games like Zork and Colossal Cave Adventure, the parser is smart enough to figure out what you're trying to do the majority of the time, saving you from keeping a thesaurus handy just to find the one synonym for "go" the game is willing to understand. It's an intelligent nod to nostalgia that doesn't sacrifice the modern conveniences we expect.
Better yet, each Stories Untold episode establishes a narrative conceit that justifies why you're anchored to a computer terminal, typing commands and twiddling knobs and switches. Whether it's playing a haunted computer game, performing a quarantined inspection of an alien artifact, or decoding mysterious radio signals, the parity between you the character and you the player creates a sense of embodiment most text adventures – heck, most games – lack.
Special mention must also be given to the sublime aesthetic of Stories Untold. In addition to its slick synth soundtrack, the game's visual design captures masterfully the style of the 1980s. From wood-panelled TVs to vinyl wallpaper to microfiche readers, the attention to detail is staggering, evoking the disquiet of exploring an abandoned attic or an empty museum. Smart use of silence only enhances this discomfort, drawing you in more than any haunting score or pulsing rhythm ever could. Clacking keys and the buzz of a CRT monitor echo memories of nights where you're home alone, the only one awake to hear the creak of something outside the window, something unnatural, something that's definitely not supposed to be there.
Though we don't want to say too much about the story, the way it all wraps up needs to be commended. The first three episodes, as you're playing them, seem like distinct stories – the game bills itself as an anthology, after all. But the fourth episode ... let's just say it casts everything that came before it in an entirely different light. Delivering a satisfying ending is tough, especially when the story preceding it raises so many questions – just look at LOST. Yet Stories Untold manages to resolve its mysteries without relying on a convenient deus ex machina or a slapdash conclusion that doesn't actually conclude anything. The way it reframes its first three episodes in its final chapter is a rare example of a resolution that is both obvious in hindsight and nearly impossible to predict. Though the game itself only lasts a couple of hours, its ending will keep you thinking about it for many, many more.
We reviewed Stories Untold on PC with a copy provided by the publisher.
Untold Stories
8.5 EXCEPTIONAL
What we liked...
Slick '80s aesthetic
Constantly subverts genre expectations
An intriguing mystery with a legitimately satisfying conclusion
What we didn't like...
Rough frame rate issues in the last episode
Only lasts a couple of hours
VERDICT
A good mystery needs to keep you guessing, and Stories Untold understands this well. By constantly upending your expectations of what a text adventure can do, it delivers surprise after surprise through the course of its four episodes, never once feeling stale. If you're in the mood for a tense, trippy experience unlike anything else out there, Stories Untold won't leave you disappointed.
Available for
For more information on how finder scores games, check our review guidelines.
More guides on Finder