The social distancing and hygiene practices being adopted in stores
A full list of the measures your favourite stores are taking to keep customers and team members safe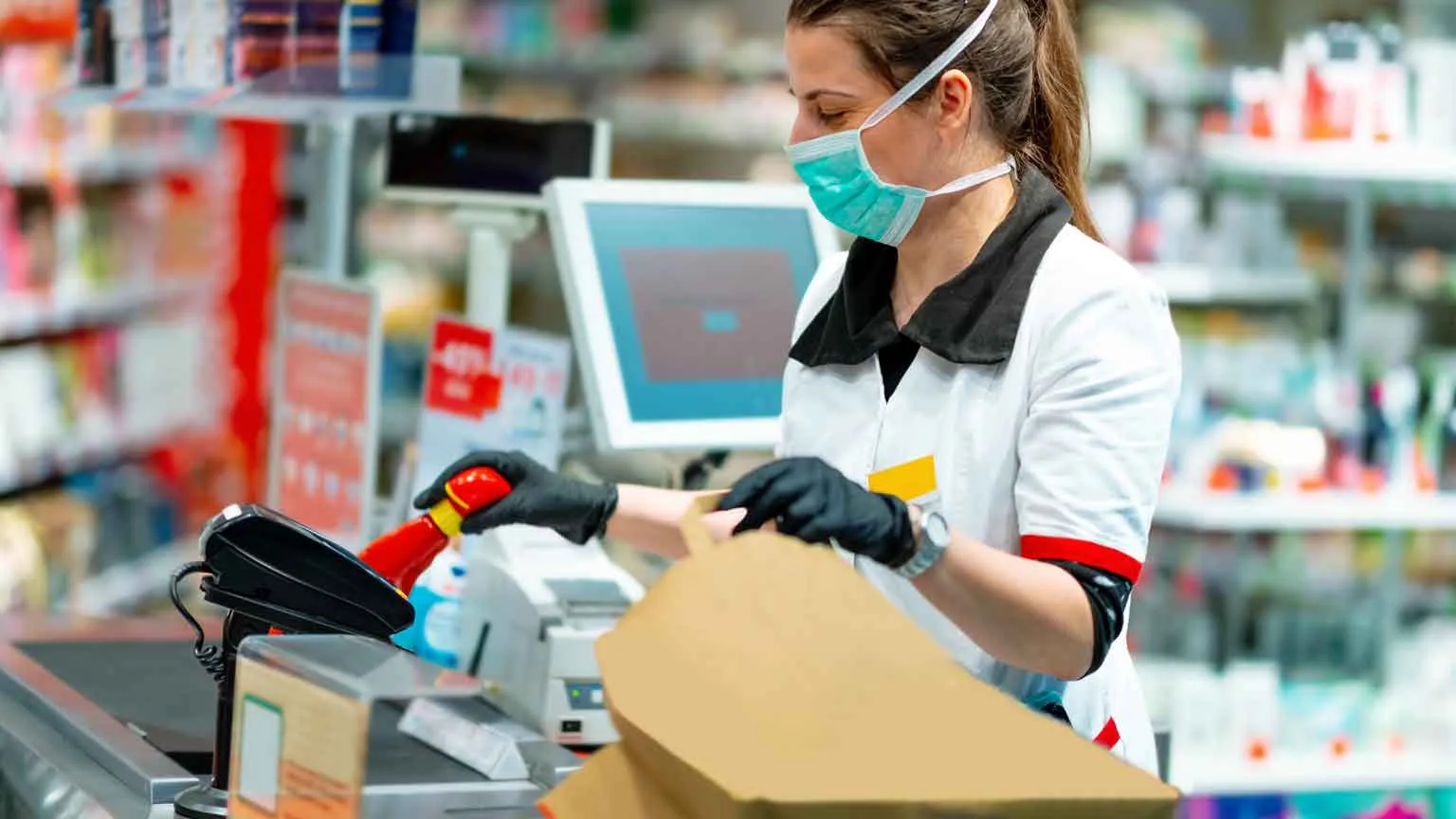 We're committed to our readers and editorial independence. We don't compare all products in the market and may receive compensation when we refer you to our partners, but this does not influence our opinions or reviews. Learn more about Finder.
As restrictions ease across the nation and shops begin to re-open, you'll likely be spending more time out and about. When you do, you can be certain that stores large and small are taking steps to stop the spread of coronavirus in accordance with public health and safety advice.
They've increased the cleaning of high-touch surfaces, employed physical distancing markers and introduced sanitisation stations at entrances, to name a few ways they're creating a safe in-store environment.
Here's a full list of what to expect the next time you're at the shops:
Social distancing and hygiene practices in stores
Store
Hygiene information
More information
Target

Increased cleaning of stores, including trolleys and basket handles
Wipes and hand sanitiser for customers and team members
Team members wipe down assisted checkouts after every use
Physical distancing markers
Customer capacity limits
Select checkouts closed to comply with physical distancing rules
Fitting rooms are temporarily closed
Contactless pay is encouraged, but cash is still accepted
Using your own bags is encouraged, but Target bags are still available
Zero contact click and collect

Go to site
Cotton On

Increased cleaning of high-touch surfaces such as tables, racks, handles, counters and EFTPOS machines
Removing multi-touch surfaces such as beauty testers and shopping bags
Staff are constantly reminding customers about physical distancing
Customer capacity limits
Fitting rooms may be closed in smaller stores
Contactless payment is encouraged, but cash is still accepted

Go to site
Forever New

Increased cleaning of stores
Hand sanitiser for customers
Physical distancing markers
Staff are constantly reminding customers about physical distancing
Customer capacity limits
Contactless payments encouraged
Online reservations for pick-up at store available
Contactless styling

Go to site
New Balance

Increased cleaning of stores
Hand sanitiser for all stores
Door greeter to explain safety measures
Store is supplied with masks and gloves for team members
Physical distancing markers as well as window decals and counter signs as reminders
Temporary suspension of foot measurements using the Brannock

Go to site
Sheike

Increased cleaning of stores
Hand sanitiser for customers
Adhering to physical distancing rules
Customer capacity limits
Contactless payments only – no cash accepted
Contactless styling available

Witchery

Increased cleaning of stores, including high-touch surfaces such as handrails, fitting rooms and counters
Hand sanitiser for customers at entrances, counters and fitting rooms
Physical distancing markers
Gloves are available for team members
Protective hygiene screens at customer service points
Contactless payments only – no cash accepted
Customer capacity limits
Reduced store opening hours

Go to site
Rebel Sport

Increased cleaning of stores
Physical distancing markers
Gloves are available for team members
Contactless payments only – no cash accepted
Reduced store opening hours

Go to site
Nike

Hourly cleaning of stores and high-touch surfaces
Hand sanitiser available on every floor
Physical distancing markers
Contactless payments only – no cash accepted

Go to site
Sephora

Increased cleaning of stores
Hand sanitiser available throughout the stores
Physical distancing markers
Suspension of beauty services including custom and mini makeovers
Testers have been removed
Face masks and gloves available for team members
Customer capacity limits
Temperature checks for staff and customers
Contactless payments only

Go to site
Lululemon

Increased cleaning of stores
Adherence to physical distancing rules
Hand sanitiser for customers at entrances
Contactless payments only – no cash accepted
Temporarily pausing its complimentary hemming service
Temporarily pausing community classes
Reduced opening hours at select stores

Go to site
Bed Bath N' Table

Increased cleaning and sanitisation of high-touch surfaces
Adherence to physical distancing rules
Contactless payments encouraged
Select stores open only
Reduced opening hours for stores that are still open

Go to site
Adairs

Increased cleaning of stores
Adherence to physical distancing rules
Contactless payments encouraged
Customers who bring their own bag are encouraged to pack it themselves

Go to site
House

House has not publicly announced its health and hygiene measures. We'll update this page when it does.

Go to site
Dan Murphy's

Increased cleaning of the store
Physical distancing markers
Temporary maximum purchase limits
Clear screens at checkouts
Customer capacity limits
Customers are required to pack their own boxes and bags
Contactless payments are preferred, but cash is still accepted

Go to site
Typo

Increased cleaning of high-touch surfaces such as tables, racks, handles, counters and EFTPOS machines
Removing multi-touch surfaces such as beauty testers and shopping bags
Staff are constantly reminding customers about physical distancing
Customer capacity limits
Fitting rooms may be closed in smaller stores
Contactless payment is encouraged, but cash is still accepted

Go to site
The Good Guys

Increased cleaning of the store
Physical distancing markers
Customer and team limitations of no more than four per aisle
Social distancing for services, deliveries, repairs and installations
Video kitchen design consultations
Contactless payments are preferred, but cash is still accepted
Zero contact click and collect

Go to site
Microsoft Store

Microsoft Store has not reopened its physical stores yet.

Go to site
Apple

Apple has not reopened its physical stores yet.

Go to site
David Jones

Increased cleaning of stores
Sanitiser for customers on every floor
Physical distancing markers, signage and announcements as reminders
In-store hygiene screens at customer service points
Customer capacity limits
Temporarily suspending all beauty services, lingerie fittings, alternations and dine-in services
Contactless payment is encouraged, but cash is still accepted

JB Hi-Fi

Increased cleaning of stores
Physical distancing markers
Customer capacity limits
Contactless payment is encouraged, but cash is still accepted
Temporary closure of select stores

Kmart

Increased cleaning of stores, including wiping down of trolleys, self-service checkouts and pin pads
Physical distancing markers and posters
Dedicated entrance and exit points
Sanitiser for customers
In-store hygiene screens at registers
Customer capacity limits
Contactless payment is encouraged, but cash is still accepted
Temporary closure of select stores

Harvey Norman

Increased cleaning of stores
Adhering to social distancing rules
Contactless payment is encouraged, but cash is still accepted

Dymocks

Increased cleaning of stores
Adhering to social distancing rules
Contactless payment is encouraged, but cash is still accepted

General Pants

Increased cleaning of high-touch surfaces before, during and after hours
Hand sanitiser for customers
Physical distancing markers
Reduced number of fitting rooms to comply with physical distancing rules
Customer capacity limits
Contactless payment only
Reduced store opening hours
Team members provided with masks and gloves

Go to site
Myer

Increased cleaning of stores
Hand sanitiser for customers
Physical distancing signage
Practising physical distancing between customers and team members
Contactless payments only – no cash handling
Beauty appointments are temporarily cancelled
Intimate apparel, suit and shoe fittings are suspended

Go to site
Glassons

Increased cleaning of stores
Limiting number of team members per store
Customer capacity limits
Physical distancing markers

Go to site
Priceline

Increased cleaning of stores
Removal of testers
Physical distancing markers
Temporary pause on beauty services
Hand sanitiser available

Coles

Increased cleaning of the store and of high contact areas such as trolleys, baskets and checkouts
Physical distancing markers
Hand sanitiser at the entrance
Clear screens at checkouts
Customer capacity limits
Customers are asked to pack their own bags
Contactless payments are encouraged, but cash is still accepted

Woolworths

Increased cleaning of the store and of high contact areas such as trolleys, baskets and checkouts
Physical distancing markers
Plexiglass screens at checkouts
Customer capacity limits
Masks available for team members, if they choose to use them
Customers are asked to pack their own bags
Contactless payments are encouraged, but cash is still accepted
Select assisted and express checkouts are closed to comply with physical distancing laws

ALDI

Increased cleaning of the store and of high contact areas such as trolleys, baskets and checkouts
Physical distancing markers
Clear screens at checkouts
Customer capacity limits
Product limits
Contactless payments are encouraged, but cash is still accepted

Bunnings

Increased cleaning of the store and of high contact areas such as trolleys, counters and baskets
Physical distancing markers and posters
Team members provided with gloves and hand sanitiser
Temporary suspension of sausage sizzles, family events and in-store activities
Temporary closure of playgrounds and cafes
Contactless payments are encouraged, but cash is still accepted
Product purchase limits

Big W

Increased cleaning of stores
Physical distancing markers and posters
Hand sanitiser and basket and trolley wipes for customers and team members to use
Reduced fitting rooms
Customer capacity limits
Clear plexiglass screens at checkouts
Contactless payments are encouraged, but cash is still accepted

IKEA

Increased cleaning of stores
Physical distancing markers
Lift capacity limits
Customer capacity limits
Temporary closure of its playgrounds and restaurants
Contactless payments only
Reduced store opening hours

Harris Farm

Increased cleaning of stores and high-touch surfaces
All staff members are temperature checked before each shift
Staff wear masks and gloves, which are changed regularly
Adherence to physical distancing rules
Contactless payments are encouraged, but cash is still accepted

Zara

Increased cleaning of stores and high-touch surfaces
Physical distancing markers
Sanitiser available for customers
Contactless payments are encouraged, but cash is still accepted

Chemist Warehouse

Increased cleaning of stores and high-touch surfaces
Hand sanitiser at the entrance
Physical distancing markers
Removal of testers
Bring-your-own-pen policy for prescriptions
Product limits on some prescriptions and over-the-counter medications, in line with the Australian government's advice
Customer capacity limits
Contactless payments encouraged

Go to site
Spotlight

Increased cleaning of stores and high-touch surfaces
Select stores are temporarily closed

Go to site
EB Games

Increased cleaning of stores
Physical distancing markers
Customer capacity limits
Contactless payments only – no cash or trades

Supercheap Auto

Increased cleaning of stores
Physical distancing markers
Contactless payments only
Product purchasing limits
Reduced store opening hours
Reduced the number of fitments and services available

Go to site
Mecca

Stores are closed until further notice

Glue Store

Increased cleaning of stores
Adhering to physical distancing rules
Increased the supply of and access to tissues, hand sanitiser, disinfectant sprays and cleaners across all stores
Reduced store opening hours

Go to site
JD Sports

Increased cleaning of stores
Adhering to physical distancing rules
Hand sanitiser for customers
Customer capacity limits

Go to site
Platypus

Increased cleaning of stores
Physical distancing markers
Sanitiser available for customers
Reduced opening hours
Disposable try-on socks
Contactless payments are encouraged, but cash is still accepted

Go to site
Hype DC

Increased cleaning of stores
Physical distancing markers
Sanitiser available for customers
Customer capacity limits
Customers must remove and put on their own footwear
Disposable try-on socks and gloves are available
Contactless payments are encouraged, but cash is still accepted

Go to site
More guides on Finder