Stifled developer talks The Unfinished Swan and other influences

Justin Ng discusses the origins and inspiration behind the upcoming sound-based horror game for PSVR and PS4.
While echolocation is hands-down one of the closest things to a real-life superpower before recently it had rarely been used as a core mechanic in video games. Sure Atari's Dolphin had you gauging a sound's pitch to navigate the game's seahorse gates, and Ecco the Dolphin was a big fan of firing off a sonar pulse to navigate the big blue, and okay the bloodthirsty clickers in The Last of Us had to resort to echolocation thanks to their blinding fungal problem.
But never had a game really explored the feel and sensation of relying on echolocation. That was until 2015 when Gattai Games released Lurking, an experience available for Oculus and Mac which explored this exact idea (even if it was a little on the short side).
Now three years later, we have Perception (The Deep End Games) on consoles and PC available, Blind (Tiny Bull Games) in development for VR and Lurking's spiritual successor Stifled arriving 31 October. Stifled is a PlayStation VR and PlayStation 4 experience in which the player navigates the world by making noises into a microphone (our sound of choice was whistling and repeatedly shouting hello), revealing the environment around them. To find out a little more about how Stifled came about, we sat down to talk about the game's origins and inspirations with designer Justing Ng.
Justin Ng: "To talk about what inspired Stifled we have to back about three years. Three years ago we (Gattai Games) were at school in Singapore and created what is essentially the spiritual predecessor to Stifled, Lurking.
Lurking was inspired by a Japanese animation of a little blind girl who navigates her world by tapping her cane to reveal the environment around her. When the team saw that video, we said look, we're in school, we can take that risk to make something unique and different so why not make a sound-based game.
We started experimenting with the game mechanics and thought VR could work with the idea, but VR is expensive so why not just do something with a microphone and the two things kind of clicked."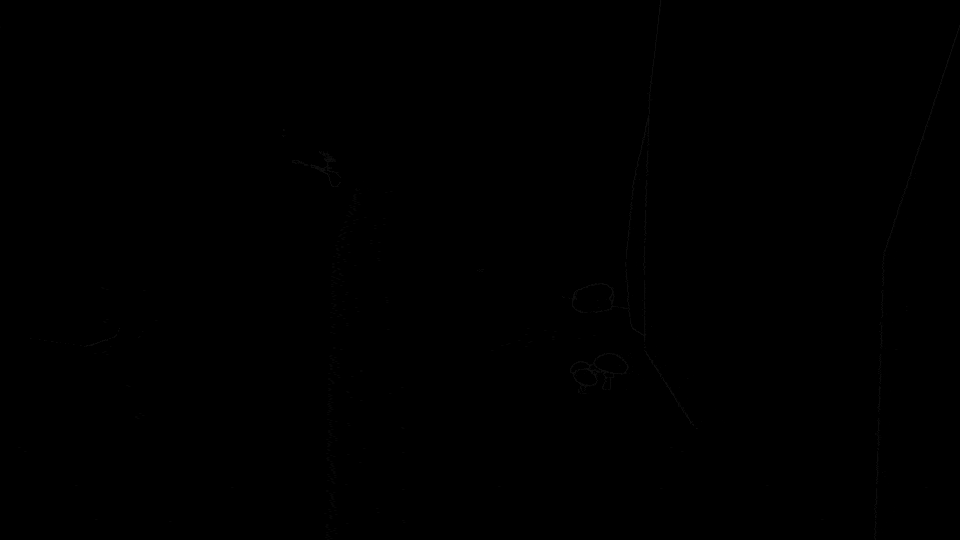 The animation Justin is referring to is the adorable Out of Sight, a story about a young blind girl who goes on a little adventure when her guide dog chases off a thief. The young girl uses echolocation to reveal the streets around her, discovering unique sounds and sensations for the first time.
A painfully charming little short that's full of heart. Out of Sight is the inspiration for the game's echolocation mechanic, but Stifled's story is less rainbows-and-sunshine and more black on white-knuckled terror.
Justin Ng: "As we began to figure out some of the game's mechanics, like exploration and puzzles, and the white-on-black art style where everything fades to black came to life, our sound designer suggested this style would suit a good horror experience. Things can get terrifying when the screen dips to black. From there Stifled became a horror/thriller, full steam ahead.
Once that decision was made we started to think about how to make things a little more difficult for the player. We thought if the player needs to use sound to see, why not make it so the enemy is attracted to sound.
The style, microphone and mechanics all allowed for a lot of immersion so we thought, why not just make it VR to complete the experience?"
What distinguishes Stifled from the other two games about echolocation is its rather unique white-on-black art style. It's reminiscent of games like White Night (2015), and of course, 2014's The Unfinished Swan by Giant Sparrow.
Justin Ng: "The animation (Out of Sight) was the initial inspiration. But when it came to the art style, I was really inspired by The Unfinished Swan. It was super simplistic, right? And we wanted the game to focus on sound so the first thought I had was, let's make the art super clean and super simple. Essentially, Stifled uses the same mechanic of revealing the environment with your actions as The Unfinished Swan, just with sound instead of paint. With the black and white contrast, any other colour pops. That's why we use red you help you read and understand the game.
Other games we were inspired by were Amnesia and Dead Space, more traditional horror/thriller experiences."
During our playthrough of Stifled, the Amnesia influence was blindingly obvious. Rather than thinning out crowds of horrific zombies, or mowing down hordes of demons, the protagonist in Stifled is trying to escape the clutches of a lurking evil. However, there is a clever twist on the run n' hide approach that Amnesia made popular. The creatures in Stifled have keen hearing. Make a sound into the microphone while they are nearby and you'll have them on your tail in no time. The trick is, you need sound to navigate your environment so you will be running blind for a portion of Stifled, lest you alert your aggressors.
Justin Ng: "Stifled is predominately a stealth game. All the enemies in the game are attracted to sound, make a noise and they will come get you. Simple. You can distract an enemy by throwing anything you can pick up, like a rock, and sneak away. The fun part comes when you look away to throw your rock and distract the enemy when you turn around to sneak off, everything will likely have faded away and you'll not have any idea where you're going, which builds the tension and creates terror. We like to play with how much information the player has.
When you're faced with an enemy and you can't make any sound, it becomes difficult to find a way out. Your brain kind of kicks into overdrive and you think "shit, what am I going to do?"

We're looking forward to checking out Stifled when it launched on PSVR and PlayStation 4 31 October (right in time for Halloween).
Everything you need to know about PAX Australia 2017
All the news and announcements from Australia's biggest video game convention in one place.
Read more
---