How many series did each State of Origin player win or lose?
A list of all players in State of Origin history, along with how many series they have won and lost.
We're committed to our readers and editorial independence. We don't compare all products in the market and may receive compensation when we refer you to our partners, but this does not influence our opinions or reviews. Learn more about Finder.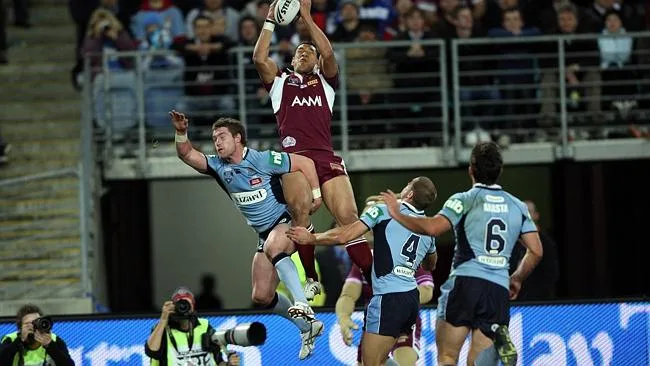 What's trending right now with State of Origin?
| Player Name | Lose | Win | Grand Total |
| --- | --- | --- | --- |
| Aaron Raper | | 1 | 1 |
| Aaron Woods | 1 | 1 | 2 |
| Adam MacDougall | 3 | 1 | 4 |
| Adam Mogg | | 1 | 1 |
| Adam Muir | 2 | 3 | 5 |
| Adrian Brunker | 2 | | 2 |
| Adrian Lam | 4 | 1 | 5 |
| Adrian Vowles | 1 | | 1 |
| Aidan Guerra | 1 | | 1 |
| Akuila Uate | 2 | | 2 |
| Alan Cann | 1 | | 1 |
| Alan McIndoe | 1 | 2 | 3 |
| Alan Smith | | 1 | 1 |
| Alan Thompson | 4 | | 4 |
| Alan Wilson | 1 | | 1 |
| Allan Langer | 6 | 6 | 12 |
| Andrew Ettingshausen | 5 | 5 | 10 |
| Andrew Farrar | 3 | 2 | 5 |
| Andrew Fifita | 1 | | 1 |
| Andrew Gee | 6 | 2 | 8 |
| Andrew Johns | 4 | 5 | 9 |
| Andrew Ryan | 3 | 2 | 5 |
| Anthony Laffranchi | 2 | | 2 |
| Anthony Minichiello | 2 | 3 | 5 |
| Anthony Mundine | 1 | | 1 |
| Anthony Quinn | 1 | | 1 |
| Anthony Tupou | 2 | | 2 |
| Anthony Watmough | 5 | 2 | 7 |
| Antonio Kaufusi | | 1 | 1 |
| Arthur Beetson | | 1 | 1 |
| Ashley Harrison | 1 | 6 | 7 |
| Barry Jensen | 1 | | 1 |
| Beau Scott | 3 | 1 | 4 |
| Ben Creagh | 4 | | 4 |
| Ben Cross | 1 | | 1 |
| Ben Hannant | | 5 | 5 |
| Ben Hornby | 2 | 1 | 3 |
| Ben Ikin | 4 | 2 | 6 |
| Ben Kennedy | 3 | 4 | 7 |
| Ben Ross | 2 | | 2 |
| Ben Te'o | 1 | 2 | 3 |
| Benny Elias | 2 | 5 | 7 |
| Billy Moore | 5 | 1 | 6 |
| Billy Slater | 3 | 6 | 9 |
| Blake Ferguson | 1 | | 1 |
| Bob Cooper | 1 | | 1 |
| Bob Kellaway | | 2 | 2 |
| Bob Lindner | 5 | 5 | 10 |
| Boyd Cordner | 1 | 1 | 2 |
| Brad Backer | | 3 | 3 |
| Brad Fittler | 5 | 7 | 12 |
| Brad Izzard | 2 | | 2 |
| Brad Mackay | 3 | 4 | 7 |
| Brad Meyers | | 1 | 1 |
| Brad Tessmann | 1 | 1 | 2 |
| Brad Thorn | 4 | 1 | 5 |
| Bradley Clyde | 2 | 3 | 5 |
| Braith Anasta | 4 | 2 | 6 |
| Brent Kite | 3 | 1 | 4 |
| Brent Tate | 4 | 5 | 9 |
| Brett Dallas | 3 | 1 | 4 |
| Brett Finch | 1 | 1 | 2 |
| Brett French | 1 | 3 | 4 |
| Brett Hodgson | 2 | | 2 |
| Brett Kenny | 4 | 2 | 6 |
| Brett Kimmorley | 4 | 2 | 6 |
| Brett Morris | 4 | 1 | 5 |
| Brett Mullins | | 3 | 3 |
| Brett Rodwell | 1 | | 1 |
| Brett Stewart | 3 | | 3 |
| Brett White | 4 | | 4 |
| Brian Hetherington | 1 | 1 | 2 |
| Brian Johnston | 4 | 1 | 5 |
| Bruce Astill | | 2 | 2 |
| Bruce McGuire | 1 | 1 | 2 |
| Bruce Walker | | 1 | 1 |
| Bryan Fletcher | 3 | 2 | 5 |
| Bryan Niebling | 1 | 3 | 4 |
| Cameron Smith | 4 | 8 | 12 |
| Carl Webb | 2 | 4 | 6 |
| Casey McGuire | 1 | | 1 |
| Cavill Heugh | 2 | | 2 |
| Chris Anderson | 3 | | 3 |
| Chris Beattie | 1 | 1 | 2 |
| Chris Close | 2 | 4 | 6 |
| Chris Flannery | 4 | 1 | 5 |
| Chris Johns | 2 | 2 | 4 |
| Chris McKenna | 3 | | 3 |
| Chris McQueen | 1 | 1 | 2 |
| Chris Mortimer | 2 | 2 | 4 |
| Chris Phelan | | 2 | 2 |
| Chris Walker | 1 | 1 | 2 |
| Chris Walsh | 1 | | 1 |
| Cliff Lyons | 3 | | 3 |
| Clinton O'Brien | 1 | | 1 |
| Clinton Schifcofske | 1 | 1 | 2 |
| Colin Scott | 2 | 6 | 8 |
| Cooper Cronk | 1 | 4 | 5 |
| Corey Parker | 3 | 3 | 6 |
| Craig Fitzgibbon | 1 | 3 | 4 |
| Craig Gower | 3 | 2 | 5 |
| Craig Greenhill | 3 | | 3 |
| Craig Hancock | 1 | | 1 |
| Craig Salvatori | 1 | 2 | 3 |
| Craig Smith | 1 | | 1 |
| Craig Teevan | | 1 | 1 |
| Craig Wing | 2 | 3 | 5 |
| Craig Young | 3 | | 3 |
| Dale Shearer | 6 | 4 | 10 |
| Dallas Johnson | | 4 | 4 |
| Daly Cherry-Evans | 1 | 1 | 2 |
| Dan Stains | 1 | 1 | 2 |
| Dane Carlaw | 4 | 2 | 6 |
| Dane Nielsen | | 2 | 2 |
| Daniel Tupou | | 1 | 1 |
| Daniel Wagon | | 1 | 1 |
| Danny Buderus | 4 | 3 | 7 |
| Danny Moore | 1 | 1 | 2 |
| Danny Nutley | 1 | | 1 |
| Darius Boyd | 1 | 6 | 7 |
| Darren Albert | 1 | | 1 |
| Darren Fritz | 1 | | 1 |
| Darren Lockyer | 6 | 7 | 13 |
| Darren Smith | 6 | 2 | 8 |
| Darryl Brohman | 1 | 1 | 2 |
| Dave Brown | 2 | 2 | 4 |
| Dave Taylor | 1 | 3 | 4 |
| David Barnhill | 3 | 1 | 4 |
| David Boyle | 1 | | 1 |
| David Brooks | | 1 | 1 |
| David Fairleigh | 2 | 2 | 4 |
| David Furner | 2 | 2 | 4 |
| David Gillespie | 1 | 5 | 6 |
| David Hall | 1 | | 1 |
| David Peachey | | 1 | 1 |
| David Shillington | | 4 | 4 |
| David Stagg | | 1 | 1 |
| David Trewhella | 2 | | 2 |
| David Williams | 1 | | 1 |
| Dean Pay | 2 | 3 | 5 |
| Dean Young | 1 | | 1 |
| Des Hasler | 4 | 2 | 6 |
| Don McKinnon | 1 | | 1 |
| Eric Grothe | 3 | 2 | 5 |
| Eric Grothe Jnr | 1 | | 1 |
| Garry Dowling | 1 | | 1 |
| Garry Jack | 4 | 2 | 6 |
| Gary Belcher | 3 | 3 | 6 |
| Gary Coyne | 2 | 2 | 4 |
| Gary Hambly | 1 | | 1 |
| Gary Larson | 5 | 3 | 8 |
| Gary Smith | | 1 | 1 |
| Gavin Allen | 1 | 2 | 3 |
| Gavin Jones | 1 | 1 | 2 |
| Gavin Miller | 2 | | 2 |
| Gene Miles | 1 | 6 | 7 |
| Geoff Bugden | 1 | | 1 |
| Geoff Gerard | 1 | | 1 |
| Geoff Toovey | 3 | 4 | 7 |
| Glenn Lazarus | 4 | 5 | 9 |
| Glenn Stewart | 3 | | 3 |
| Gorden Tallis | 5 | 2 | 7 |
| Graeme O'Grady | 1 | | 1 |
| Graeme Wynn | 1 | | 1 |
| Graham Eadie | 1 | | 1 |
| Graham Lyons | | 1 | 1 |
| Graham Mackay | | 3 | 3 |
| Grant Rix | 1 | | 1 |
| Greg Alexander | 2 | 1 | 3 |
| Greg Bird | 6 | 1 | 7 |
| Greg Brentnall | 3 | | 3 |
| Greg Conescu | 2 | 5 | 7 |
| Greg Dowling | 2 | 2 | 4 |
| Greg Florimo | 2 | | 2 |
| Greg Holben | | 1 | 1 |
| Greg Inglis | 1 | 8 | 9 |
| Greg Oliphant | | 1 | 1 |
| Greg Quinn | | 1 | 1 |
| Hazem El Masri | 1 | | 1 |
| Ian French | 2 | 1 | 3 |
| Ian Roberts | 1 | 3 | 4 |
| Israel Folau | | 3 | 3 |
| Jacob Lillyman | 1 | 4 | 5 |
| Jamal Idris | 1 | | 1 |
| James Maloney | 1 | | 1 |
| James McManus | 2 | 1 | 3 |
| James Tamou | 2 | 1 | 3 |
| Jamie Ainscough | 1 | 3 | 4 |
| Jamie Buhrer | 1 | | 1 |
| Jamie Goddard | 1 | 1 | 2 |
| Jamie Lyon | 4 | 1 | 5 |
| Jamie Soward | 1 | | 1 |
| Jarrod Mullen | 1 | | 1 |
| Jarryd Hayne | 7 | 1 | 8 |
| Jason Croker | 1 | 2 | 3 |
| Jason Hetherington | 2 | 1 | 3 |
| Jason King | 2 | | 2 |
| Jason Moodie | 1 | | 1 |
| Jason Ryles | 1 | 3 | 4 |
| Jason Smith | 5 | 2 | 7 |
| Jason Stevens | 2 | 2 | 4 |
| Jason Taylor | | 1 | 1 |
| Jeremy Schloss | 1 | | 1 |
| Jharal Yow Yeh | | 1 | 1 |
| Jim Dymock | 1 | 2 | 3 |
| Jim Leis | 1 | | 1 |
| Jim Serdaris | 1 | | 1 |
| Joe Kilroy | | 1 | 1 |
| Joel Monaghan | 3 | | 3 |
| John Buttigieg | 1 | 1 | 2 |
| John Cartwright | 2 | 1 | 3 |
| John Coveney | 1 | | 1 |
| John Dowling | | 1 | 1 |
| John Doyle | 1 | 1 | 2 |
| John Ferguson | 2 | 1 | 3 |
| John Hopoate | 1 | | 1 |
| John Muggleton | 1 | | 1 |
| John Ribot | 1 | 3 | 4 |
| John Simon | | 2 | 2 |
| Johnathan Thurston | 2 | 8 | 10 |
| Johnny Lang | | 1 | 1 |
| Jonathan Docking | 2 | | 2 |
| Josh Dugan | 2 | 1 | 3 |
| Josh Hannay | 1 | 1 | 2 |
| Josh Morris | 3 | 1 | 4 |
| Josh Papalii | 1 | 1 | 2 |
| Josh Perry | 2 | 1 | 3 |
| Josh Reynolds | 1 | 1 | 2 |
| Julian O'Neill | 5 | | 5 |
| Justin Hodges | 4 | 7 | 11 |
| Justin Poore | 1 | | 1 |
| Kade Snowden | 2 | | 2 |
| Karmichael Hunt | | 4 | 4 |
| Keith Galloway | 1 | | 1 |
| Ken McGuinness | 1 | 1 | 2 |
| Ken Nagas | | 1 | 1 |
| Kerrod Walters | 2 | 1 | 3 |
| Kerry Boustead | | 3 | 3 |
| Kevin Campion | 1 | 1 | 2 |
| Kevin Hastings | 1 | | 1 |
| Kevin Walters | 6 | 3 | 9 |
| Kurt Gidley | 5 | | 5 |
| Laurie Daley | 4 | 5 | 9 |
| Les Boyd | 3 | | 3 |
| Les Davidson | 2 | | 2 |
| Les Kiss | 2 | | 2 |
| Lindsay Johnston | 1 | | 1 |
| Lote Tuqiri | 1 | 1 | 2 |
| Luke Bailey | 4 | 2 | 6 |
| Luke Lewis | 5 | 2 | 7 |
| Luke O'Donnell | 3 | | 3 |
| Luke Priddis | 1 | | 1 |
| Luke Ricketson | 3 | 1 | 4 |
| Luke Rooney | | 2 | 2 |
| Mal Meninga | 6 | 7 | 13 |
| Mario Fenech | 1 | | 1 |
| Mark Carroll | 2 | 1 | 3 |
| Mark Coyne | 6 | 1 | 7 |
| Mark Gasnier | 3 | 2 | 5 |
| Mark Geyer | 2 | | 2 |
| Mark Hohn | 2 | 1 | 3 |
| Mark Hughes | 1 | | 1 |
| Mark McGaw | 3 | 1 | 4 |
| Mark Murray | 2 | 4 | 6 |
| Mark O'Meley | 3 | 1 | 4 |
| Mark Sargent | | 1 | 1 |
| Martin Bella | 4 | 4 | 8 |
| Martin Lang | 2 | 1 | 3 |
| Marty Gurr | 1 | | 1 |
| Mat Rogers | 2 | | 2 |
| Matt Adamson | 1 | | 1 |
| Matt Ballin | | 1 | 1 |
| Matt Cooper | 4 | 2 | 6 |
| Matt Geyer | 1 | | 1 |
| Matt Gillett | 1 | 2 | 3 |
| Matt King | 2 | 1 | 3 |
| Matt Seers | 1 | 1 | 2 |
| Matt Sing | 7 | 2 | 9 |
| Matthew Bowen | 3 | 2 | 5 |
| Matthew Gidley | 2 | 3 | 5 |
| Matthew Johns | 2 | | 2 |
| Matthew Scott | 1 | 6 | 7 |
| Max Krilich | 2 | | 2 |
| Michael Buettner | | 1 | 1 |
| Michael Crocker | 3 | 2 | 5 |
| Michael De Vere | 1 | 2 | 3 |
| Michael Ennis | 3 | | 3 |
| Michael Gordon | 1 | | 1 |
| Michael Hagan | 1 | 1 | 2 |
| Michael Hancock | 4 | 2 | 6 |
| Michael Jennings | 5 | 1 | 6 |
| Michael O'Connor | 4 | 3 | 7 |
| Michael Vella | 3 | 1 | 4 |
| Michael Weyman | 2 | | 2 |
| Mick Cronin | 4 | | 4 |
| Mick Potter | 1 | | 1 |
| Mike McLean | 1 | 1 | 2 |
| Mitch Brennan | | 3 | 3 |
| Mitchell Pearce | 5 | | 5 |
| Nate Myles | 1 | 8 | 9 |
| Nathan Fien | | 1 | 1 |
| Nathan Hindmarsh | 5 | 2 | 7 |
| Nathan Merritt | 1 | | 1 |
| Neil Hunt | 1 | | 1 |
| Neil Tierney | 1 | | 1 |
| Neville Costigan | | 3 | 3 |
| Nik Kosef | 2 | 1 | 3 |
| Noel Cleal | 3 | 2 | 5 |
| Norm Carr | | 3 | 3 |
| Owen Cunningham | 1 | | 1 |
| Pat Jarvis | 2 | 1 | 3 |
| Paul Bowman | 4 | 1 | 5 |
| Paul Dunn | 2 | | 2 |
| Paul Field | 1 | | 1 |
| Paul Gallen | 8 | 1 | 9 |
| Paul Green | 2 | 1 | 3 |
| Paul Harragon | 2 | 5 | 7 |
| Paul Hauff | | 1 | 1 |
| Paul Khan | | 2 | 2 |
| Paul Langmack | 2 | | 2 |
| Paul McCabe | 1 | 2 | 3 |
| Paul McGregor | 2 | 4 | 6 |
| Paul Merlo | 1 | | 1 |
| Paul Sironen | 2 | 4 | 6 |
| Paul Vautin | 2 | 6 | 8 |
| Peter Jackson | 3 | 4 | 7 |
| Peter Kelly | 1 | | 1 |
| Peter Ryan | | 1 | 1 |
| Peter Sterling | 5 | 1 | 6 |
| Peter Tunks | 3 | 2 | 5 |
| Peter Wallace | 2 | | 2 |
| Peter Wynn | 1 | 1 | 2 |
| Petero Civoniceva | 4 | 8 | 12 |
| Phil Bailey | | 1 | 1 |
| Phil Blake | 1 | | 1 |
| Phil Daley | 2 | | 2 |
| Phil Sigsworth | 3 | | 3 |
| Phillip Duke | 1 | | 1 |
| PJ Marsh | 2 | 1 | 3 |
| Ray Brown | 1 | | 1 |
| Ray Price | 4 | | 4 |
| Rex Wright | 1 | | 1 |
| Rhys Wesser | 1 | 1 | 2 |
| Ricky Stuart | 1 | 4 | 5 |
| Ricky Walford | | 1 | 1 |
| Robbie Farah | 3 | 1 | 4 |
| Robbie Kearns | 2 | 2 | 4 |
| Robbie McCormack | | 2 | 2 |
| Robbie O'Davis | 4 | 2 | 6 |
| Robbie Ross | 1 | | 1 |
| Robert Stone | 1 | | 1 |
| Rod Morris | | 3 | 3 |
| Rod Reddy | | 1 | 1 |
| Rod Wishart | 3 | 6 | 9 |
| Rodney Howe | 3 | 1 | 4 |
| Rohan Hancock | | 3 | 3 |
| Ron Hilditch | 1 | | 1 |
| Ross Conlon | 1 | | 1 |
| Ross Henrick | | 3 | 3 |
| Royce Ayliffe | 1 | | 1 |
| Royce Simmons | 3 | 1 | 4 |
| Russell Bawden | 1 | 1 | 2 |
| Ryan Girdler | 2 | 1 | 3 |
| Ryan Hoffman | 3 | 1 | 4 |
| Ryan O'Hara | | 1 | 1 |
| Sam Backo | 1 | 2 | 3 |
| Sam Thaiday | 1 | 7 | 8 |
| Scott Gourley | | 1 | 1 |
| Scott Hill | 1 | 1 | 2 |
| Scott Prince | 1 | 1 | 2 |
| Scott Sattler | 1 | | 1 |
| Scott Tronc | | 1 | 1 |
| Shane Webcke | 5 | 2 | 7 |
| Shannon Hegarty | 1 | | 1 |
| Shaun Berrigan | 3 | 2 | 5 |
| Shaun Timmins | 1 | 3 | 4 |
| Stan Jurd | 1 | | 1 |
| Steve Bowden | 1 | | 1 |
| Steve Carter | | 1 | 1 |
| Steve Edge | 1 | | 1 |
| Steve Ella | 2 | 1 | 3 |
| Steve Folkes | 2 | 1 | 3 |
| Steve Hanson | 1 | | 1 |
| Steve Jackson | 3 | 1 | 4 |
| Steve Martin | 1 | | 1 |
| Steve Menzies | 5 | 3 | 8 |
| Steve Morris | 1 | 1 | 2 |
| Steve Mortimer | 3 | 1 | 4 |
| Steve Renouf | 4 | 2 | 6 |
| Steve Roach | 3 | 3 | 6 |
| Steve Rogers | 3 | | 3 |
| Steve Simpson | 4 | 1 | 5 |
| Steve Stacey | | 1 | 1 |
| Steve Turner | 1 | | 1 |
| Steve Walters | 5 | 1 | 6 |
| Steven Bell | | 2 | 2 |
| Steven Price | 6 | 5 | 11 |
| Stuart Kelly | 1 | | 1 |
| Terry Butler | | 1 | 1 |
| Terry Campese | 1 | | 1 |
| Terry Cook | | 1 | 1 |
| Terry Fahey | 2 | | 2 |
| Terry Hill | 3 | 3 | 6 |
| Terry Lamb | 4 | 1 | 5 |
| Terry Matterson | 1 | | 1 |
| Tim Brasher | 2 | 6 | 8 |
| Tim Grant | 1 | | 1 |
| Tim Mannah | 2 | | 2 |
| Timana Tahu | 3 | 3 | 6 |
| Todd Carney | 1 | | 1 |
| Tom Learoyd-Lahrs | 2 | | 2 |
| Tom Raudonikis | 1 | | 1 |
| Tonie Carroll | 5 | 3 | 8 |
| Tony Butterfield | 1 | | 1 |
| Tony Currie | 1 | 5 | 6 |
| Tony Hearn | 2 | 1 | 3 |
| Tony Melrose | 1 | | 1 |
| Tony Rampling | 1 | 1 | 2 |
| Tony Williams | 1 | 1 | 2 |
| Travis Norton | 3 | | 3 |
| Trent Barrett | 4 | 3 | 7 |
| Trent Hodkinson | | 1 | 1 |
| Trent Merrin | 3 | 1 | 4 |
| Trent Waterhouse | 2 | 1 | 3 |
| Trevor Gillmeister | 5 | 4 | 9 |
| Ty Williams | 1 | | 1 |
| Wally Fullerton-Smith | 2 | 3 | 5 |
| Wally Lewis | 3 | 9 | 12 |
| Wayne Bartrim | 2 | 2 | 4 |
| Wayne Pearce | 4 | 2 | 6 |
| Wendell Sailor | 3 | 2 | 5 |
| Will Chambers | 1 | | 1 |
| William Hopoate | 1 | 1 | 2 |
| Willie Carne | 5 | 1 | 6 |
| Willie Mason | 3 | 2 | 5 |
| Willie Tonga | 1 | 3 | 4 |
| Ziggy Niszczot | 1 | | 1 |
More guides on Finder