How to start an auto electrician business
Your guide to setting up your own auto electrician company.
We're reader-supported and may be paid when you visit links to partner sites. We don't compare all products in the market, but we're working on it!
If you're at the point in your auto electrician career where you want to go solo, and you're wondering what to do next, then this guide's for you. Perhaps you're not sure what equipment you need to invest in, how to register your business or which legal documents you need.
Read on to get answers to these questions and more in your guide to starting an auto electrician business.
What skills, knowledge or requirements do I need to start an auto electrician business?
Before you get carried away with the practicalities of opening up your own auto electrician business, you need to have the skills and the knowledge to carry out the services in the first place.
Most self-employed auto-electricians have at least five years' experience in the industry and some nationally-recognised qualifications behind them. We discuss the key qualifications you'll need a little later on.
Being an auto electrician is a very customer-facing role, so great communication skills and a friendly personality will help you along on your way to success. As they say, your reputation speaks for itself, and happy customers are likely to recommend your business to others.
Apart from the technical and personal skills, you'll also need to get your head around how to run your business. While your business is in its initial stages, you're likely to be a one-man-band. This means you'll need to deal with the financial, legal and marketing of the business, along with lots of other things.
What courses or qualifications do I need to complete?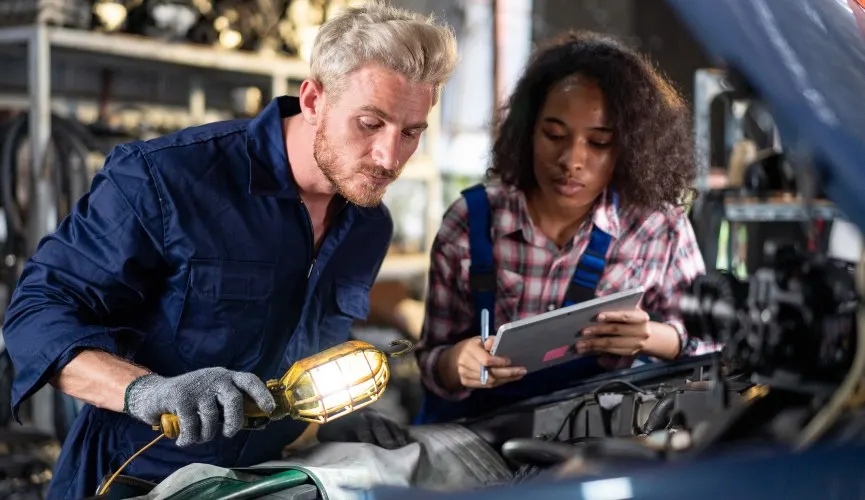 You'll generally need to qualify as an auto electrician before you can open up your own business. Not only will this give you the skills to carry out the necessary work, but it will also give you an insight into the industry that you're hoping to go into.
Age isn't a barrier to qualifying as an auto electrician, but you will need to have your Year 10 qualifications in the bag. Once you have these you can choose to complete a certificate in automotive electrical technology, or join an apprenticeship. Both pathways will take at least three years to four years to complete.
If you do decide to enrol in a certificate on your own accord, it will cost upwards of $6,000. When you become qualified through an apprenticeship, your employer or the government may pay the fees for you. Typically, you'll also receive an apprenticeship wage throughout the training period.
Equipment and software needed to start an auto electrician business
You'll need to invest a good amount of money into buying specialist equipment for your auto electrician business. A few essentials include:
Screwdriver set
Plier set
Socket set
Spanners
Diagonal cutters
Wire strippers
Soldering equipment
Razorblade
Wire crimpers
Electrical tape
Electrical measurement device
Test lights
Multimeter.
To help run the behind the scenes of your business, you may consider buying the following:
Laptop or computer
Stable internet connection
Web host and domain name
Microsoft Word or Google Docs
Microsoft Excel
Mobile phone
Printer.
What business structures do I need to consider before starting an auto electrician business?
The initial stages of setting up an auto electrician business may involve a lot of paperwork. Before anything else, you'll want to register for an Australian Business Number and a Tax File Number.
Once all of this is in order, the next step is to decide how you want to structure your business and the best fit will depend on your circumstances. Do you want to function as a sole trader, partnership or company? Here's a quick overview of what each structure can offer you and your business:
Sole trader. When you're operating as a sole trader, you'll be the only person making the key decisions for your business. You'll also be responsible for any profits or losses your business makes. In terms of tax, you'll need to submit a tax return each financial year.
Partnership. You can open up a partnership with a friend or family member. Partnerships have a similar structure to sole traders, with the difference that there are two people making critical business decisions and two people who are financially responsible. In a partnership, you'll need to submit a personal tax return a well as a partnership tax return.
Company. Companies are much more complicated business structures. Legally, they are seen as completely separate from you as the director. Key decisions are made by a company's shareholders who also share in the business' financial responsibilities.
Do I need any legal documents written up before I start operating? What about online legal services?
No one enjoys the red tape that comes along with owning a business. However, when it comes to protecting yourself and your business, well-written legal documents are a must. For an auto electrician business, you may find the following useful:
Cancellation Policy. Implementing a cancellation policy can help to reduce last-minute cancellations and no-shows, helping your business to save money in the long-run.
Employment Agreement. If you're hiring someone to work for your business, you'll need an employment agreement to outline the employee's rights and obligations.
Partnership Agreement. If you choose to open your business with a partner, it's best practice to draft and sign a partnership agreement. This legal document will outline the rights and responsibilities of each partner while protecting the interests of your business.
Luckily, you don't have to sort out the legal stuff alone. There are plenty of legal professionals and services available at the click of a button. If you simply need help writing up a document, there are plenty of legal templates available online too.
Get access to legal services and documents online
Does your company belong in this list?
How can I build up my customer base?
You need to be visible if you want to attract new customers to your business. This can be achieved through effective marketing and communication. To increase your visibility across the internet, you need to make sure that you:
More recently, tradespeople have begun to use online job marketplaces to advertise their services. These include leading sites such as Airtasker, hipages and Oneflare. The way these marketplaces work is by connecting local businesses with customers in their area.
Generally, on these platforms, people can post a job that they need completing and, if you have the time and the skills to complete it, you can provide a quote for the job. Alternatively, you can post about your services, and locals can get in touch with you that way.
How much should I charge my customers?
Many auto electricians operate a simple pricing system and have a fixed hourly rate for their services. Depending on your expertise and experience, you might be able to charge between $80 and $120 an hour, not including materials. Typically, auto electricians also add on a call-out fee for any jobs that require remote assistance.
Every job is different, so you'll need to factor in the size of the job, how complicated it is and the materials you'll need to use. It's good practice to provide your customers with a quote before you begin the job, so everyone knows what to expect.
Frequently asked questions
Is an auto electrician a good career?
The world shows few signs of losing its reliance on cars to get us from A to B. And while day-to-day tasks will require some hard work, auto electricians receive a good salary in what can be a rewarding career path.
How much do auto electricians earn a year?
Auto electricians typically earn between $60,000 and $100,000 each year. When you own your own auto electrician business, your earning potential could be far higher.
How do I start a successful auto electrician store?
A key factor in running a successful auto electrician store is to provide excellent customer service and to price your services correctly. By providing a fairly priced and high-quality service, your reputation will speak for itself, putting you on the map to success.
Back to top
More guides on Finder