How to start a pet grooming business
Start your own animal-friendly company with our guide to the key skills, equipment and legal documents you'll need.
We're reader-supported and may be paid when you visit links to partner sites. We don't compare all products in the market, but we're working on it!
With Australians spending around $13 billion on their pets each year, the Australian pet industry offers many lucrative opportunities. One of the biggest expenses pet owners incur are grooming services, which equates to $700 million.
While the opportunities are aplenty, running a successful pet grooming business requires a passion for animals, a strong work ethic and the development of the right skills.
This article will give you the ins and outs of starting a pet grooming business, including the equipment you'll need and legal documentation to consider.
What skills, knowledge or requirements do I need to start a pet grooming business?
First and foremost, pet groomers need to be competent and comfortable working with animals. It is also very important that they have some knowledge of animal health.
Other key skills and qualities of pet groomers include:
Recognising and managing skin conditions, rashes or irritations as part of the grooming service.
Being able to read a dog or cat's body language, and manage temperamental pets.
Impeccable customer service.
Being physically healthy and able to carry out grooming services.
As a pet grooming business owner, you will need to be able to coordinate and schedule your workload by estimating how long each grooming session will take, how many workers you'll need and how much to charge your customer.
To help you thrive in the pet industry, you might like to join an industry association, such as the Pet Industry Association of Australia (PIAA) or the Australian Companion Animal Council (ACAC). Joining an industry association helps you keep up with what's happening in the industry and learn best practice principles.
What courses or qualifications do I need to complete?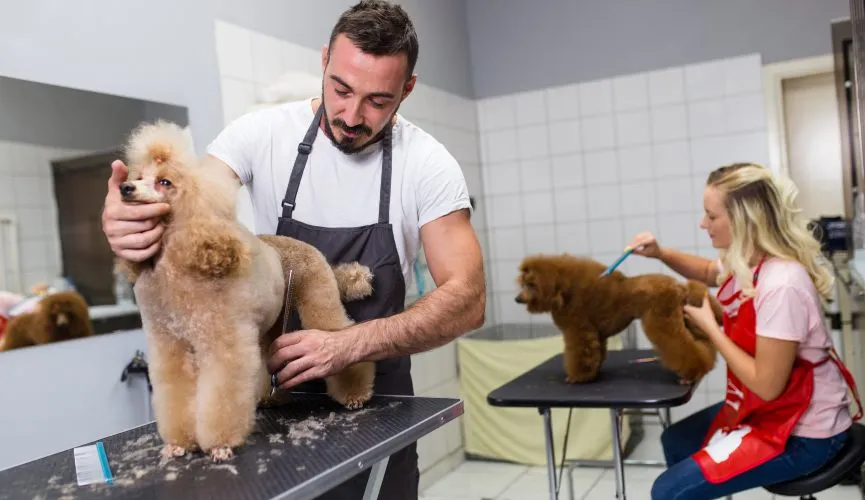 To become a professional pet groomer, you'll need to be certified through TAFE or a Registered Training Organisation. A flagship course is the ACM30617 Certificate III Pet Grooming, which teaches you essential grooming skills, such as brushing, trimming and bathing. You will also learn operational skills in housekeeping, customer services and equipment maintenance.
Beyond a pet grooming certificate, you can take more advanced Certificate IV in Pet Styling, which allows you to expand your skills to become a full-fledged grooming salon owner or manager.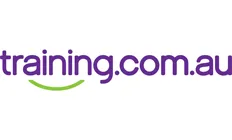 Certificate in Pet Grooming
A certificate in pet grooming from training.com.au could help start your pet grooming career.
Equipment and software needed to start a pet grooming business
The first major decision when opening up a pet grooming business is where you will run your business. You can either operate from your home or retail space, or set up a mobile grooming service. How your business is run will impact the type of grooming equipment you will need. These equipment include:
Grooming tools, such as clippers, scissors, shears, brushes, grooming tables
Cleaning tools, such as sprayers, dryers, bathtubs
Cleaning products, such as shampoos, conditioners, ear cleaners
Mobile grooming vans/trailers (if you are offering a mobile service)
To operate the business efficiently, you may also consider software for managing tasks such as:
What business structures should I be aware of?
Before registering your company, you'll want to be clear on the type of business you're operating. The standard business structures in Australia are Sole Trader, Partnership and Company (Public or Proprietary). Read more about how to structure your business in the right way.
How much control you decide to have over the business, costs and tax implications are among the most important factors to consider for your business structure. If you're not sure which path to choose, speak with an accountant who can help you out in this area.

Register Your Business
Register your company with Lawpath in just 10 minutes.
Do I need any legal documents written up before I start operating? What about online legal services?
You'll want to ensure you have a number of legal documents in place before you launch your company.
Some of the documentation you might need to set up pet grooming business include:
On top of that, you will need to comply with code of conduct with your relevant state regulatory body before you can start operating your business. For example, in New South Wales you will need to comply with the Animal Welfare Code of Practice No 8 - Animals in Pet Grooming Establishments.
You can access free templates online in order to get started. You may choose to consult with a lawyer to get a full picture of the regulatory requirements for your business. You can request a free, fixed-fee quote through various legal services sites. These include:
Lawpath. This online subscription service can help you make the right steps as you set up your company.
SprintLaw. Get pre-packaged, online legal services for your SME or startups.
LegalVision. Take advantage of unlimited access to online legal solutions with LegalVision.
In addition to all the legal considerations, don't forget to explore your business insurance options with care.
Get access to legal services and documents online
Does your company belong in this list?
How can I build up my customer base?
From social media pages to online reviews, there are many ways you can grow your customer base and in turn, sales. Some practical, easy to implement ways to do this include:
Listing your business in an online business directory such as Yellow Pages and Local.com.au.
Listing your business on Google Maps, with up-to-date information on your operating hours, phone number and website. Encouraging your customers to leave reviews is also highly recommended.
Building your social media presence (check out legal templates for social media usage in the workplace), through competitions, promotions and of course, lots of cute animal content!
Word-of-mouth, which is the most powerful (and low cost) way to grow customers. You can encourage or incentivise your frequent customers to spread the word about your business.
How much should I charge my customers?
It is important to research competitors in your area before setting your prices. If you're new to the business, you can consider offering a slightly lower price than your competitors or first-timer promotion to attract new customers.
Some of the other factors to consider when quoting your customers include the size and breed of the animal, how much fur it has and the overall level of service required. Groomers generally offer a range of packages, from a basic bath and towel dry service to an all-inclusive grooming and pampering session.
Rates for a standard grooming service can range from $50 onwards for a small dog, whereas for a larger dog you can be charged up to $150.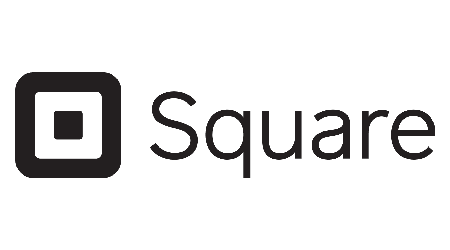 Ready to get set up with Square?
Get your business moving with payment terminals, QR code ordering, invoices and more.
Frequently asked questions
Is owning a pet grooming business profitable?
Pet grooming offers a great business model in the form of a repeatable service that will be required time and again. Like hairdressers, customers also tend to stick to the same business if the service and costs meet their expectations.
The industry outlook is also favourable. As previously mentioned, Australia has one of the highest pet ownership in the world and spends $700 million on pet grooming.
Many pet owners simply don't have the time or expertise to groom their pets, and so the demand for professional pet grooming can be very high.
How can I grow my pet grooming business?
Perhaps the most surefire way to grow your business is to provide an exceptional service, by treating the animals with care, empathy and giving them a really good clean! Building trust through proactive communications with clients is also very important.
Marketing is also essential when you're just starting out: this can be as simple as dropping flyers in mailboxes or partnering with a local pet store, or a number of different types of digital types of marketing as our guide explains.
Another way to grow your pet grooming business is to offer a mobile service where you go to the customer, which allows you to reach more potential customers that are outside of your local area.
How can I make my pet grooming business more profitable?
As your business grows, there are a number of ways to scale your pet grooming business to make it more profitable. You can franchise your pet grooming service, or sell complementary products, such as bathtubs, DIY grooming kit, clothes and treats for pets.
How much does it cost to hire a pet groomer?
According to Payscale, the median hourly rate for a pet groomer is $20.68. Of course, the wage you might offer a worker will depend on factors including levels of experience and where you're based.
More guides on Finder