How to start a logo design business
Invest your creative skills in a logo design business that's profitable and can help to colour your future.
We're reader-supported and may be paid when you visit links to partner sites. We don't compare all products in the market, but we're working on it!
Putting your creativity into a business can be a smart move and reap lots of rewards if you're willing to put in the hard work. Whether you need to hone your design skills or you're just starting out, this article will show you how you can lay the basis of a successful logo design business.

Register Your Business
Register your company with Lawpath in just 10 minutes.
What skills, knowledge or requirements do I need to start a logo design business?
To be a successful logo designer, you'll need to adapt to the ever-changing digital age. You will need to learn multiple skills and become proficient in a wide array of graphic design tools that will help you create logos faster and with a lasting impression. The skills you'll need include as follows:
Communication. You will need to communicate with brands to understand the logo that they are looking for. Not only that, but you will also have to prepare high-quality presentation proposals for your design.
Creativity. When designing a logo, you need to envision how to balance the typography and colour selection of the logo. You are essentially communicating the brand's vision and identity in one small symbol. You will need to be perceptive of visual design and balance the art with functionality.
Proficiency in design software. There are various types of software available to help make designing faster and efficient. Some examples are InDesign, Quark, Photoshop, Illustrator, Affinity and more. You may want to read our review of Adobe Creative Cloud.
Time management. You will find yourself balancing different projects at a time. Hence, you will need to learn how to prioritise and be responsible with the work given to you. You must be skilled in design strategy creation and deadline management, problem-solving and being flexible.
Strategic Thinking. Consider the usability and marketing of the logo you are creating. You should create a design that drives people to take action.
What courses or qualifications should I think about?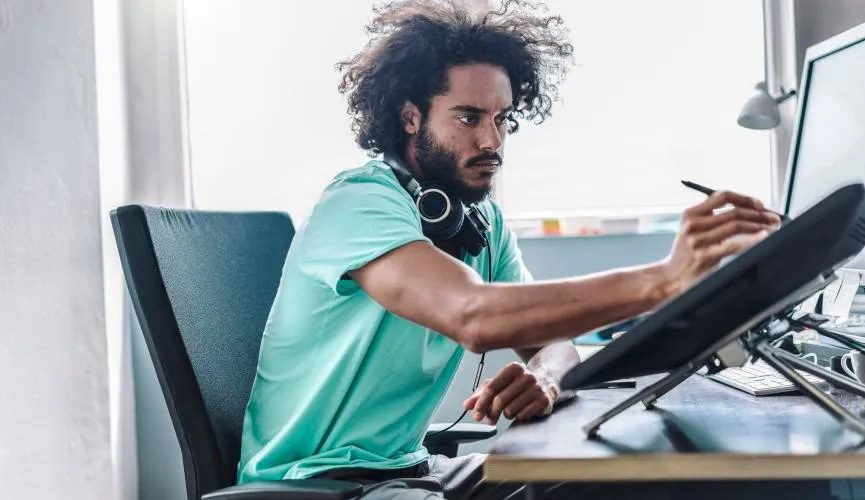 As a logo designer, your portfolio will speak for itself. However, suppose you are looking to gain a foundational education in logo design. In that case, you should consider enrolling in a Diploma of Graphic Design for one year at the cost of around $3000.
If you are looking for a shorter course, you can apply for a Certificate IV in Design which usually takes 17 weeks to complete. You can also apply for online courses at one of the following:
LogoCore
Coursera
LinkedIn Learning
Skillshare
CreativeLive
Futur.
Compare graphic design courses online
Does your company belong in this list?
Equipment and software needed to start a logo design business
If you have already been designing, you might have the basic equipment necessary. Every designer needs the right tool to help them get that colour just right or even to help sit comfortably while working. Here is a checklist for you:
Laptop or desktop computer
Desk and ergonomic chair
Hard Drive, for backup purposes
Graphics tablet and stylus
Antivirus Software
VPN software, to secure your data from unwanted viewers.
Other optional equipment are sketchbooks and pencils, graphic repositories, online graphic design services, a smartphone, a camera and a Pantone swatch book.
What business structures do I need to consider before starting a logo design business?
Before you can start your business, you will need to register as a sole trader, a partnership or a company.
Sole Trader. This business structure has fewer set up costs. As the owner, you are responsible for any tax your business must pay and are personally liable for any financial or tax debts.
Partnership. If you want to share the ownership with other people, you will need to establish the business as a partnership. A partnership has relatively low set-up costs, and the risks of the company are equally shared.
Company. Establishing a company requires choosing and reserving a company name, registering your company, registering a business name and setting separate bank accounts. The company is a separate legal entity which can be liable for business debts and any money earned belongs to the company.
Do I need any legal documents written up before I start my logo design business?
Some of the key legal documents you may need include:
Terms and Conditions. This document will detail your client's right and use of the logo, protecting your intellectual property.
Privacy policy. If you are using a website to collect information from your clients, a privacy policy will inform clients about how their data is collected and stored.
Website Terms of Use. A website terms of use agreement can protect your designs and artwork that are on your website. The terms of use typically include your copyright notice, a license allowing visitors to use your website for personal services, a list of prohibited behaviour, republishing rules and limitations of liability and disclaimers.
Copyright Notice. This notice alerts users that your work is copyrighted and cannot be used without your permission.
The legal documents you draft must be legally binding. They should protect your business according to your needs. Online legal services and templates are available from the likes of Sprintlaw, Lawpath, LawDepot, LegalVision and Wonder.Legal.
Get access to legal services and documents online
Does your company belong in this list?
How much should I charge my customers?
Generally, the average cost of a logo can be anywhere from $300 to $1,000 (or more) depending on your experience. Your price should also include the time spent on research, brainstorming, concepts and mockups, presentations, revisions and productions.
Each logo design will have a different cost depending on the complexity of the design, the client's needs and your turnaround time. You can choose to set your pricing based on value or hours spent. For value-based pricing, determine the effect your logo design will have on the company.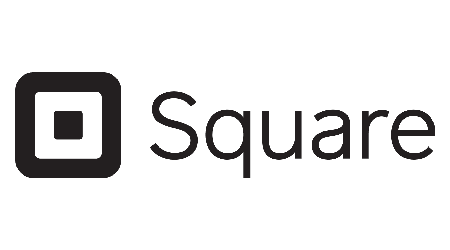 Ready to get set up with Square?
Get your business moving with payment terminals, QR code ordering, invoices and more.
How do I build my customer base?
Set up a website where you can build a portfolio; build your customer base through your marketing. This can include via email newsletters, collaborations and online advertisements. You may also want to consider expanding your designing skills to your business cards, posters and web design. Attend graphic design conferences to build relationships with other designers and educate yourself on upcoming trends.
There are online marketplaces which offer a hassle-free way to source new jobs from clients. Some of the top platforms include hipages, Airtasker and Oneflare where you can get matched with clients in need of your expertise.
Frequently asked questions
What makes a good logo design?
Generally, an effective logo design should be memorable, simple, versatile, appropriate and timely.
What are the types of logos?
There are several logo designs to choose from. Depending on what your client needs, you can create logos such as letter marks or letterforms, wordmarks, brand marks or symbols, abstract logo marks, mascots, combination marks, dynamic marks and emblems.
How do you test a logo design?
You can get feedback on your logo from business contacts, partners or even through social media. You could make use of heat mapping tools on your website to test logo design. Other ways include promotional product testing or via surveys.