How to start a food delivery business
The key points to know before you start a food delivery company.
We're reader-supported and may be paid when you visit links to partner sites. We don't compare all products in the market, but we're working on it!
If you have experience with deliveries or food, or both, it might be worth looking into starting a food delivery business. The food delivery industry has exploded in recent years, with many people opting to order meals and groceries rather than heading out themselves.
In this article we'll look at everything you need to know before starting your own food delivery business.

Register Your Business
Register your company with Lawpath in just 10 minutes.
What skills, knowledge or requirements do I need to start a food delivery business?
While there may not be any specific skills or knowledge that are required to start a food delivery business, you will need a clear business strategy and an excellent understanding of your competitors. To operate this type of business, you'll also need a registered vehicle and a driver's license.
As a minimum, you'll also need a food licence, a licence for a Food Transport Business, insurance and an Australian Business Number (ABN).
What courses or qualifications do I need to complete?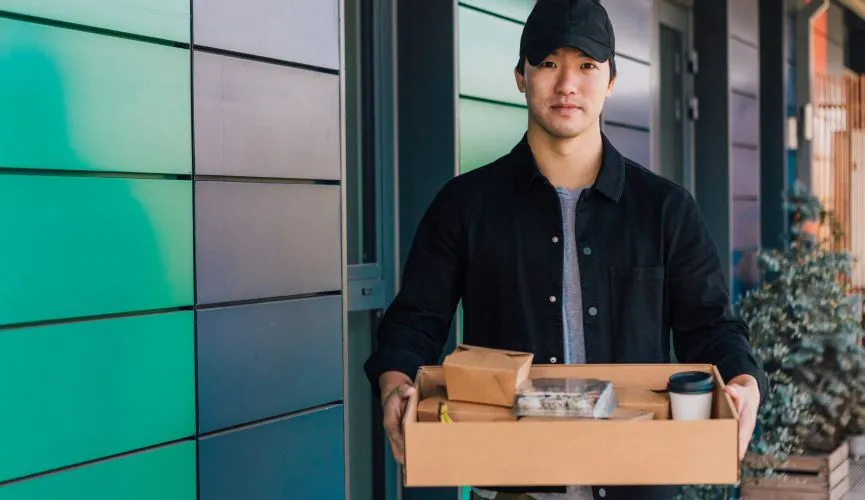 There aren't any specific courses or qualifications needed to start a food delivery business. However, if you are planning to prepare meals yourself, then there are some online nationally accredited training courses available on food safety which might be required.
These courses include courses for:
Food handler
Food safety supervisor training
Intro to food safety.
Equipment and software needed to start a food delivery business
You don't need a lot of equipment for food delivery. All you need is a suitable delivery bag where you can fit the orders as well as your own vehicle. You might need to use a regulated food delivery bag that helps keep food fresh when it's being delivered.
Furthermore, there's a large amount of software available to download that can help you carry out the whole delivery process such as:
Routific. This app helps you streamline your deliveries. Routific promises faster deliveries that arrive on time.
OptimoRoute. You can use this software to manage delivery dispatching, orders and do live tracking.
GSMtasks. This software helps you plan and optimise your delivery routes as well as assist with your admin tasks.
What business structures do I need to consider before starting a food delivery business?
Three common business structures you can choose from include company, sole trader or partnership. If you're operating alone you may want to choose a sole trader structure as it's relatively simple to set up and manage. As a sole trader, you are in charge of your business as well as your business assets. This structure is simple tax-wise as well as it allows you to lodge your taxes using your personal Tax File Number (TFN).
If you're setting up the business with someone else you may want to consider a partnership. This lets you run the business with two or more people and decide how you want to split ownership and responsibilities. For example, a general partnership sees all partners equally responsible for business decisions, assets and liabilities, while a limited partnership is split by how much each partner invests in the business.
How can I build up my customer base?
You can build up a customer base a few different ways. Firstly, you will want to establish a presence on social media and build a business website. This will allow customers to find you, follow you and contact you if necessary. You can use your social media channels to find new customers as well as restaurant partners.
Competition in this space is heavy so you might also want to create a loyalty programme or offer customer discounts for signing up and getting others onboard.
Do I need any legal documents written up before I start operating? What about online legal services?
There are certain legal agreements you can use to protect any data and your intellectual property while operating online. The key agreements include:
Furthermore, if you are looking to hire employees then it is also worth looking into the following documents:
Get access to legal services and documents online
Does your company belong in this list?
Frequently asked questions
How do I advertise my business?
You can use different social media channels to promote your business. Establish a presence on relevant social channels and find and engage with customers. You can also consider hiring a digital marketing expert to help promote your business.
How should I insure my business?
There are a number of different types of insurance available for startup businesses which can protect your business against the unexpected. Some insurance to consider includes vehicle insurance, public liability insurance and professional indemnity cover.
How do I brand my business?
Good branding starts with a good name. Make sure it stands out from your competitors, that the domain is free and it resonates with your business. To ensure your business name is exclusive in Australia, think about registering your business as a trademark.
More guides on Finder