How to start a cooking business
The ultimate recipe for starting a cooking business.
We're reader-supported and may be paid when you visit links to partner sites. We don't compare all products in the market, but we're working on it!
Building your cooking business is a lot like cooking the perfect meal, so it's essential to follow the recipe closely. With a pinch of time, a dollop of dedication and a smidge from the right guide, you can start your cooking business. But don't forget to season it with some creativity.
What skill or requirements do I need to start a cooking business? What courses or qualifications do I need to complete?
Before you begin your business, be knowledgeable of the food safety skills regarding the preparation, storing and distribution of the meals you cook. You are obligated to abide by the Food Authority's standards on food safety, food premises and equipment, and proper labelling of the food.
Even the premises where you cook your food will need to meet specific standards with its design. Consider enrolling in a food safety course which goes over the food safety laws and responsibilities, how to maintain a clean workplace and food safety programs. The Australian Institute of Food Safety has an online course for $99.95.
Nominate a food safety supervisor. If your food business is in Queensland, New South Wales, the Australian Capital Territory or Victoria, you are required to nominate at least one Food Safety Supervisor. Local councils judge the Food Safety Supervisor requirements of each food business on a case-by-case basis.
Equipment and software needed to start a cooking business.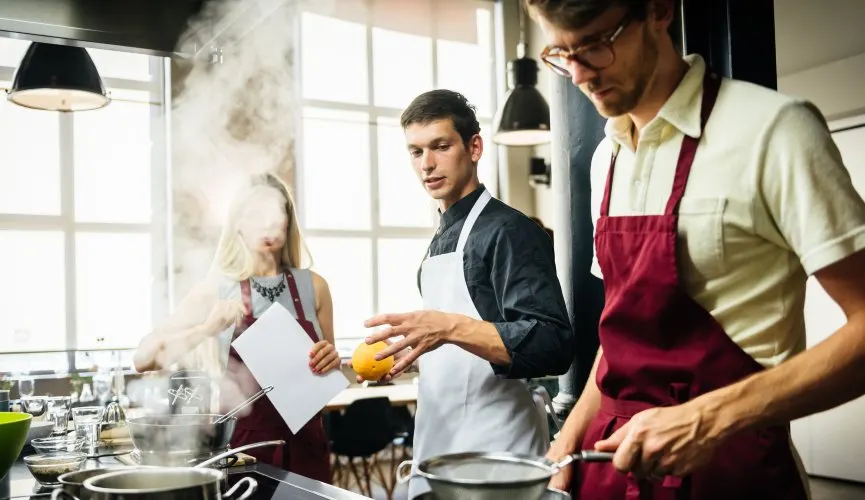 The tools you require depend on your niche. For example, if you are selling cakes, you will need cake decorating tools and a good oven. However, all cooking businesses need some essential tools to get started:
A menu with prices
Labelling for food
Appropriate transport with refrigeration
Commercial mixers and blenders
Serving dishes and beverage dispensers, if catering
Packaging and shipping materials, if delivering.
Regarding software, an inventory management app will keep track of your incoming and outgoing supplies. Some available apps are Sage, MYOB, BevSpot, Zoho Inventory, GoCanvas, Kounta and MarketMan.
If you feel confident about your meals, you can choose to set up an e-commerce store for cookbooks or weekly meal prep guides.
What business structures do I need to consider before starting a cooking business?
Consider whether you will be selling your meals directly to the consumer. You can cook for catering, charities or volunteers, cafes or restaurants, markets or temporary events or school canteens. Once you have decided on your market, decide on your business structure:
Sole traders. If you want to be the owner and in control of your business, register as a sole trader. You can employ workers in your business and you can easily change the business structure if your business grows.
Partnerships. Register as a partnership if you want to start up a business with two or more people. Consider using a partnership agreement to protect you and your partner.
Do I need any legal documents written up before I start operating? What about online legal services?
It is critical to have all your license and permits in place before opening up your business. Here are some you'll need:
Business license. Register as a Food Business with your local council. The registration fee applies depending on the risk classification of your business. Once you are approved, register with the Australian Taxation Office (ATO) and apply for an Australian Business Number (ABN).
Food handler's license. Also known as a Food and Safety Certificate. You can get certified with organisations such as the Australian Institute of Food Safety.
Liquor license. If you intend to serve alcohol, you will need to apply for a liquor license. You are obligated to serve alcohol responsibly to help minimise alcohol-related harm.
Compliance with food labelling requirements. You will need to know how to properly label your food to comply with the Australian New Zealand Standards Codes. Labels should have information on the food identification, warning statements, advisory statements and declaration, statement of ingredients, date marking of food for sale, directions for use and storage, and characterising ingredients and components of the food.
Get access to legal services and documents online
Does your company belong in this list?
What services can I provide with a cooking business?
Starting a cooking business gives you many options regarding how you can sell your food. You can consider:
Preparing food for sale at markets or at a pop-up
Serving food at school canteens
Working as a personal chef in a domestic kitchen
A chef for bed and breakfast accommodation
Home-based child care involving the provision of food
Home-based catering businesses
You also don't have to limit your services to selling meals. Expand your brand by creating:
Branded kitchen and serving tools
Recipe books
Branded merch
Gift cards
Complimentary food products
Search for discount codes on printing services before you buy to save on costs.
How much should I charge my customers?
The average rate for a personal chef can be up to $500 per week while a meal prep chef can earn between $20 and $25 per hour. However, there is no one size fits all for food costs.
To work out your rate you will need to determine the cost of serving of each ingredient that goes into your dish. Include the condiments, seasoning, cooking oil and garnishes as well. Then, calculate the cost of overhead charges which includes your time and effort, delivery, tax, rent or lease, equipment lease, electricity, water and other expenses. Determine what the overhead cost is per day, the price per serving and how much profit you want to make to arrive at a figure that will help you break even.
You should also analyse your competitors. How much do they charge for a vegetarian meal or a snack? What are their delivery costs? Adjust your prices accordingly. If you find that your calculations are higher than your competitor's pricing, you may want to consider finding a better-priced wholesaler.
How do I build my customer base?
As your business grows, you will need to change and evolve your marketing strategy. Once you are clear on your target audience and the current market, focus your attention on the best course of action for your business. You can build your customer base by:
Networking with vendors
Renting a booth or pop up at malls, markets and trade shows
Posting flyers, pamphlets and business cards
Establishing retail partnerships
Hosting a tasting event
Creating a business website
Starting an Instagram account with lots of food pictures
Providing meal tutorials on YouTube
Advertising on Facebook marketplace, Facebook community groups and GumTree
Read More: Find a range of marketing tools to help grow your online presence.
Provide discounts or get help from friends and family for testimonials and referrals. Post about your business on Airtasker and TaskRabbit which connects you to customers in your local areas.
Compare personal loans to help kickstart your business
Why compare personal loans? If you're starting a business it can be hard getting approved for a business loan. Lenders usually look for a business that has been operating for at least a year and is making over $10,000 per month.
While with personal loans lenders look at how likely you'll be able to repay the loan based on things like your credit score, employment history and your existing debts. Before taking out a personal loan make sure you can afford to make the repayments plus any additional fees or charges.
Frequently asked questions
Does a Food Safety Supervisor need to be on the premises all the time?
A food safety supervisor does not need to be on your premises at all times; however, the food handlers and authorities should be able to contact them whenever necessary. You can hire two Food Safety Supervisors in case one of them is away on holiday or falls ill.
What should I include in my cooking business website?
Opt for photos of your meals and product packaging. Make sure you get close-up details to show customers the texture of your food, the serving and pairing of food. Use product page copy to describe your product's taste and texture in detail and include ingredient and allergy information in full. You can also think about adding e-commerce to your website for easy sales.
Do I need insurance for my cooking business?
Yes, insurance will protect your business in the event of food poisoning, allergic reactions, fire damage and theft. The insurances you will need are public liability insurance, alcohol liability, employment practice liability insurance and motor vehicle insurance.
Back to top
More guides on Finder