Spring cleaning services
Treat your house to the spruce up that it deserves.
We're reader-supported and may be paid when you visit links to partner sites. We don't compare all products in the market, but we're working on it!
We all need a little TLC from time to time, and it's no different with our houses.
A spring cleaning service will give you that helping hand when your home needs a little more attention. Take a look at everything you need to know about hiring a spring cleaner.
What are spring cleaning services?
A spring cleaning service is when a cleaner comes to your house to carry out a deep clean of all of the rooms. Traditionally, spring cleaning takes place after winter as a means of refreshing the home after everyone has spent most of their time indoors. Nowadays though, you can book a spring cleaning service at any time of the year.
What does a spring cleaner do?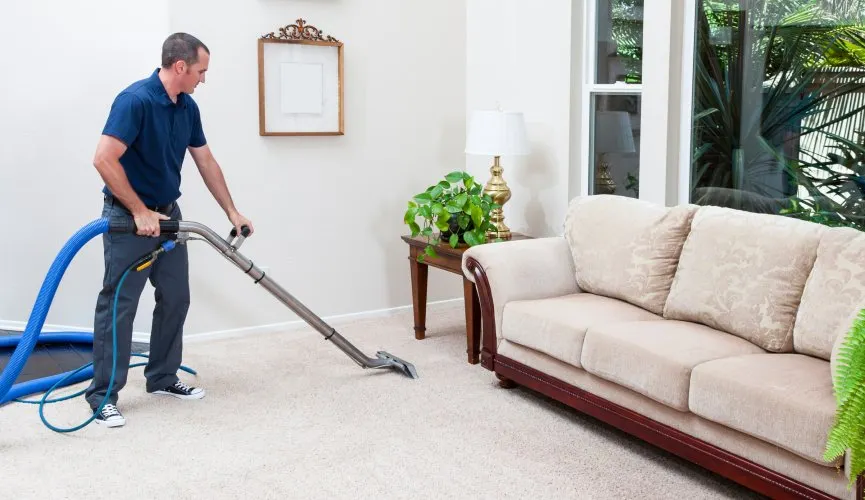 A spring cleaner will ultimately give your house an intense cleaning treatment. Along with the usual vacuuming, mopping and dusting, here are a few other tasks they might carry out in your home:
Wipe down and vacuum the walls and the ceilings
Wash mirrors and the inside of the windows
Vacuum and wash any curtain or upholstery
Deep-clean the couch
Steam clean carpets and rugs
Clean the fridge and freezer
Deep-clean the oven and the hob
Dust lightbulbs and fittings
Clean the skirting boards
Remove limescale buildup
How do I hire a spring cleaner?
The internet is a powerful tool when it comes to finding a spring cleaning service near you. Local marketplaces and websites like Airtasker can also be useful to find local people who are happy to lend a helping hand for a fee.
Does your company belong in this list?
How much does a spring cleaner cost?
There's no one-size-fits-all when it comes to pricing up a spring cleaning service. It depends on a number of factors such as the size of your house and how recently and thoroughly you've cleaned it. Spring cleans require a lot more elbow grease than standard cleaning so expect to pay between $25 and $40 for every hour that a spring cleaner spends in your home.
How should I prepare for a spring cleaner?
You don't need to worry too much about preparing for your spring clean. It's a good idea to make sure the house is tidy so the cleaner can get started as soon as they arrive.
What to consider when hiring a spring service
Not every spring cleaning service is the same, so consider doing some research before you settle on the one for you. Here are a few things worth taking into consideration:
Reviews from previous customers. Google, Facebook and TripAdvisor are all great places to find reviews from previous customers. You can also ask your friends and family for recommendations.
Worker's insurance. Hiring a spring cleaner with worker's insurance will make sure that they're covered in case of any accidents or damage to your property.
Cleaning supplies. While large companies will often cover the costs of cleaning products, smaller businesses may ask you to provide the supplies. It's worth knowing this so you can factor it into the cost of the cleaning service.
Cost. Does the cleaner charge an hourly or fixed fee rate? Make sure you have a general idea of how the job will cost, so you know that you're getting a fair price.
Do I need to be at home for a spring clean?
No, you do not need to be at home during the spring clean, and it can actually be more beneficial for the cleaner if you aren't there. Whatever you decide to do, make sure your spring cleaner knows exactly which tasks you want completing.
Pros and cons of spring cleaning
Pros
Saves your time and energy.
Professional cleaners are much more experienced and efficient.
Spring cleaners will have a checklist, to make sure every corner of the house is attended to.
Cons
Can be more expensive than doing it yourself.
A cleaner may rearrange or move items.
Frequently asked questions about spring cleaning
Do I have to book a spring cleaning service during spring?
No, while the term 'spring clean' traditionally refers to having a big house clean between the winter and the summer months, it's also used as a more general term for a deep-clean. You can, in fact, book a spring cleaning service at any time of the year.
What's not included in a spring cleaning service?
A spring cleaning services includes all the cleaning jobs you'd expect around the house such as vacuuming, dusting, polishing and mopping. It will not, however, involve any DIY or maintenance jobs, or general tidying.
How long does a spring clean take?
It is possible to spring clean your house in a day. However, if you want an extensive spring clean that dives into every nook and cranny of your home, it's worth allowing up to four days, depending on the size of your property.
Can I book a spring garage clean?
Yes, many spring cleaning companies offer their services for indoor and outdoor spaces, including your garage.
More guides on Finder