Splatoon 2 review: Splat's amore
Over two weeks in, Splatoon 2 paints a pretty picture for what's possible on Switch but it's watered down by the Switch's sub-par online features.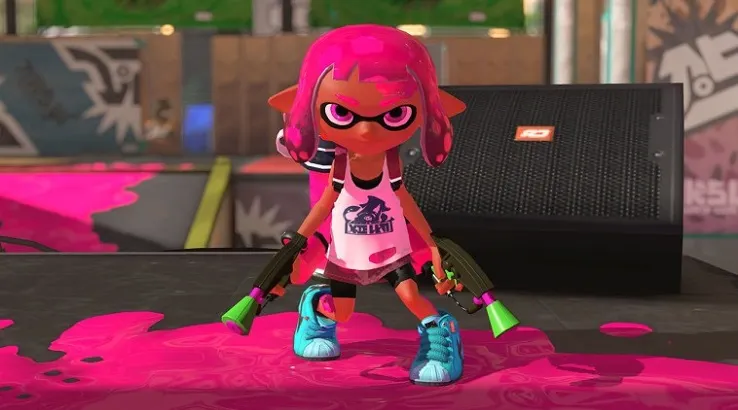 We're reader-supported and may be paid when you visit links to partner sites. We don't compare all products in the market, but we're working on it!
While the Nintendo Switch has sold admirably (4.7 million units as of July 2017), one of its most contentious issues since the very first announcement has been the persistent fog of mystery surrounding its online services. The total lack of information from Nintendo smelled fishy at best, and now the Switch's first competitive shooter, the squidiculous Splatoon 2, has surfaced to paint the town pink and green and put the handheld hybrid's online connectivity to the test.
Unfortunately, the recent Splatfest and Nintendo's woeful app proved Nintendo still hasn't figured it out. Otherwise, Splatoon 2 is a faithful reprint of one of the Wii U's most original titles that has been given a fresh coat of paint and a new palette of features to keep you occupied between Turf Wars.
Inking for yourself
It may not be the main attraction but Splatoon 2 has improved the single-player mode this time around (single player was one of the first game's biggest criticisms). It's not revolutionary in any way and can be totally skipped if it's not your bag but it's a good place to start, especially if this is your first rodeo. Splatoon 2's third-person shooting mechanics and controls may seem pretty simple from an outsider's perspective, but dive into multiplayer without a proper understanding of the game's nuances and you're bound to sink (much to the chagrin of your fellow vandals).
The single-player mode sees you employed as an agent by a Splatterday mascot (Marie) to take on invading Octarians in Octo Valley. Levels are short, fast-paced and only take roughly 10-15 minutes to clear (perfect for offline play while commuting). You're stacked up against an army of easy cannon-fodder, with a few trickier baddies that require you to ink on your feet (enemies that are invulnerable from the front etc.).
Splatoon 2's strongest battles are against its colourful bosses, which often throw out a handful of environmental obstacles that require you to time your assault perfectly.
The levels that branch from Octo Valley also offer some sweet environmental takedowns, like shooting a roller to wipe out a huddled group of Octarians. My only issue here is that none of these new ideas, like grind poles, are brought into Splatoon 2's multiplayer (multiplayer has lines to traverse, but grind poles in single-player allow you to shoot and grind at the same time).
Environment kills could obviously be problematic in ranked matches, but they could make for a novel custom option in private matches.
The salmon canon
Splatoon 2's most welcome addition is the shady job you can pick up on the side working for Grizzco Industries. Nestled in a dubious back-alley behind the Battle Lobby is Mr. Grizz, a talking wood-carved bear that offers freelance work wiping out waves of bespoke Salmonid enemies and collecting their golden eggs. It's effectively Splatoon 2's co-op horde mode.
At the beginning of a round, each Inkling is assigned a weapon at random and tasked with taking on waves of smaller enemies, with the occasional boss. Salmon Run's diverse gallery of boss Salmonids is its greatest strength. Each boss assaults the shore in a different fashion and has a different weakness (all are explained in Salmon Run's comprehensive tutorial). For example, the Steel Eel is a long, serpentine machine that leaves a trail of ink in its wake and can only be brought down by splatting its pilot at the rear end. The Flyfish attacks with a devastating aerial assault and can only be brought down with a perfectly placed grenade.
These Salmonid armies can overwhelm you quickly if a boss isn't felled fast enough, and this isn't always as easy it seems. It really separates the squid-kids from the inklings. Once a boss is brought to its fins, they drop a number of golden eggs that must be transported to Grizzco's basket post-haste. This is where painting every inch of the map comes in handy because anyone who's ever inked before knows travelling in squid-form is the fastest way to go – speed and efficiency are vital in Salmon Run.
I dig Salmon Run's whole vibe. From its tradie-inspired green and orange colour scheme to Grizzco's sketchy manager to the increasingly intense rounds that require a different kind of teamwork to Turf War. I don't even mind that Salmon Run is restricted to 12-hour blocks on a schedule. Whatever. It makes each Salmon Run a little more spesh.
Turfed
But that's enough about slammin' salmon. What we all came to see is Splatoon 2's competitive multiplayer modes. As with the first Splatoon, all Regular and Splatfest battles use the standard Turf War mode, where two teams of four vie for dominance by coating the map with their team's ink.
There are a few new weapons, like the Splat Dualies, and new specials, like the Baller, that open up new strategies in Splatoon 2. There are also a handful of new levels (like the recent Splatfest stage Shifty Station) that open and block pathways periodically, pushing the player to constantly refine their approach.
For the most part, Splatoon 2's online battles are much of a muchness. A real if-it-ain't-broke-don't-fix-it approach. This has its pros and cons. On the one tentacle, it has the potential to turn away those who weren't totally taken by the original. I'm guilty of calling it an HD remake with 2 slapped on the end when it was first announced. On the other tentacle, it's playing it safe, keeping its huge player base of ink-thusiastic fans happy by offering more of the same with a few added bells and whistles.
As a competitive shooter, Splatoon 2 rises above the sea of military-based shooters thanks to Nintendo's off-beat charm and Splatoon's established multiplayer principles. However, Nintendo's murky online service is the game's greatest enemy. Is it fair to judge a game based on the platform's sketchy online service? Not really. But this is a first-party game dependent almost entirely on online play and the buck has to stop somewhere. Plus, Splatoon 2's own matchmaking isn't without some glaring faults.
Want to jump into a regular match with a friend? Sure thing, you'll just be randomly assigned a team so you may or may not be playing against each other. Want to train as a team and join ranked battles with a watertight game plan? That's a hard no. Little quirks like this often get passed off as just being very "Nintendo" but that's simply not acceptable for a game so heavily focused on multiplayer battles. Oh, and don't even think about split-screen multiplayer. That's simply not a thing in the weird world of Splatoon.
I've actually had way more luck finding matches with Splatoon 2 than I did with ARMS, but that's more thanks to Splatoon's fervent player base than any online improvements.
However, it has become apparent I've been luckier than most with matchmaking (despite my crappy ADSL2+ connection, averaging 4-5Mbps down and 1Mbps up).
---
The most recent Splatfest divided the globe into two opposing camps, those who love the creamy, oily goodness of mayo and the sad majority who prefer rank, watery ketchup (if it wasn't already apparent, Splatoon is a weird game). When the Splatfest wrapped up, we discovered that 73% of players pledged their allegiance to ketchup while a measly 27% chose to splat for Team Mayo. Despite this huge imbalance, Team Mayo came out on top, nabbing 52% of the wins in solo matches and 51% of the wins in team matches.
In light of this, ketchup loyalists bubbled up from the woodwork with stories of a miserable one-sided Splatfest. What seems to have happened was that ketchup players were so abundant that combatants were more often than not shoved off into regular battles when trying to participate in Splatfest. Because there simply weren't enough mayo players to match up with. I should note that this happened to me as well, a Team Mayo player, for nearly a quarter of the matches I participated in during Splatfest. This seemed to be Nintendo's attempt at creating a fair and balanced outcome, but the result was just a lot of disappointed players who couldn't participate in the Splatfest.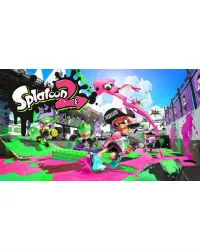 Purchase Splatoon 2
from ozgameshop.com
Splatoon 2's most welcome addition is the shady job you can pick up on the side working for Grizzco Industries! Order you game now from Ozgameshop.
View details
We reviewed Splatoon 2 onNintendo Switch with a copy provided by the publisher.
Splatoon 2
8.0 EXCEPTIONAL
What we liked...
New horde mode Salmon Run is a weird and wonderful way to break up normal matches
Updated visuals give the wet world of Splatoon a little extra shine
More of what made splatting on the Wii U so fun on a new generation console with more players than ever
The bizarre universe and lore of Inkopolis
What we didn't like...
Nintendo simply can't begin charging for its online service in this state
The Nintendo Switch Online app debuts and impresses nobody
VERDICT
Besides some slightly annoying multiplayer missteps, that Nintendo doesn't seem to know the definition of "online service" and the fact that I will not likely be using Nintendo's online app in its current state, I'm still an absolute sucker for Splatoon 2. Its bouts are brief but utterly addictive. Its colourful brand of competitive shooting is totally accessible and fun for all ages. And whether it's a new weapon, stage, Splatfest or just another Salmon Run, I'm constantly finding a reason to dive back in.
Available for SWITCH
For more information on how finder scores games, check our review guidelines.
---
More guides on Finder