Sphero Spider-Man review: Funny, but not fun enough
Quick Verdict
Long-term Spider-Man fans and kids will get some fun out of Sphero's Spider-Man, but its asking price is far too high for the overall level of fun he provides.
Strengths
Great design

Robust silicon finish
Wi-Fi expandability
Some lovely groan-worthy jokes
Could be better
Doesn't move
Limited object tracking
Expensive
---
Sphero's interactive app-controlled Spider-Man is nicely built and suitably smart and funny, but there's not enough there to justify the steep asking price.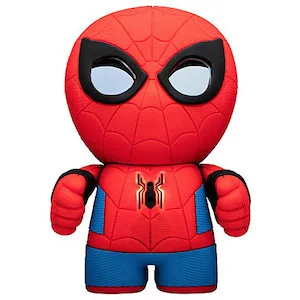 Sphero Spider-Man Interactive App-Enabled Super Hero Toy
from Amazon
Pick your identity and dive into the world of superpowers and thrilling adventures today! Order your own Spider-Man from Amazon.
View details
Sphero as a company has already enjoyed considerable success with its range of rolling orbital toys, whether you're talking the classic stunt-taking Ollie or the excellent Star Wars BB-8 or Ultimate Lightning McQueen toys. Its latest foray into handing over suitably large sums of money to Disney in return for character rights is in the form of Spider-Man, or to give him his full name, the
Spider-Man Interactive App-Enabled Superhero by Sphero
.
You'll forgive me, I hope, if I just call him Spider-Man from now on.
Design
The design of Spider-Man is a definite high point because he's quite a large and hefty toy. If you just wanted him as a display piece with a style that's more Superhero Squad than, say, movie or comic book Spider-Man, he'd do just fine. Spidey is wrapped in durable and ever-so-slightly-flexible silicon, which should give him solid durability when being man-handled (or should that be spider-man-handled?) by his target kids market.
The key interactive feature of Spider-Man is his eyes, which are a pair of tiny oval LCD displays that provide a fairly wide variety of animation to create expressions on his otherwise fixed face. His arms also have a small degree of personal movement, so you could match him up with action figures for play, although he's going to be Godzilla-sized compared to most regular action figures.
He's also rather heavy at 680g, which could be a concern if you're going to give him to smaller children where throwing or dropping is a possibility.
Spider-Man charges via microUSB. A charging cable is provided, which plugs into either the base of his foot (which looks all kinds of weird) or the provided Spider-Man-themed plastic base. Again, it's a nice touch for display purposes, because Sphero could have just supplied a simple plastic disc for Spidey to stand on.
Setup
While he's described as an "app-enabled" superhero, once you've gone through the initial setup of Spider-Man, it's actually possible to use him in an entirely standalone fashion. The initial install process involves powering him up after charging, pairing him with the Sphero Spider-Man app for Android or iOS and setting up the superhero name of the character you're going to play as alongside Spidey. There's a range of first and last superhero modifiers, as well as powers to pick from.
It's an easy process that saw me, within minutes, adopting the mantle of Doctor Cat, possessor of laser breath, because, well, why not?
Sphero suggests that Spidey should be good for around two hours of dedicated play between charges, although he's not really built for a full-on two-hour session every time. The app keeps good track of his overall battery power for you in any case.
Features and functionality
Where Sphero's previous toys have focused on mobility and remote control, Spider-Man's particular focus is on AI and voice-control functions. You can interact with Spider-Man via the app or by using voice controls and the single spider button located as a symbol on his chest. A single tap will make Spidey choose a random activity from a limited set, while a double tap engages his speaker for you to specifically pick an activity.
Spider-Man can tell jokes, go on "adventures" with your hero or simply just chat within a range of responses. He uses his inbuilt LCD eyes to express emotional effects and uses his rudimentary motion sensor for selected games and for his guard mode. It's that combination of movement and audio cues that is used to move Spidey's stories along, as well as to succeed in the inbuilt games.
Spider-Man's audio recognition software is meant to intelligently learn your voice, but after a week's work, I'm not so sure he's all that smart. All too often he'd re-ask a question where I'd answered clearly, and while for the younger set it's a boon that adventures will continue even if they're not clear, it can equally be frustrating.
I'm not exactly the target market age-wise, but even handing Spider-Man over to my kids showed this. They all noted that he was cute as heck, but they kept having to repeat themselves to be understood. Maybe Sphero needs to invest a little in picking up Australian accents.
One notably enjoyable part of the Spider-Man experience is his ability to tell truly awful jokes. It's partly a credit to the writers and partly a credit to whoever is doing Peter Parker's voice because they're delivered with spot-on timing that accentuates just how terrible they are. Naturally, if your patience for puns is thin, you might not find it as charming as I did.
Spider-Man can also act as a simple security guard by engaging guard mode, at which point his eyes go blank and he waits to detect motion. From a detection standpoint, this works well enough, with Spider-Man detecting multiple intrusions into a room he's placed in, but he's not exactly a security camera. When you switch guard mode off, he lets you know what times he recorded any motion, but at least in my tests, he could only do this a maximum of three times, typically the first and last two instances. If your space has been invaded more than that, Spidey will have issued a wisecrack remark to alert intruders, but he won't let you know about it.
All of Spider-Man's features are fine as far as they go, but there's a big problem here. They don't go terribly far once you've listened to all the stories and jokes and engaged in all the very simple voice or motion-controlled games. Sphero's promise is that it can update Spider-Man with new content on a regular basis, but he's never going to do anything beyond those features. Compared to the programmatic and motion-based approach of Sphero's previous toys, I can't help but feel that it's very limited.
Price
Spider-Man's limited play scenarios wouldn't matter so much if the pricing for him wasn't quite so high. In Australia he retails for $249.95, which is a significant sum to invest in any child's toy. He's very nicely built and what he does is done with aplomb. It's easy to see where the money would go, between his build and the money Disney must have asked for for the rights (especially with the new film around the corner), but that doesn't equate to a good investment on your behalf.
As toys go, he's educationally very thin and even on a pure fun level, he's really only recommended for absolute Spider-Man fanatics who must have every last bit of Spider-Man paraphernalia. For the asking price, Sphero's other toys such as the charming BB-8 or the newer Ultimate Lightning McQueen are a much better bet.
Latest technology headlines
---
For more technology news, deals and offers, follow and subscribe below
---