Space Hulk Deathwing Enhanced Edition review: An infectious co-op experience
Tries to make a good Power Fist of things.
We're reader-supported and may be paid when you visit links to partner sites. We don't compare all products in the market, but we're working on it!
Some quick acoustical trivia before we begin, folks: in space, nobody can hear you scream "PRAISE THE EMPEROR!" You'll do it though (both in-game and at your TV) because sliding into the boots of an overzealous space marine is an infectious experience. I'm not kidding. This game and I had sort of a "Shining" thing going on. Any toilet breaks I had involved me putting down my controller and plodding away like I was still wearing Terminator armour.
Because that's very much the experience in this first-person shooter. Forget that twizzling about triple-jump bollocks in Destiny 2 and Call of Duty. You'll be thumping down corridors as a man mountain here, strapped in a suit with pauldrons the envy of any 1980s businesswoman and shoes from The Iron Giant spring collection (curiously you wear no helmet, which makes bugger all sense to me.)
---
---
You're a librarian which sounds... less impressive. But, without a doubt, you're the most bad-ass bookworm ever, being a space marine of the Deathwing, the feared 1st Company of the secretive Dark Angels. Essentially, you and your (two AI) battle brothers have been tasked with clearing a derelict ship full of Genestealers. For the uninitiated: they're your Home Brand take on H.R. Giger's xenomorphs – gravity-defying bastards that travel in packs and want to shred you open like the big tin can of beef you are.
Spooky atmosphere is certainly attempted by Space Hulk but the early tension dissipates quite quickly when you wrap your head around the limitations of the AI. Genestealers feel less like cunning opponents and more like trains of cannon fodder whose pathfinding can be easily predicted and exploited, even on the hardest difficulty of No Mercy. These issues crop up with your squad's ability to think critically for themselves, too. When Genestealers are "coming outta the goddamned walls" it's often best to use your basic command options to set your pals up as Team Human Shield, rather than trust them to keep speed-holes out of your pancreas. Alternatively, rope in some mates for a bit of four-person co-op.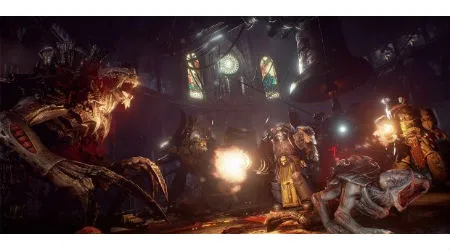 Click to buy Space Hulk: Deathwing Enhanced Edition
from ozgameshop.com
View details
You'll rely on the AI less and less as you grow more powerful, gaining passive skills and cooldown abilities, and expanding your arsenal of 12 guns and melee weapons for your offhand (on L2). The Warhammer 40,000 fans among you will no doubt drool as you unlock Stormbolters, Plasma Cannons, Heavy Flamers, and who doesn't like giving noggins a-floggin with a Mace of Absolution? If you're backed into a corner, or you just like to open doors with brute force, Power Axes and Power Swords are also available.
So, how "enhanced" is this edition? Most of the developers' efforts have gone into expanding the depth of the Left 4 Dead style multiplayer mode, to be honest. It now boasts class customisation and a progression system that will earn you new armour, boomsticks, perks and a heap of cosmetic tweakings. You can also tool around with an all-new class of space marine (a melee-focused medic) plus there are a few extra enemy types that hit harder but suffer from the same artificial stupidity.
Last but not least, there's now a Special Mission generator that randomises everything in a level to make this more or less endlessly replayable. And Streum is to be commended for tightening up the performance while murdering more bugs than the on-screen space marines themselves.
Unfortunately, despite all of those things bolted on, Space Hulk: Deathwing Enhanced Edition just cannot break free of the shortcomings of its inaugural release. Ropey AI, often anaemic gunplay and behind-the-curve visuals all conspire to chip away at what sounds to be a great experience on paper (read: tabletop). The new accoutrements desperately try to gene-steal DNA from better online co-op games but the end result isn't worth re-enlisting for.
We reviewed Space Hulk: Deathwing Enhanced Edition on PlayStation 4 with a copy provided by the publisher.
Space Hulk: Deathwing Enhanced Edition
6.0 GOOD
What we liked...
Captures the spirit of the source material
Co-op can be good with the right marines
Decently expanded content and features
Randomising Special Missions
What we didn't like...
Atmosphere wasted by lack of challenge, decent AI
Gunplay and melee thrashing feels anaemic
The space hulk itself wants for variety and surprises
VERDICT
Worth a budget breach and clear for console gamers who missed the PC original. Solo comes and goes with little fanfare. Co-op has the potential to keep diehard squaddies amused.
For more information on how finder.com.au scores games, check our review guidelines.
---
More guides on Finder
Handypay Green Loan

A Green Loan from Handypay could help you make your home more energy-efficient. Handypay green loans are available up to $75,000 on terms of up to 10 years.