South Park: The Fractured But Whole review
Pure, unadulterated arse – in a good way.
We're reader-supported and may be paid when you visit links to partner sites. We don't compare all products in the market, but we're working on it!
The creatively titled South Park: The Fractured But Whole begins with a joke warning about its "revolutionary" saving system. I'd like to fart in the general direction of that particular adjective by issuing a counter-warning: use multiple save files and trust the autosave function as far as you would Eric Cartman. I lost an hour of grind when the blinking "auto-saving" icon got stuck on repeat. Manual saving was blocked, as was quitting to the title screen. But Whole had me feeling pretty butt-hurt for a while there.
I shrugged it off as an isolated incident but hit a different problem soon after. Basically, a boss character would consistently and repeatedly seize during a form-changing animation. After half an hour of restarts, and some detective work, I discovered that dialling down my difficulty from the hardest (avatar skin tone: black) to the easiest (avatar skin tone: whiter than sour cream) was the only way to solve the glitch and make the fight work as intended. Save often, people. End of PSA.
With that unpleasantness catalogued, let's get to the overwhelming good news. As a sequel, The Fractured But Whole is in every way an improvement over the hilarious shenanigan that was 2014's South Park: The Stick of Truth. Trey Parker and Matt Stone successfully lampooned and honoured the RPG genre in their first attempt, however, its overworld felt empty and the battle system wanted for more challenge, more abilities, and more variety. Sure, the aforementioned technical difficulties represent a large crack in But Whole, but everything beyond that is an absolute gas.
For starters, the story integrates you – The New Kid (aka "Douchebag") – in a much more pleasing way, and actually expands your mysterious backstory this time. The fourth-graders of South Park have ditched their Lord of the Rings / Truth Stick shtick in favour of playing Marvel Super Heroes versus DC Comics. The Coon (Cartman) wants to secure a $100 missing cat reward and kickstart a ridiculously convoluted cross-over movie/Netflix franchise. Having proven yourself in the last adventure, you're folded into this plan and are stripped of the derogatory title of Sir Douchebag. Now you are Buttlord. 

Peer acceptance is always great, but there's still a deep rift in But Whole that you're about to run afoul of. These two groups of children wearing half-arsed costumes are at war; cheek-turning seems unlikely. On one side of the chasm, you have Coon and Friends, comprised of You, Captain Diabetes (Scott), Fast Pass (Jimmy), The Human Kite (Kyle), Mosquito (Clyde) and Super Craig (yes, it's Craig). Meanwhile, The Freedom Pals are headed by Doctor Timmy, Mysterion (Kenny), Toolshed (Stan), Tupperware (Token), and Wonder Tweek. You can also expect some aid and/or interference from Call Girl (Wendy) and Professor Chaos (Butters).
Such a diverse crowd of superweirdoes creates a pleasingly chaotic battle system, which iterates on Stick of Truth's Paper Mario-style brawling. Thanks to a series of Civil War happenings, the faces regularly change in your four-kid party (Stick of Truth maxed out at a paltry two members). Every battle takes place on a different-sized grid, sometimes containing obstacles, and you can freely position yourself about in real-time before you lock in an attack (the base damage outcome of which is handily shown to you beforehand). Damage, both incoming and outgoing, can be respectively mitigated or increased by nailing timed button prompts. Successful taps feed an Ultimate meter which will allow your heroes to unleash unique berserker attacks, the likes of which put Netherrealm's Injustice to shame.
That's the entry-level basics of it, but over the course of 18 or so hours But Whole keeps coughing up more and more layers. Some of your hits have knockback potential – this means you can dish out extra hurt by pinballing an enemy into your allies, or you can poison them with one of the many status effects and then tactically boot them into a mob of their friends (parallel square damage for all). Positioning is key as some heroes can become ineffectual when gridlocked, whereas others can niftily switch positions to penetrate enemy lines. Basically, you're playing a half-court game of chess where each chess piece moves and attacks in their own weird ways. Learning who does what, and then using your team to heal and damage deal effectively is immensely gratifying stuff.
So too is the joy of building your own character from the construction paper up and using them to pummel intolerant rednecks, ninjas, sixth-graders, strippers, meth heads and a variety of paedophiles. You can now pick your gender, craft your own backstory (though your dad will always canonically bang your mum), and improve your Might Level by looting/crafting slot-able artifacts. On top of that you can choose one of 20+ DNA modifiers that are double-edged modifiers to your five main stats of Brains, Brawn, Spunk, Health and Move. (For the record: I went with "Crack Baby Rage", not because it spoke to my life experience.)
Last but not least, you'll gain access to three unique moves that come bundled with the 10 different classes (Speedster, Brutalist, Blaster, Elementalist, Cyborg, Psychic, Assassin, Gadgeteer, Martial Artist and...uh, Plantmancer) Regular respeccing is encouraged and it keeps the slapstick violence fresh and hilarious. Case in point: the way the Call Girl doxxes her opponents, or summons a flash mob stampede of Chinpokomon GO players. 

Speaking of social media based comedy and gotta-catch-'em-all-action, But Whole's overworld is overflowing with collectible selfie opportunities with the townsfolk. Better yet, the town is now popping with life and interactivity; there's a back-tracking puzzle system here that encourages you to solve barriers with things either put in or shot out of your amazing poop chute. Also, your keister facilitates a bit of urban free-running (read: fartkour).
When it came to combat and exploration, The Stick of Truth felt thin. But Whole is deep, but it's not without a few minor fissures. The battle chatter starts out as comedy gold, but repetitiveness dulls its shine after a few hours. There's also a bit of trial and error involved with certain fights (you're not forewarned of reinforcements, or adequately shown what some special tactics scenarios want from you). Last niggle: the third act of the story gets bat-shit crazy, though it manages to tie off in a pleasing conclusion. All that being said, even at its lowest points, this journey is more side-splitting than any episode in the current season.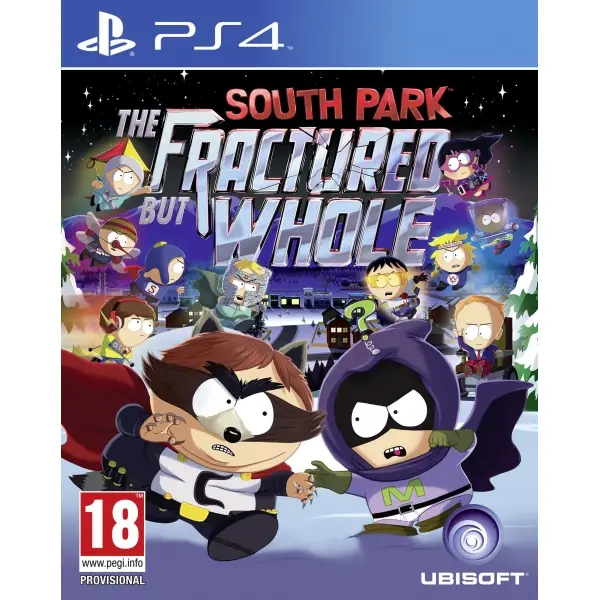 Buy South Park: Fractured But Whole
from ozgameshop.com
South Park: Fractured But Whole is available on PlayStation 4, Xbox One and PC.
View details
We reviewed South Park: The Fractured But Whole on PlayStation 4with a copy provided by the publisher.
South Park: Fractured But Whole
9.0 AMAZING
What we liked...
Deeper, zanier battle system
Overworld has increased life and purpose
Larger parties and party member pool
Plot is funnier and better formed this time
What we didn't like...
Isolated, patchable technical issues
Battle chatter needs variety
VERDICT
This sequel isn't a flawless work of fart. Even still, Ubisoft has drawn from something solid and delivered an absolute blast that's more potent in all respects.
For more information on how finder scores games, check our review guidelines.
---