South Australia travel restrictions: What can I do in April 2021?
Here's everything you need to know about what you can do and where you can go in the southern state.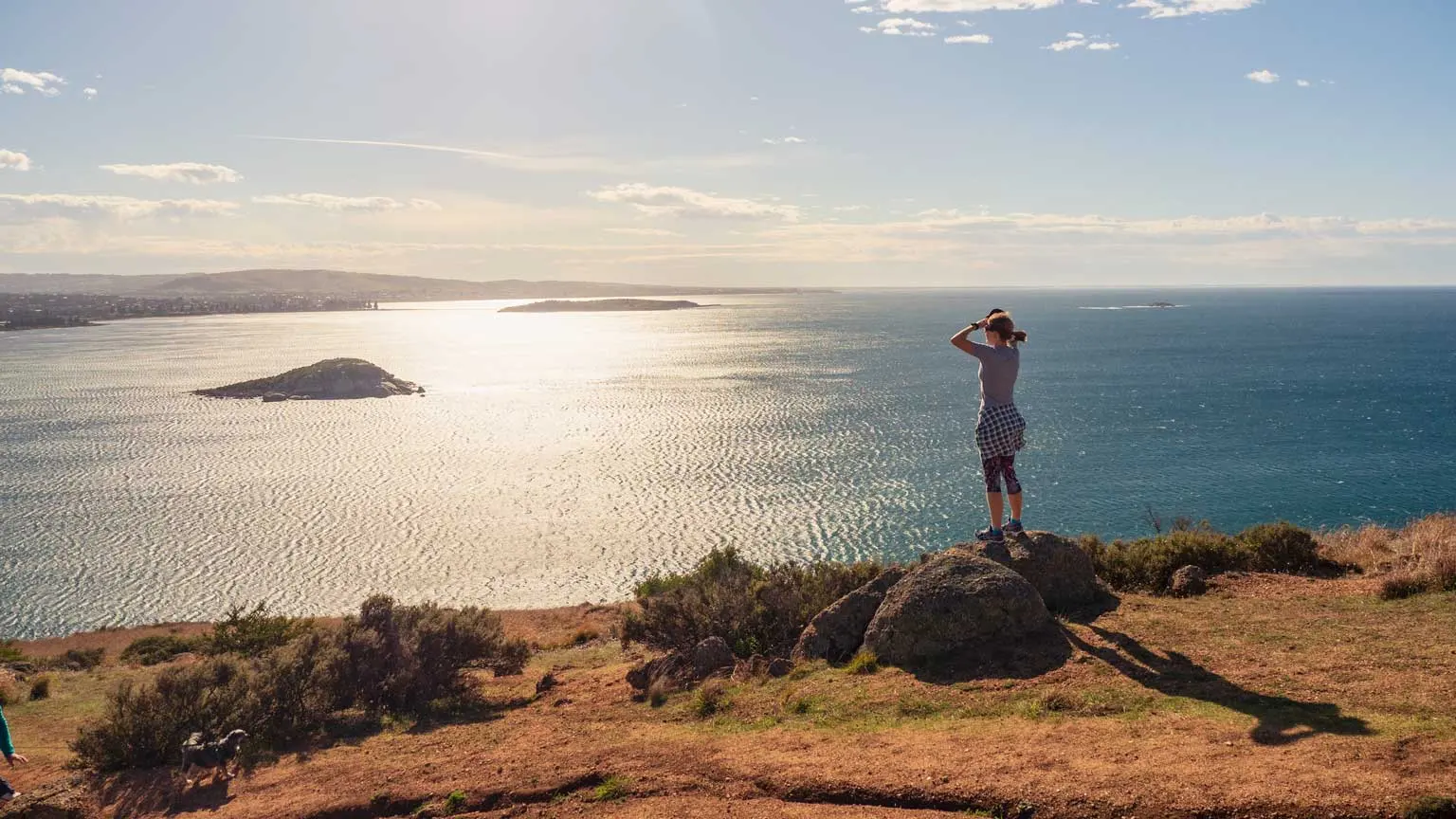 We're reader-supported and may be paid when you visit links to partner sites. We don't compare all products in the market, but we're working on it!
Restrictions in South Australia are easing, giving residents more freedom of movement.
If you were planning to spend some time in the southern state's backyard our guide can key you in on what you can and can't do at the moment.
Whenever out and about, it's encouraged to wear a mask in spaces where physical distancing is not possible.
Accommodation in South Australia
The restrictions allow for up to 50 people to gather in a private home within South Australia, regardless of age.
It's still strongly advised that you keep your numbers as low as possible and maintain physical distancing in communal areas.
Can I stay with family or friends?
South Australians may stay with family and friends, bearing in mind that the residental gathering limit is 50 regardless of age.
Social distancing of 1.5 metres still applies to ensure both your safety and that of your family and friends.
Can I stay at hotels?
Feel free to book yourself into a hotel for leisure or business in South Australia as they are now back up and running.
Due to the number of people permitted in a hotel, strict hygiene measures are in place to make sure your stay is as safe as possible.
You can book a hotel anywhere, as long as it's within the state borders. In some cases, people are quarantining themselves in specified hotels.
Latest deals on hotels in South Australia
Can I stay at a holiday house?
You can enjoy a quiet stay in a holiday house anywhere in the state. This is also a great alternative if you wish to take a weekend away but want to distance yourself from other members of the public.
Again, holiday accommodation is restricted to a maximum of 50 people in a private residence.
Stayz
,
HomeAway
,
Booking.com
,
HotelsCombined
and Airbnb offer a wide range of holiday homes, including apartments, cottages, chalets, studios, cabins and townhouses.
Airbnb has placed a worldwide limit of 16pax for rentals, excluding boutique hotels and event venues.
Can I stay in a dorm or private room at a hostel?
Hostels are the same as hotels: open and ready for bookings. Hostel booking site Hostelworld is only featuring properties that have increased their health and safety measures for guests.
Larger rooms will house fewer guests and there will be extra cleaning of the facilities. Hand sanitation stations will be available and guests will have to follow social distancing rules.
Hostels that are found to not be following the guidelines will be automatically removed from the Hostelworld website.
Am I able to go camping and caravanning?
Yes. If you're looking to stay at a caravan park call the site prior to reserve a booking. Group numbers should be kept to a minimum.
Anyone wishing to get amongst nature by camping or glamping should take extra precautions. While there aren't any restrictions on communal camping facilities you should still keep your distance from others.
We recommend bringing extra cleaning supplies just in case.
Tourist attractions in South Australia
South Australia's attractions are opening their doors again.
In light of COVID-19 many sites, including RedBallon, let you book further in the future and have vouchers that last up to several years.
The following attractions have reopened across South Australia:
Botanical Gardens of South Australia
South Australian Museum
South Australia Art Gallery
Latest deals on attractions and activities in South Australia
Can I visit national parks?
Yes, you can now visit the national parks of South Australia. This goes hand in hand with camping and caravanning. However, you'll have to book these in advance through the National Park website.
Currently you can visit Cleland Wildlife Park, Seal Bay, Naracoorte Caves, Adelaide Gaol and all botanic gardens. Caravan parks have also reopened.
Are beaches and parks open to the public?
Beaches are open to the public, but we suggest checking with your local government council as busier beaches may still have restrictions.
Social distancing is highly advised when travelling to parks and coastal areas. Keep 1.5 metres between individuals.
Can I go to cellar doors at wineries and vineyards?
The Barossa Valley, McLaren Vale and the Adelaide Hills Wine Region are all back in operation. Before you pay each a visit, get wind of opening hours and pre-book your tastings as capacity limits may apply.
If you're planning to get away for the weekend, maintain minimum number of people per group and practise social distancing.
Getting to and from your holiday destination
Can I drive anywhere within South Australia?
You can visit anywhere within South Australia with your car. There aren't any limits on how far you can go, either.
Car rental companies have introduced deeper hygiene practices for anyone needing a vehicle in the near future. Europcar and are thoroughly cleaning high contact areas such as the steering wheel, gear changer, radio and keys.
You can even choose a completely contactless pick-up and drop-off in select locations.
Are planes flying within South Australia?
Restrictions on domestic travel are easing and internal flights within South Australia are returning.
Some flights that are currently running are:
Adelaide to Port Augusta on Cobham airlines
Adelaide to Olympic Dam on Alliance Airlines
Adelaide to Port Lincoln on Regional Express and Qantas
Adelaide to Whyalla on Regional Express
Adelaide to Prominent Hill on Cobham airlines
Adelaide to Kingscote/Kangaroo Island on Regional Express
Adelaide to Ceduna on Regional Express
Adelaide to Moomba on Alliance Airlines
Adelaide to Sydney on Jetstar, Qantas and Virgin Australia
Adelaide to Brisbane on Virgin Australia, Qantas and Jetstar
Adelaide to Darwin on Jetstar
Adelaide to Cairns on Jetstar
Adelaide to Alice Springs on Qantas
Adelaide to the Gold Coast on Virgin Australia
Adelaide to Melbourne on Jetstar
For added peace of mind, Qantas has implemented its new "Fly Well" program. This involves contactless check-in and regular cleaning of the aircraft and high-contact areas, as well as hygiene screening.
As of 8 January 2021, face masks are mandatory on all domestic and international flights.
Can I take a train?
City services: Trains are running to the city from Belair, Gawler, Gawler Central, Glanville, Grange, Noarlunga, Osborne, Outer Harbor, Salisbury, Seaford and Clovelly Park. However, it's suggested that you only take public transport if you must. It's vital that you practise social distancing while on board. If a carriage looks busy, move to another.
Regional services: Train services between Adelaide and Darwin on The Ghan recommenced on 1 February 2021.
The Great Southern between Adelaide and Brisbane resumed on 1 January 2021.
The Indian Pacific recommences on 4 March 2021.
Which states and territories can I travel to?
South Australia's borders are open to all states and territories and due to low case numbers, the border opening is reciprocated. Here's what you need to know:
| State | Border status | What should I know? | More info |
| --- | --- | --- | --- |
| ACT | Open | No requirements needed. | More info |
| Northern Territory | Open | All arrivals must complete a border entry form. | More info |
| Queensland | Open | No requirements needed. | More info |
| NSW | Open | No requirements needed. | More info |
| Tasmania | Open | Travellers must register through the Tas e-Travel system. | More info |
| Victoria | Open | All travellers must have a travel permit to enter Victoria. | More info |
| Western Australia | Open | All arrivals must complete a G2G pass. | More info |
Ready to discover South Australia? Check out our top deals
Frequently asked questions about travelling within South Australia during COVID-19
How far can I travel from my home?
Residents of South Australia are free to travel anywhere in their state.
All states have reopened their borders to South Australians without the need to quarantine, however you may be required to fill in a declaration pass before entering another state or territory.
Are there any regional travel restrictions in South Australia?
No, you may travel anywhere within the state.
When you leave your home, a distance of 1.5 metres should be maintained between you and others. Masks aren't mandatory however they're highly recommended.
Can I travel to South Australia if I live in another state?
Yes. South Australia's borders are open to the rest of Australia.
Unless you are from a high-risk area you will not need to quarantine when you arrive. You will however need to fill in a Cross Border Travel Registration prior to arrival.
Do I need to limit the number of people I'm travelling with?
There is a 50 people gathering limit in homes. This includes the residents of the household. Regardless of the number, you should keep your party minimal to reduce the spread of COVID-19.
Do I need to pre-book to visit dining venues and attractions?
Some restaurants require you to book ahead of time.
There is no set group gathering limit, although a density rule of one person per two square metres applies for all dining venues.
Will I need to self-isolate or go into quarantine when I get back from my trip?
If you are travelling within South Australia, you do not have to self-isolate when you arrive back home.
More guides on Finder